WINES2WHALES
PART 2
It's back to Lourensford for the start the next morning. You do realise that this isn't just another race. There are hundreds of people! There is everything from last minute mechanical adjustments and gear purchases (panic buying is common) to a full Woolies spread in case you decided to deviate from your well worked out nutrition regime – again it appears the nerves along with the tempting spread ensures at least a taste of something…. You haven't even got into the chute yet!

Once again the organization is exemplary – each chute is well marked and manned to ensure there is no jumping groups and that your are safely batched in your seeded bunch. The voices of cycling in SA call you to the start line – Paul Valstar and Gerald De Kok work their touche's off and lift the spirits of every group (both on the start and finish line, and for all three races in the W2W's line-up) , they are ably backed up by enthusiastic MC's at every water table – who can forget Suzie the "noisy chicken" lady?
Of course the routes are superb and the Gantouws Pass Portage iconic and terrifying (particularly if you haven't done it before). Day 2, claimed to be play day – don't be fooled – it's lekker tough but with so much singletrack leaving you smiling at the end, it's easy to buy into it. It's a day that once again shows how good the organization is – this time highlighting the trail builders – no matter what the challenge or how access to certain areas may change, they find a way! This is an on-going task that is easily overlooked when you are flying around the Elgin valley feeling like Greg Minnaar on a downhill run. Day 2 had changed quite significantly this year with the Thandi switchbacks making a sad departure, but once again the amazing farmers in the valley allowed for new areas to be opened and those who never did the old route would never have known the difference. Day 3 is still the fastest day for the entire field, not only because you're heading for the finish line but also because you have the old Houw Hoek pass road (Kat Pass) descent which is fun, fast, sandy and really special.
You leave the pass and enter an amazing new single track section that skirts the town of Botriver via the Beaumont River and Rail trails, into familiar territory on Wildekrans, over the steel bridge and on to the contour via a new route and some lekker singles to the Art house. You quickly catch your breath and it's the Karwyders climb followed by the slick descent via the Onrus Gorge and River Trail of the Hermanus MTB trail network to the new finish at Curro school. Everything is clearly marked, the USN stocked water tables is a wonderful strategic partner on the race. It has to be said though that some folk thought was an opportunity to restock their home cabinet and stuffed their pockets with gels and bars – just greedy and really poor form! It was the one negative, which to be fair isn't anything to do with the organization but is a result of contestants poor behaviour. This needs to be controlled to one or two per rider and should be mentioned in the race briefings and in the chutes. The result of this shameful behaviour is that the true trojans in the latter groups of the race ended up with very little or no USN products. Woolies was once again on hand for some real food and my favourites were definitely the stunning meatballs! All along the route there was a constant presence of support motorbikes as well as visible medical help at regular intervals along the route. Once again all top class organization!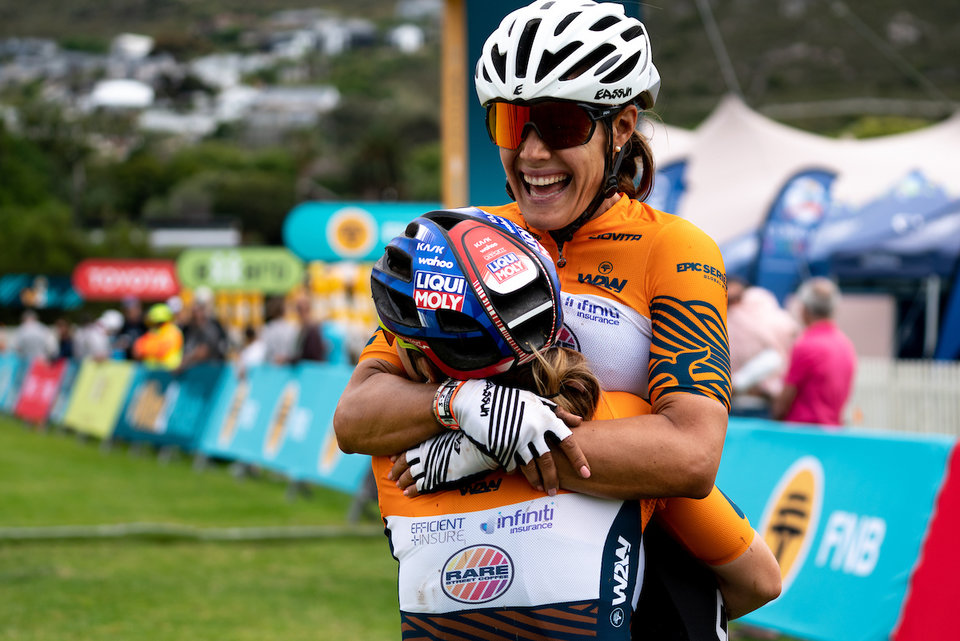 The final thing I would like to point out is the race village. The Oak Valley farm plays host to the village every year. It is without a doubt the best race village of all races I have been fortunate enough to ride or visit. It is brilliantly set-up and laid out from accommodation, bike bays and secure storage, ice cold refrigerated water containers, bike shop areas, parking, chill zone, bar area, working wi-fi, big screens and a huge dining marque that doubles up for presentations and race briefings. There is also a full emergency mini hospital manned by top class doctors and staff. As an amateur you feel like and are treated like cycling royalty and it's amazing to be rubbing shoulders with all the elite athletes who seemingly pick up on the gees mantra and are quick to sit down with a table and chat away. Again, it all comes down to the organization – the back-room beavers who work away to ensure that even if there are challenges you never know about it. That no matter what the show goes on – seamlessly. Will I be back - hell yeah! Should you do it? What a silly question – get your entry in and let's compare notes after. See you next year!