KAROO TO COAST


Sean Paul Mountain biker for 25 years, Sean has done most of SA stage races including two with his sons - Sani2C and Berg & Bush. A keen adventure racer he has done Race to Rhodes, Race to Cradock, Race to Willowmore & Race to Paarl and has aspirations to do the Freedom Challenge. Despite all his achievements he ranks belonging to his local MTB cycling group, The Cranks, as the highlight of his MTB career.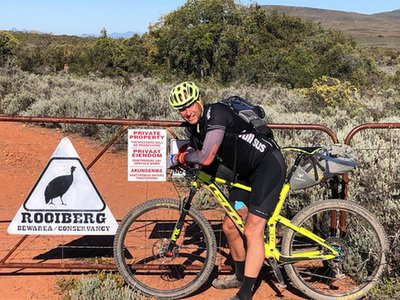 Karoo to Coast is one of those bucket-list rides that one can always ride more than once. And so when the event opened up again fully in 2022 after a period of Covid related uncertainty mates Glenn Honeyman, Jon Burgess and I – of course after a few red wines , and filled with Dutch courage - decided to enter. This was my third time and for them their first.
This race is a 100km race or journey depending on your outlook, from Uniondale to Knysna. The route has nearly 1800 metres of elevation in between.
The event is held on a Sunday, which makes taking Monday as a day off worthwhile and rather sensible actually!
But because it's a one-way event, there is admin to arrange. As we'd left our entries so late, accommodation in Uniondale was scarce, and so we decided to drive up on the Saturday, and overnight on a small farm just 70kms from Uniondale.
A wonderful evening was spent at Natures Rest Lapa, comfortably hosted by the owner Wium Albertyn and his family.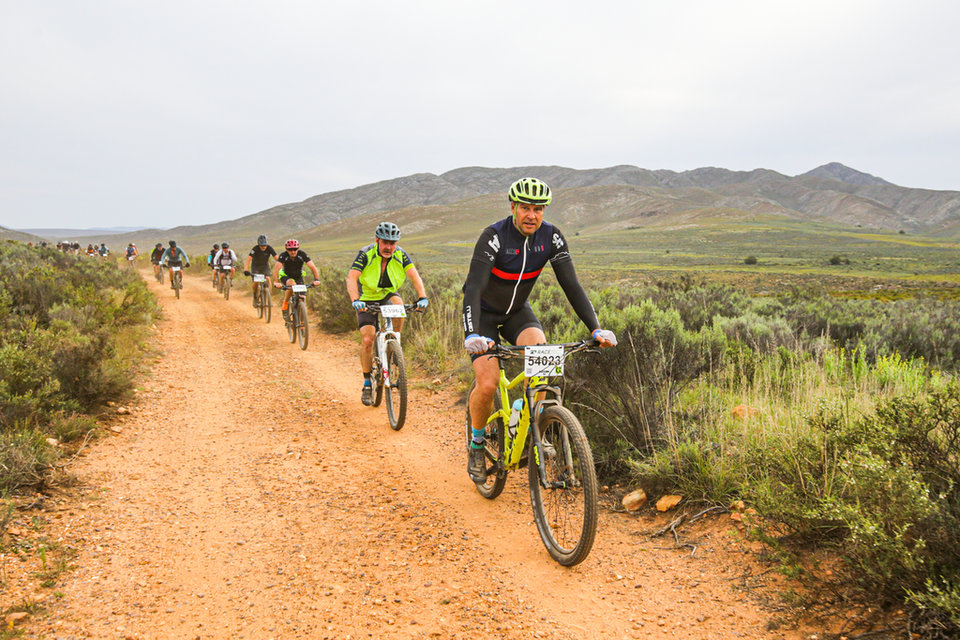 The next morning, by 5:45am, we were fed, fired up and on our way, along with a convoy of other entrants who weren't staying in Uniondale. With 3000 participants preparing their bikes, kit and nutrition for the day the start was buzzing with pre-race energy. We had arranged for Tours for South Africa to take our vehicle from Uniondale to Knysna while we rode and so met Geraldine and her team of drivers at the Dutch Reform Church. They were friendly, and professional, and made the car shuttle safe and simple. A quick unpack, last minute final kit choices, and we were off to find our start chutes.
The weather predictions for the day had shown rain and very cold conditions, but the weather gods looked to be in a good mood on the morning of the race and it turned out to be a beautiful day, clear skies, with a gentle westerly wind and no sign of excessive heat. Perfect conditions for a race that (supposedly) goes downhill all the way to the coast.
Into the start "chutes" which is a well organised system with different side streets allocated to different batches and 5 minute intervals between each start group, we were off at 7:40 sharp.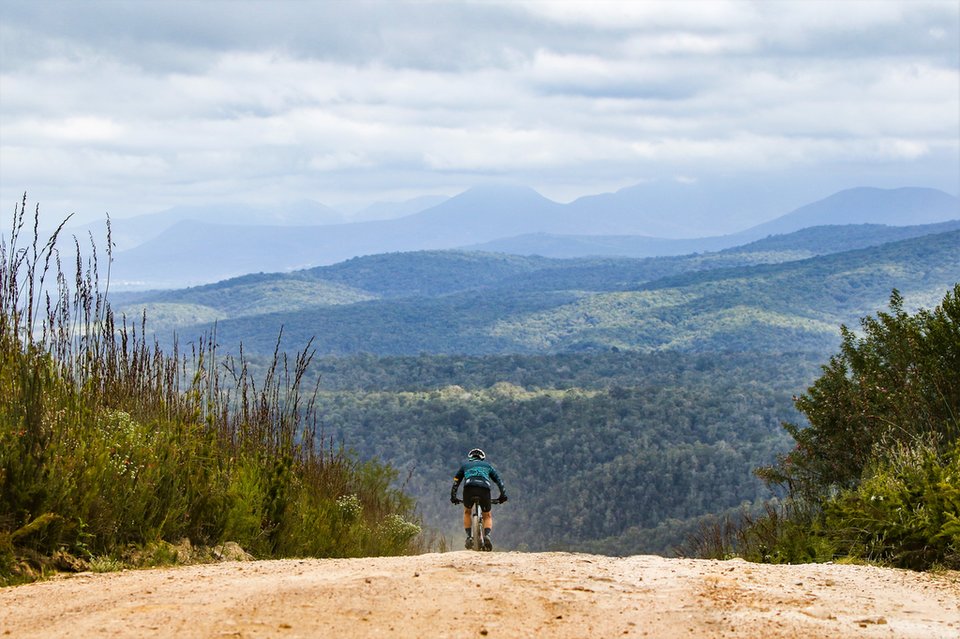 As one leaves the town of Uniondale, doing a small loop through some of the residential areas, with all the locals and the children out in full support of, one can't but feel like a celebrity. "Hou Bene, Hou" is all you hear as you start the first climb of many, up the Wagon Trail and on your journey towards Knysna.
The route is simply beautiful, with the wide-open spaces as you make your way to the top of the Prince Alfred pass and the long 16km descent into the Dieprivier. Once here, there is work to be done, and you suddenly realise it's not all downhill to the coast. There's 20kms of climbing before you get to Buffelsnek at 60kms, then when you blink all of the sudden, you're surrounded by the Knysna forests.
The shade and the sheer indigenous beauty of the Knysna forests allow the remaining kilometres to pass by easier than might otherwise be expected but one must not lose sight of the final climb up the back of Simola (Concordia). A tough steep, switch backed road that snakes up from the final river crossing after which your are rewarded with your first sighting of the Knysna lagoon.
A final, well-deserved, refreshment at the top of Simola was just another reminder of how unbelievably catered every single one of the nine waterpoints was. The food and drinks offered were plentiful and varied, and the energy or "gees" of the organisers, the marshals and supporters were amazing.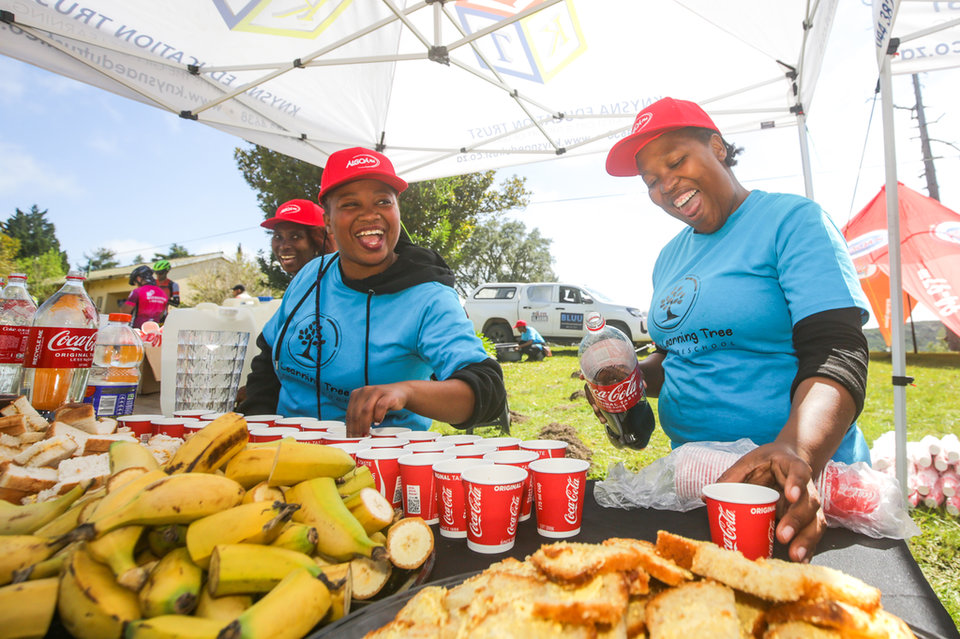 We raced down the super fast Simola hill onto the finish line at the school fields in Knysna central, where we could have a couple of cold ones and soak up the magnitude of the day, the journey and one's own achievements and sense of accomplishment. The live bands, beer tents and food stalls at the finish line made for a carnival type of atmosphere. Thank you to my partner Glenn for sticking with me for the whole distance, and Jon being the catalyst to enter in the first place. And thank you Karoo to Coast for an amazing event.
We'll definitely be back!

Words by Sean Paul
Images by Oakpics