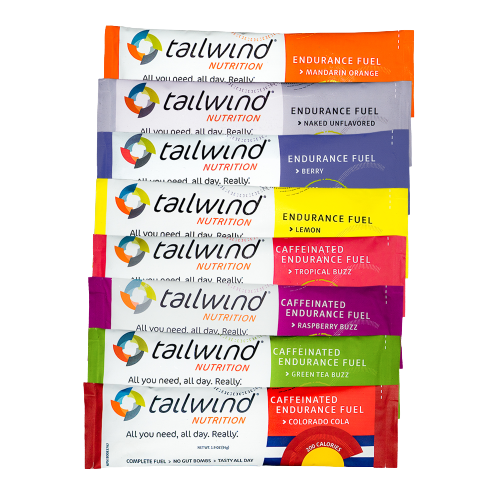 We all know that nutrition, particularly on longer rides and races is hugely important. What has really gained momentum, particularly amongst amateurs, is liquid nutrition. Tailwind is exactly that – nosh in your bottle and a few essential extra's too. 200 calories with essential nutrients and electrolytes along with a kick of caffeine per sachet – there are options without caffiene. Sipping the drink not only provides energy but of course you are staying hydrated and taking in electrolytes. Like all drinks I've tested through the years the trick is finding the balance between taste and of course efficacy – it doesn't matter that it's the best product in the world if it tastes like swallowing anchovy brine.
Most of the flavours in the pack were completely acceptable with the one flavour that I really wanted to taste, Cola not included in my mix pack. None of the flavours are sweet and this is particularly pleasing on long rides – I tend to keep on bottle of plain water and one with an energy/electrolyte drink and was quite happy sipping my Tailwind Endurance Fuel without having to wash down with water.
I used Tailwind on my training rides running up to Wines2Whales and then on the race. Not once did I feel any tummy issues. I am by no means a race snake so I really get to spend quality time on the trails and so nutrition is important – I never ever bonked with Tailwind – I did supplement with the occasional bar and some real food at water tables but nothing like I had on previous races. The comfort of knowing I was constantly taking in little gulps of energy/nutrition definitely added to a really comfortable and strong ride. I carried a second stick with me for the second water table each day – it was convenient and allowed me to keep as close to my regime as possible. I will admit to tucking into the occasional Sammie, meatball and a few gummies, but with 6 hour in the saddle and burning a lot of calories this was to be expected. Tailwind is a great product and certainly a product that any enduro cyclist should test, I suspect it will become a staple.
I purchased via the website as there is a limited but an ever growing network of retailers. My only negative is that you cannot select which flavours you want in your mixed stick pack. I am still disappointed that I haven't tasted the Cola flavour.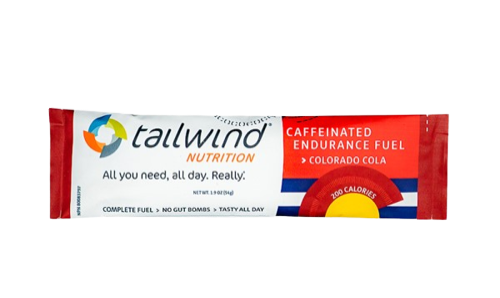 12 Stick Pack Bundle | RRP - R550
Ingredients:
Non-GMO Dextrose (Glucose), Non-GMO Sucrose, Citric Acid, Sodium Citrate, Sea Salt, Organic Flavor, Potassium Chloride, Magnesium Citrate, Calcium Carbonate
TAILWIND
ENDURANCE FUEL