the snakes
of tokai
Shayne Dowling interviews the "Snake Charmer" DEON DE VILLIERS.
The Tokai mountain bike trail centre is arguably the most well-known trail network in SA. Situated within a world heritage site it is a privilege every time you ride here. Prior to the devastating fires of 2015 Tokai was undoubtedly the busiest MTB venue in SA, with around 2000 bikes passing through the turnstiles a weekend. The fire left huge challenges for the trail builders who have consequently brought the grand old lady of MTB alive again and have also improved the trails quite significantly. In our fifth instalment of our nationwide tribute to trail builders, we meet Deon de Villiers, master builder of the Tokai MTB trail network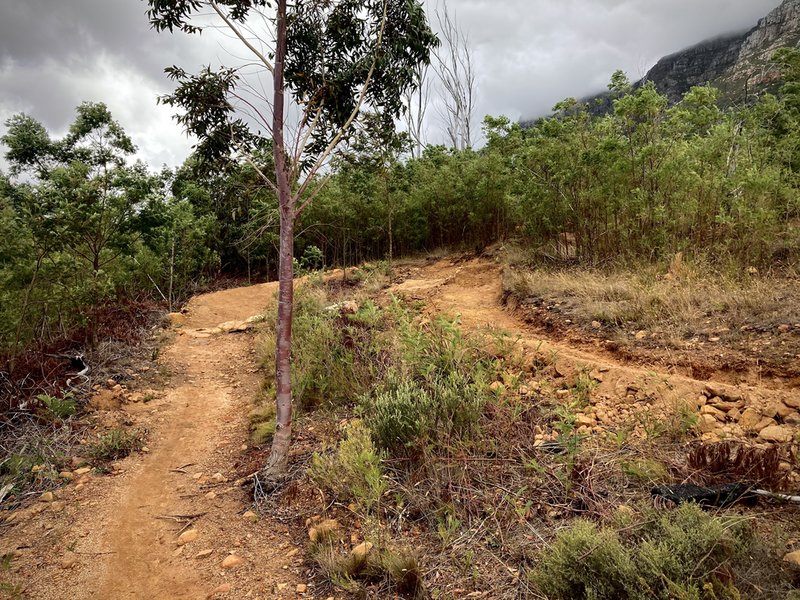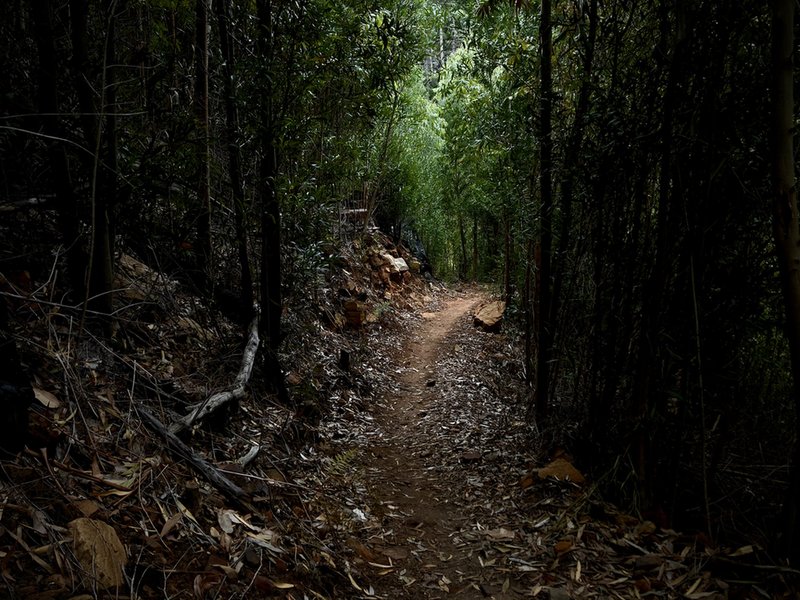 How did you get involved with trail building? For how many years have you been building?
It started sometime in early 2000. I just pitched up one day after a ride to help the volunteer group I saw on the trails earlier in the day. I like literally raced home, changed, raced back and basically didn't leave. My wife wasn't too thrilled ...
Tell us more about your most recent trails. Where were they built and what makes them so special?
What makes them so special? The people who ride them and fund their continued existence! Simply put, the tight-knit community that has grown (and grown up) around them.
Unbelievably, Tokai's trails are mostly still the same as they've ever been over the last 25+ years and as bizarre as it sounds, the fire in 2015 actually provided an opportunity to reverse the heavy wear from their high-use and infrequent maintenance. The recent overhaul across almost the entire network of trails means that we have been able to update and breathe new life into these old trails. The response from the people is the proof of its success and we've seen through our social media channels that everyone has their favourite, each for their own reasons.
Does it help when building your own trails that you can ride them? (an advantage to be a rider)
We don't really have time in the day to test the trails but years of riding gives one a good perspective of what is needed. Plus, there's always input from others that helps guide the trails' needs. There are trails I've not ridden yet since the rebuild which is another reason why we listen to what people say.
What is your favourite Western Cape trail and why?
Would it be wrong to say Tokai? I'm not kidding ... ha-ha. Ok, if it had to be any OTHER trail, Jonkershoek!
How big is your team and does each member have his own set of skills?
Tokai MTB has an operational team of up to six people and it's not really a case of each having their own skill since we are often limited by time. We have to constantly move guys from one job to another especially if the work is strenuous. This lets us maintain the work pace to finish building on the same day because, you know mountain bikers, we can't be leaving incomplete work for the next day, you'll hear the howls from the mountain as their Strava time comes to an abrupt and sudden stop! So our team is "multidisciplinary" which by the way, is my new word for the week.
There is one person in the team however who adds something to Tokai MTB that not many could, or would be able to match. Mr Mark Smith, with his tenacity and organisational skills that far outweighs anything that I have to offer, is why I believe we are as productive as we currently are. There is so much to do in a day that doesn't show directly in the trails that without his input, we would not be what we are, or as far as we are. I tip my hat to you, Mark!
" TRAIL WEAR HAS MADE US LOOK TO NEW TECHNIQUES TO MINIMISE DAMAGE THAT NOW, WITHOUT TREES, IS ACCELERATED BY THE ELEMENTS "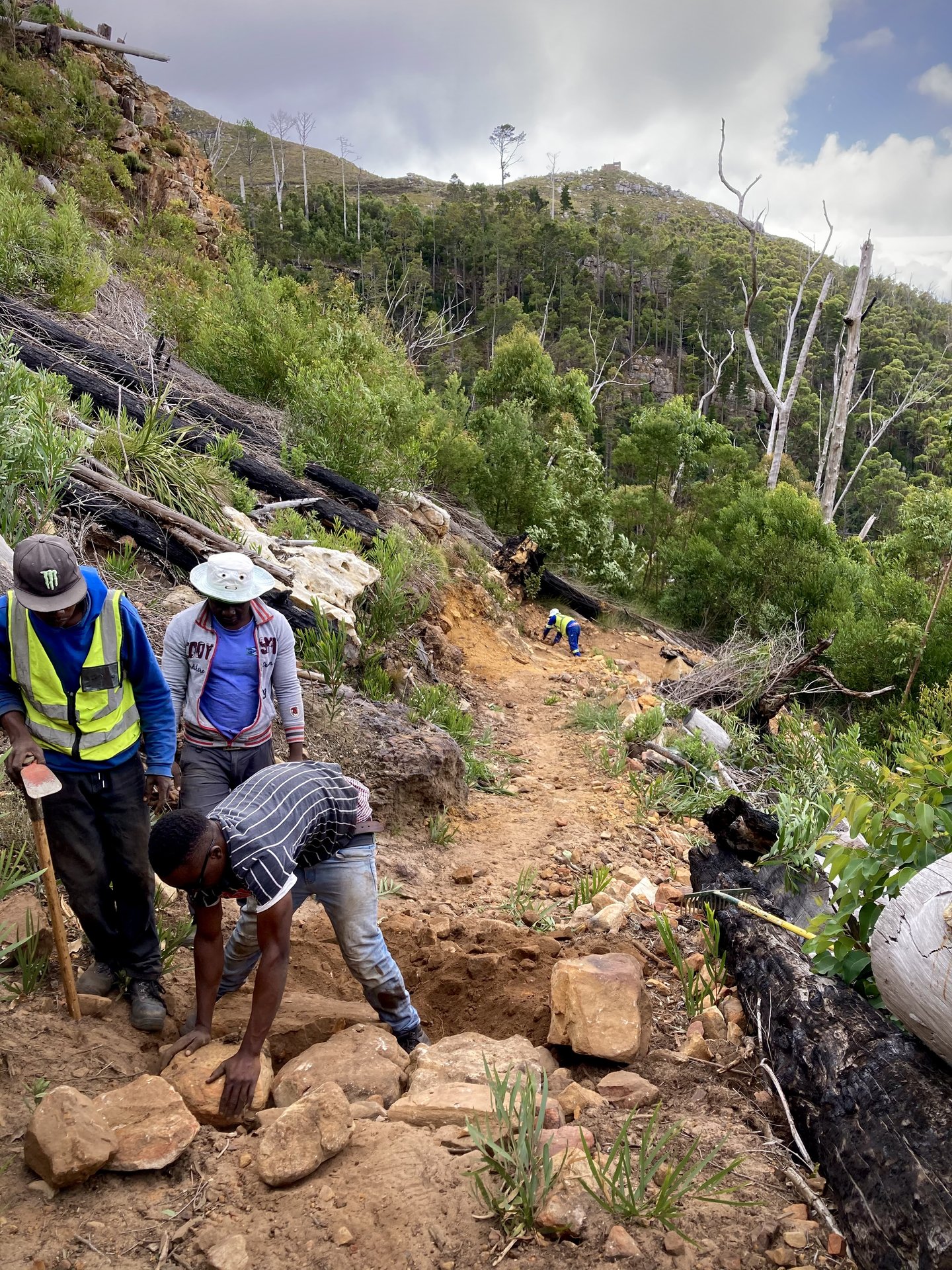 The real trail-builders - the team of guys that ensure the Tokai trails are perfection!

What are the biggest challenges of building – say by area and where you have worked the most? (soil, traffic, terrain, water, area restrictions – world heritage site and National Park etc.)
Let's just say, any trail that is not built on a contour poses a headache. This sentiment is probably shared by all trail builders but we seem to have it extra bad in Tokai as the mountain is predominantly sandstone, open all year round - rain or shine - and subjected to high-use because it's easily accessible to anyone living in the suburbs below. Trail wear has made us look to new techniques to minimise damage that now, without trees, is accelerated by direct exposure to the elements. Being a National Park just compounds the issue further because since Tokai was included in the Table Mountain National Park in 2005, we have had to look at sustainability from basically every angle, including those legislated in environmental law. This means a lot of rock work and clay dug from blocked jeep track side drains that has to be carried in to site because, well, sandstone trails are not wear resistant.
With the recent fires we are once again reminded how privileged we are to be in nature but also the risk natural disasters pose to the trails. Do you take this into account when planning and how can one ensure minimum damage and longevity to trails – what did you learn after the last blaze that could help should anything like that happen again?
We are very lucky that we don't rely on wooden structures in Tokai and that the 2015 fire allowed just enough time to pull almost every wooden sign out from the trails but the memory of the Grysbok that ran right passed my legs only reinforces the fear and ferocity of fire to those who depend on the environment for survival. Despite the large swathes of alien vegetation that is being cut down again and left in situ on the slopes, I firmly believe that Tokai (and the suburbs below) is in a safer position than it was when the slopes were lined with trees. The biggest difference between dry wood and living pines or gums is the ability to fight the blaze. Sticks burn fast but trees filled with combustible sap means big trouble for the fire-fighters. So if there was another fire in Tokai, we would not only have a shorter down-time but also that the damage to the trails will be significantly reduced.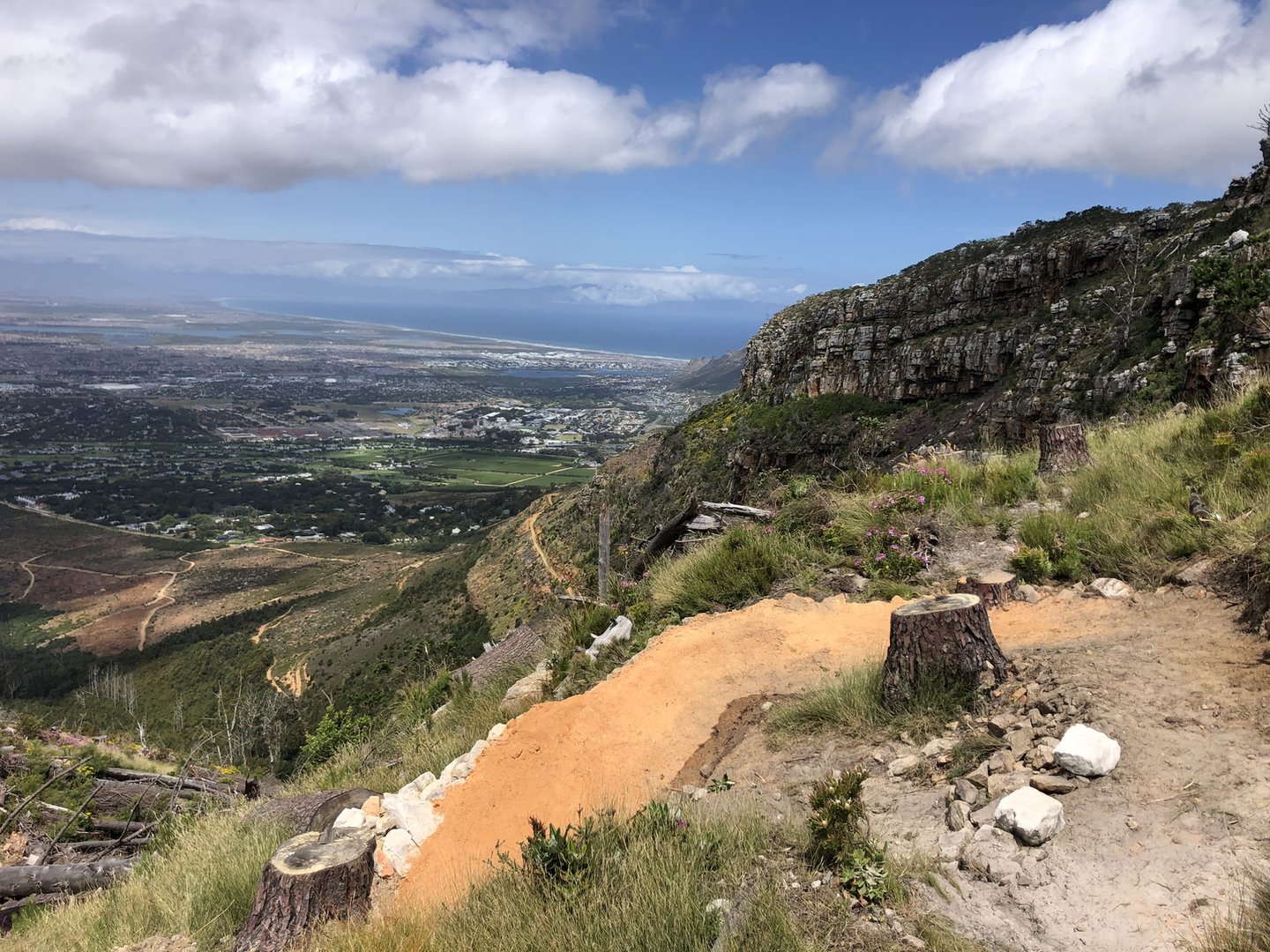 Did Corona/lockdown make trail building slower or impossible? Did it help you?
We qualified as an essential service provider so we had a few weeks of building in solitude. It sucked actually because we landed up missing the riders who usually stop to chat.
Any specific area in SA you would love to get your hands on and build some new trails?
Hearing great things about the Magaliesburg.
What is your favourite place to ride outside of the Western Cape?
Not a regular place to ride sadly but I had by far the most fun in Spain! As fate that day dictated, I managed to hook a birthday ride with some guys from Mondraker, on 400 year old trails that were used to commute by donkey between the various villages surrounding Barcelona. What really surprised me a few years later, was that I was given approval for our very own "Donkey Trail" in Tokai and, as it's been explained, is also really old and originally used to get into Silvermine and beyond. I call it serendipity, I mean, what else could it be!?
Any advice for aspiring trail builders?
Race home, get changed but before racing back, discuss your next move very carefully with your wife.