WINTER
GRAVITY
Hey guys! Super stoked to be writing this column for you guys once again and sharing some insight into the gravity world.
Words by Johann Potgieter and images by Chris Taylor

At this point in time, we have had some of our local races including the South African champs and it is so good to be racing again! I am still in South Africa and with Germany still implementing a travel ban from South Africa at the time of writing I am not sure when I will be heading to Europe.
As we are approaching winter, I thought I would share some things about riding in the wet, cold and mud ... things that winter could bring across our paths. I know usually people stay indoors when the skies open up or when it's wet outside and this is especially true for South Africans, but you do get the more hard-core guys who are not afraid of getting dirty and of course riding in the wet can be mega fun.
Firstly, the most important thing when riding in the wet is your tire choice. For us in Cape Town it's not such a big deal as we mostly have a very sandy texture to the dirt, we ride on so dry tires works even when it's wet and are still ridable when it's muddy, but there are other parts in South Africa where a wet tire will be needed especially in the KwaZulu-Natal and Mpumalanga areas for example.
" Hard-core guys who are not afraid of getting dirty and of course riding in the wet can be mega fun "
A wet tire has a couple of differences to a dry tire. They are usually a bit thinner, so they can fling the mud off easier. They have taller knobs and mostly on top of the tire so they can really pierce through the mud onto the more solid dirt and the spacing of the knobs are usually a bit bigger so that mud doesn't get stuck onto the tire so easily. A tire like this can make a big difference to how your bike handles in the wet or muddy conditions.
The next problem the wet can cause is poor vision, and this is where a mudguard comes in. There are some great products on the market like the Marsh guards and so on that you can zip-tie to the brace of your fork, but if you find yourself in a situation without a mudguard, you can always use an old tube or similar material and zip-tie it onto your fork ... the top to the crown and the bottom to your fork brace as in order to close the hole that you see in your fork, and this works like a bomb to keep your eyes mud- or water-free during a ride. If you ride while it is raining you could also extend your helmet's peak with a piece of plastic and some duct tape. We usually use an old goggle's lens for this and that works great to keep the rain from hitting you in the eyes.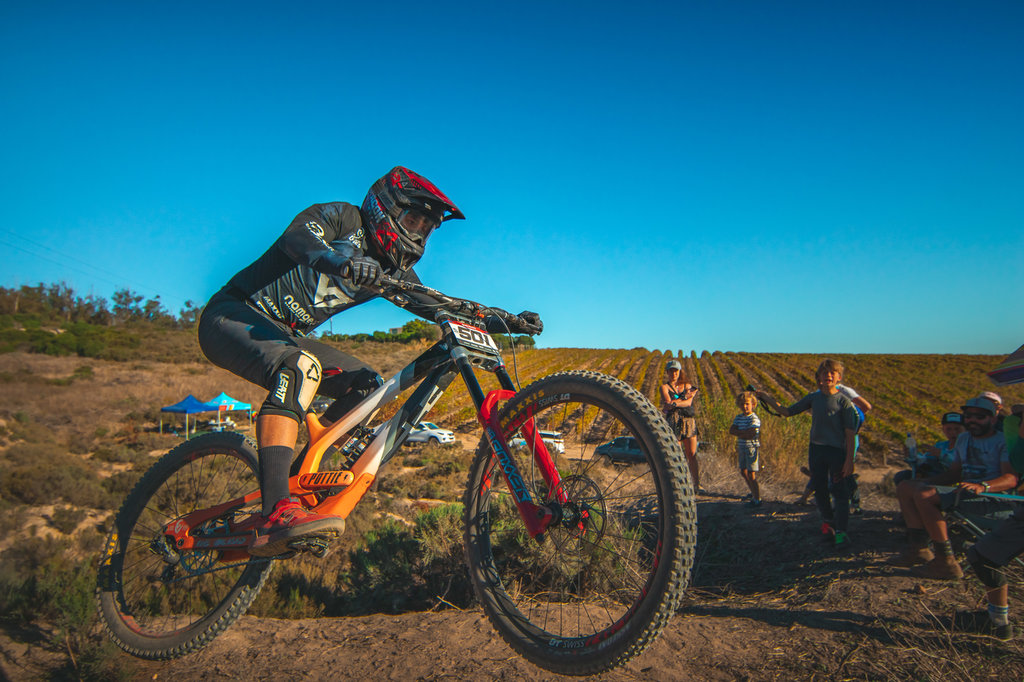 If it is wet and cold and you still want to go and enjoy the ride, the most important thing is to keep your hands and feet dry. When your feet get wet inside, they will start to get colder and colder and later on you might not feel them anymore and that is a sure-fire way to ruin a ride. To keep your hands dry is just as important, especially your palms where you hold onto the bar. When your palms get wet, you will lose a good grip on the bar and when they are wet, they will get colder and colder, and it is never nice to ride like that. Whenever we have a muddy race in Europe and I am about to have a crash, I always try to crash with my hands closed so that the palms of my hands stay clean because when they get muddy it is basically game-over for holding on properly.
Then lastly a good windbreaker and riding with some good long pants will of course make the ride a lot more comfortable. There are a lot of companies making great long pants for riding that are lighter and stretchier than the standard motocross pants and that will keep your legs dry and warmer during a ride.
Well, that is it from my side! It was super cool to share this column with you guys once again and I am looking forward to the next one! Happy winter riding!