MAn of steel!
All he needS IS A red cloak!
MAX MENZIES is known for his extreme superhuman adventures. Short of wearing his undies on the outside and wearing a cape, this superman is about to deliver another wonder feat to prove this. Tackling the Absa Cape Epic on a rigid single speed steel bike is definitely going to be something to marvel! We chatted to the superhero.
Doing the Cape Epic is hard enough, doing it on a rigid frame single speed steel bike seems insane. How did this idea come about?
Every Jan I plan my ride events for the upcoming year and then seek sign-off from the Minister of Interior Affairs and Finance … I presented mine and got red carded for Munga and needed a replacement for this that poses a serious challenge to keep the stoke going. I had already transferred my 2021 March Epic over to 2022 and did not have any tough rides on the radar outside of the normal stuff. The steel team SS challenge was always an idea and I spoke to Epic about it and they put me in touch with CLT and BANG the idea got traction and the green light was obtained from Isabelle and it was full steam ahead. Hell yeah!!
Why dude?
I switched over to SS riding some time back and it is now my thing … I love it – got rid of all the bikes and clutter. October will be my sixth Epic having completedthree Epics (2015, '16 and '17) on my beloved SS called Scelerat with the fourth one in 2018 resulting in a DNF after a solid heart attack (even superhero's have weaknesses – ed). I took a break in 2019 to get my health back and then Covid-19 stuffed up 2020. The Epic has become such a gnarly technical ride with all the latest mtb bikes on display – I believe it is a good thing to have a basic bike … a reminder of keeping things simple and leading a minimalistic life which I have always strived for and practice in McGregor where I now live. Now to do this as a team with both riders on fully rigid one geared steel bikes (with no gloves) that will be awesome. I have always been a "heads up" rider who enjoys the banter at the back of the field … don't take it too seriously and dig the challenge and sufferfest. I live for mtb biking and the Cape Epic has played such an important part in my life – my wife and I essentially left CT for McGregor to be able to horse ride and bike in a beautiful and safe surrounding.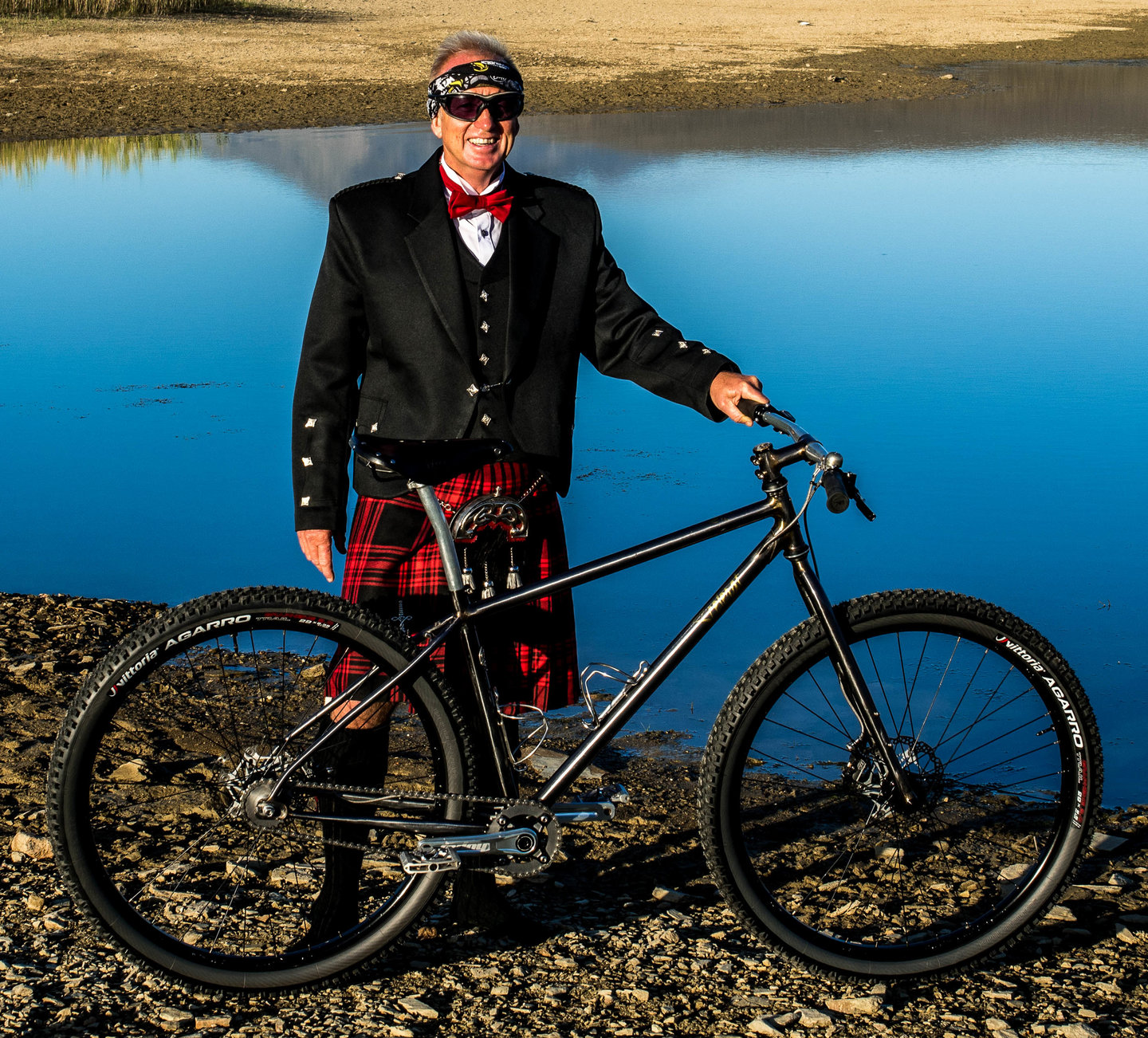 " I have always been a "heads up" rider who enjoys the banter at the back of the field … don't take it too seriously and dig the challenge and sufferfest "
Bike prep?
Surprisingly difficult, as everything must be tough and durable for an Epic type of ride. Over the years I have got the two bikes totally sorted with the toughest rims, Hope hubs, Hope BB, Hope Crank, Steel chainrings, BMX chain, Thomson laidback seat post, Ritchey handlebar, Mallet Crankbrothers pedals which are big platforms, Hope 4 pod brakes, etc
Has this ever been achieved at the Cape Epic?
Cape Epic and I have looked back and to the best of our knowledge have only found two previous SS teams that managed this: in 2007 Knysna route – on fully rigid SS bikes, think they had aluminium or carbon frames and then in 2012 on the new clover leaf format there was a team on SS bikes, but on Carbon and front-shocked. Since then, the Epic has evolved and become technically very challenging – we are hoping in 2021 to become the first team on Steel Bikes, fully rigid and only one gear with thick steel tooled chain rings and Brooks saddles for good measure. I have always thought about doing it as a team, but my ride partners were not interested!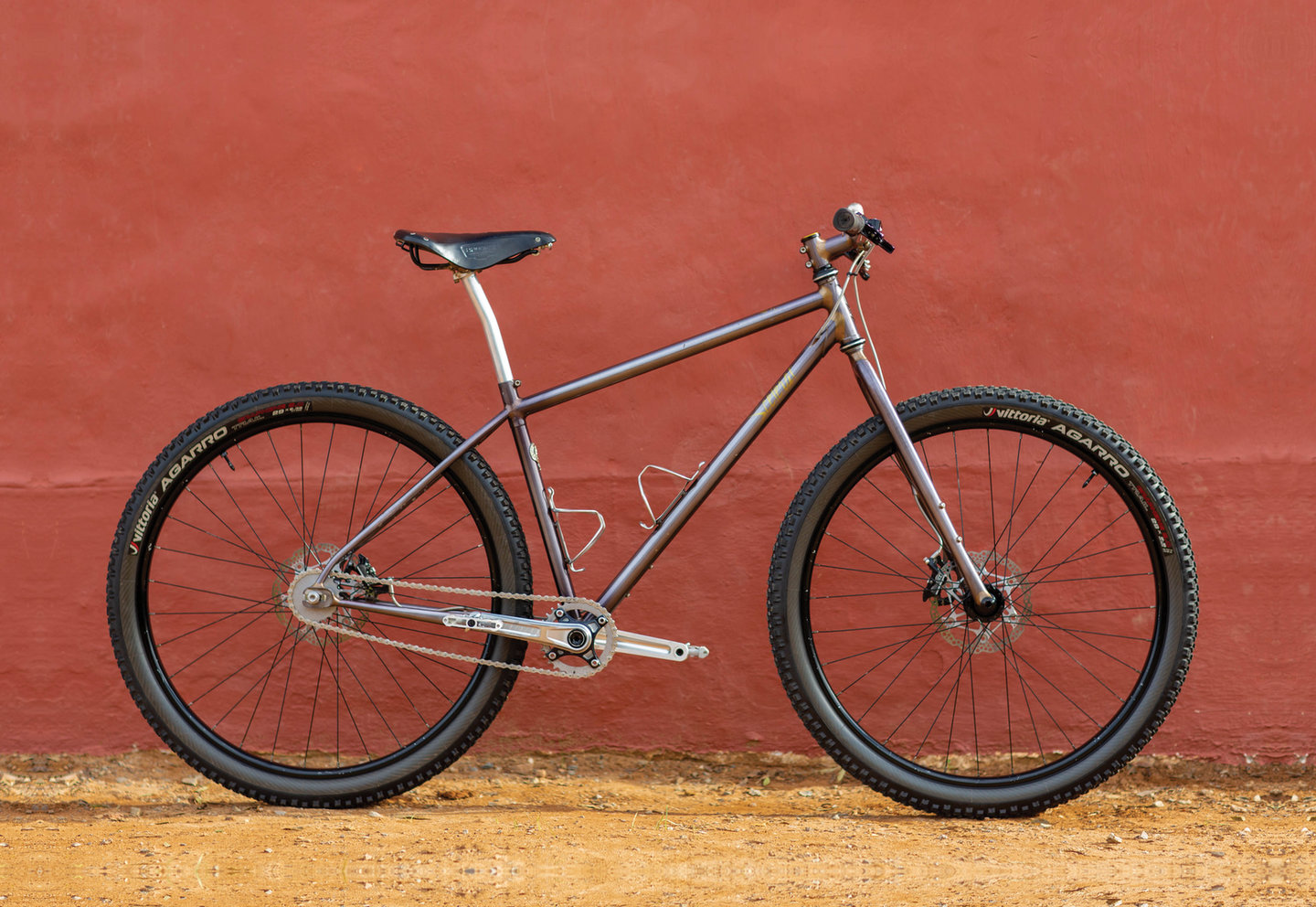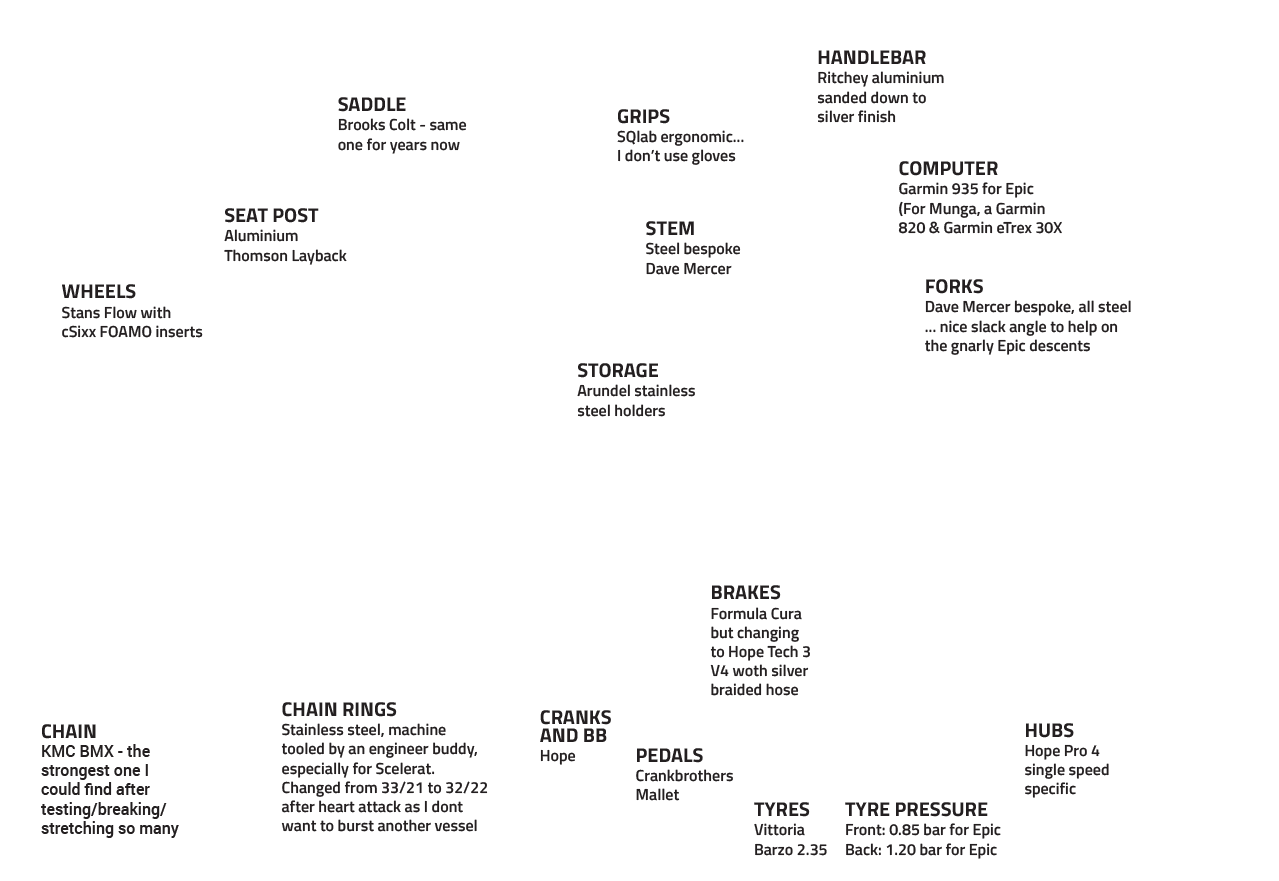 Who is your crazy partner?
I started and manage a charity/NPO in McGregor where I live, called McGregor Young Warriors. We bring bikes into our village for the poor community (over 600), have a BMX kiddy programme, a fully serviced bike shop run by MYW, and with 12 competent riders we do all the big mtb bikes events. In our A team we have a 21-year chap Fernell Regue, aka Fykz who I have chosen as my ride partner – tough as nails. He is a senior MYW rider and bike techie at Route 62 Bike Shop in Robertson and has been with me from the start five years ago. We have done Cape Pioneer as a team, Tankwa and tons of events together and this time Fykz will be using my original steel bike that I did Munga, Attakwas and all the other stage events in Lesotho, Kenya, and SA on before having Dave Mercer make some magic with a bespoke frame like only he can do – Scelerat V.2! Fykz has had a tough life, like many folk in the farming community of the Western Cape and relishes the opportunity to take on a challenge like this. I have normally had strong partners on normal bikes who have taken care of me when at Epic, but now will have a newbie on a crazy bike. I have carefully planned our strategy and know the recipe needed to be executed in order to achieve our goal.
The two Charities?
MYW falls under the Breede Centre, a nine-year-old registered PBO plus the well-known Cape Leopard Trust who facilitated the team entry. Both do fantastic work in their respective fields. Looking at the Breede Centre which I am involved in, we have achieved so much – highest bikes per capita of any town in SA, a stand-alone BMX track, a fully furnished and kitted out bike service centre and of course an incredible mtb bike race team. Our ride programme for the next 12 months includes – Trans Augrabies, Attakwas in August, R2N, Cape Epic in October, W2W, Attakwas in January, TankwaTrek and March Cape Epic. Our focus for MYW over the following year is the children's BMX programme – we have huge plans. We're hoping to raise awareness of the work these charities do and generate some funds. We're desperate for five hardtail 29'ers for the race team. Any contributions will receive the necessary it18a tax donor deduction status plus BEEE level 1 certification.
If you wish to help us in anyway
Contact Max on 083 270 9284 or myw@breedecentre.co.za and share this great story with anybody/business that you think might wish to get involved.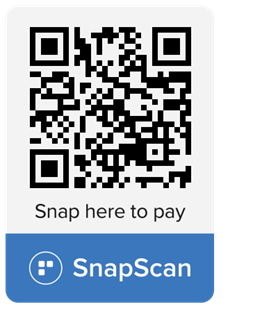 Breede Centre Trust – if using this please give me your name and email address … many thanks.