Bethlehem Farm,
Banhoek Conservancy

LOCAL BUZZ:
Stellenbosch has always been setting the trends when it comes to contemporary crank culture, and it is no wonder you'll find a whole bunch of rebel trail builders creating singletrack stoke in the shadows of Simonsberg and the towering Drakenstein peaks.
There's been a mountain-biking boom happening in Stellenbosch since the heady 80s, and - just as Californians will always be awed by those epic early days of MTB on Mount Tamalpais - your local Stellies crew will forever have a "Never-Ending" story of their own to tell.
These vine-flecked slopes are where early trailscapers honed their dirt skills, and many decades later, their handiwork has spread throughout the surrounding valleys and ridges and peaks. And as this is wine country, this sweet singletrack now flat-line through the abundant vineyards, too ...
The Banhoek Conservancy lies at the heart of a new chapter of trail, encompassing the lofty Banhoek Peak (standing tall at an imposing 1 492m). Bethlehem Farm is where most of the new builds may be found and stretches up to the breath-taking Dwarsrivier Conservancy and right up against the Hottentots-Holland foothills, making it one of the most beautiful valleys in the Winelands.
Check out www.banhoekconservancy.org for more information, as well as an excellent and easy-to-use TRAILFORKS Map.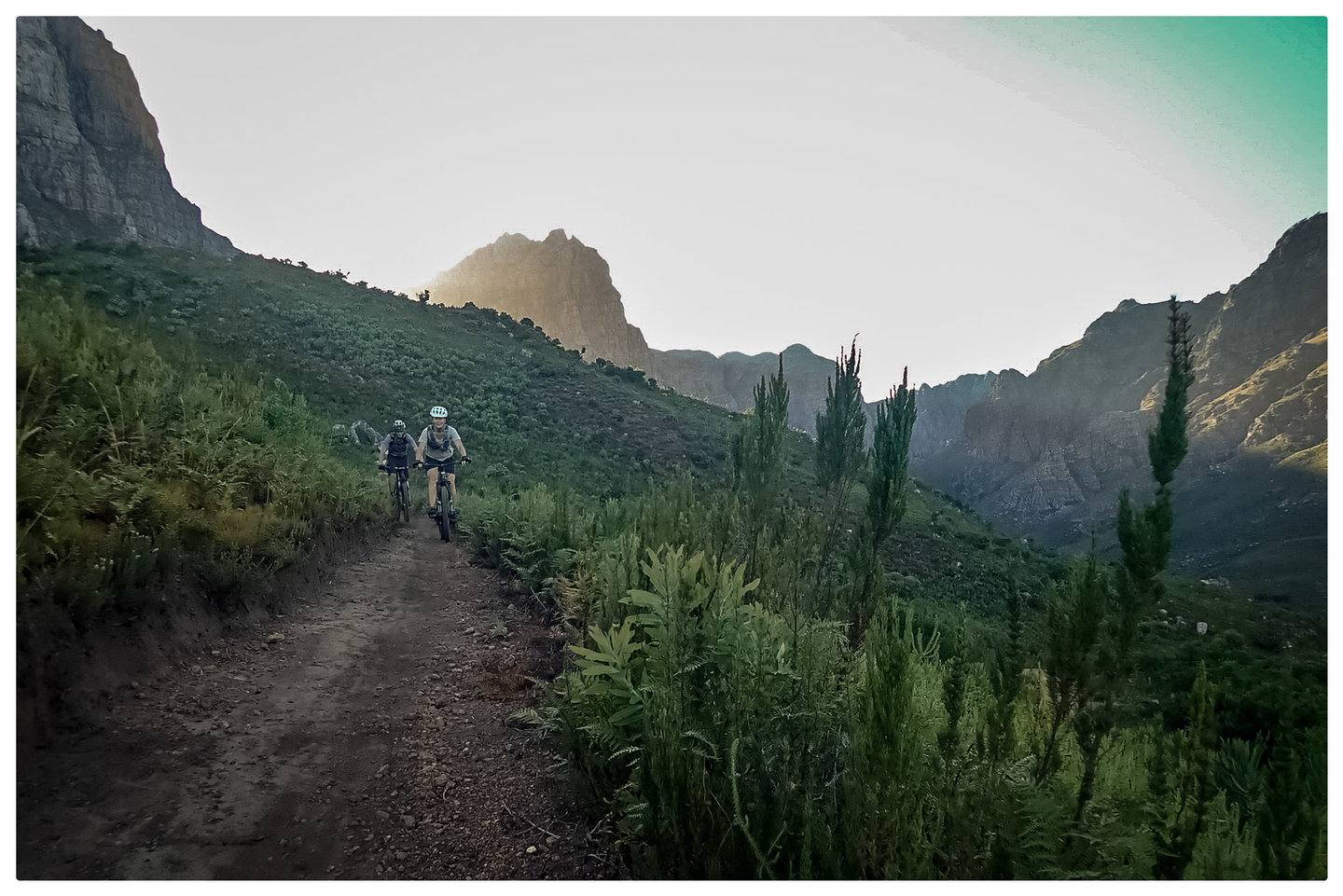 TRAIL LOW-DOWN
The Drakenstein Peaks are reminiscent of the dolomites ranges and man, they sure make for a perfect weekend MTB mission from anywhere in the greater Cape Town area. It's no secret that you and your granny gear will form a close bond if you ride Bethlehem Farm, because there are mountains booming high against the horizon wherever you look.
The incumbent trail builders -Kim Lord in Dwarsrivier and Wynand Basson on Bethlehem Farm – have both done a damn fine job here. Kickass panoramas and contouring trails make most of the ascents eminently rideable, and Basson's new slatted wooden berms and kickers make for a blast of a downhill ride as you bomb back towards Kylemore.
You can access the "Game Trail" circular route easily from either the Old Bethlehem Gate (on the edge of Kylemore village), or from the Boschendal Vegetable Garden side (the latter only if you have a pre-paid permit). It is well marked with light blue circles on black arrows at key junctions along the trail.
From the Boschendal Garden, the route follows singletrack along the stream course, and often shared by pedestrians heading to or from the estate from Kylemore. Due care should therefore be taken while riding the route, which eventually links to the Dwarsrivier Trail.
Start off along a gradual climb through orchards and the Dwarsrivier River drift, continuing into the game enclosure over a wooden stile (4.2km). Continue along a range of purpose-built single-track joining the Game Trail Circle Route, keeping an eye out for eland, wildebeest and other game.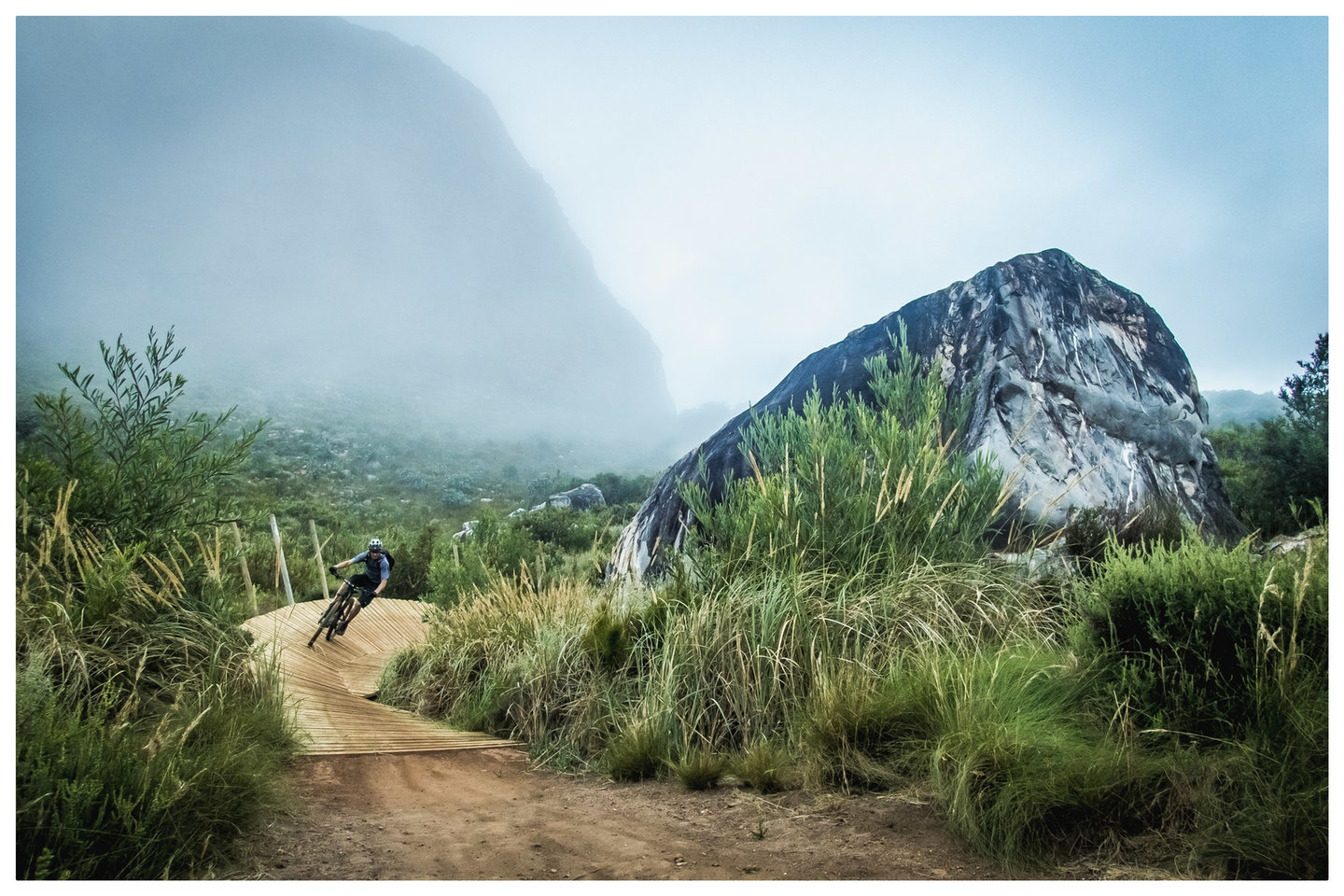 Follow the signage as the trail dips and winds into Old Betlehem Farm where you're about to hit the motherlode of all stoke. Wynand has completely recreated the top contour section by-passing the entrance to Duiwelskloof, with ripping enduro-style riding along the Drakenstein foothills.
There are a number of options to follow here, so it makes sense to download the TRAILFORKS App to get a sense of the various route segments zigzagging along the mountainside. Total elevation gain is in the region of 350m, and there are more than enough short and sharp segments to properly test your legs.
The route varies from Intermediate to Advanced, depending on whether you take the Chicken Runs or not, with rocky and loose surface sections adding to the technical nature of the ride. However, if you take it slow, even rookie riders will have a great day in the saddle.
Mountain bikers now have access to more than 70km of trails ripping through this fynbos paradise, with a network of routes linking nine wine estates and farms, including exquisite destinations such as Delaire, Bartinney, Fijnbos, Rainbow's End, Oldenburg, Vuurberg, Zorgvliet, Thelema, Tokara and the original Camissa Farm.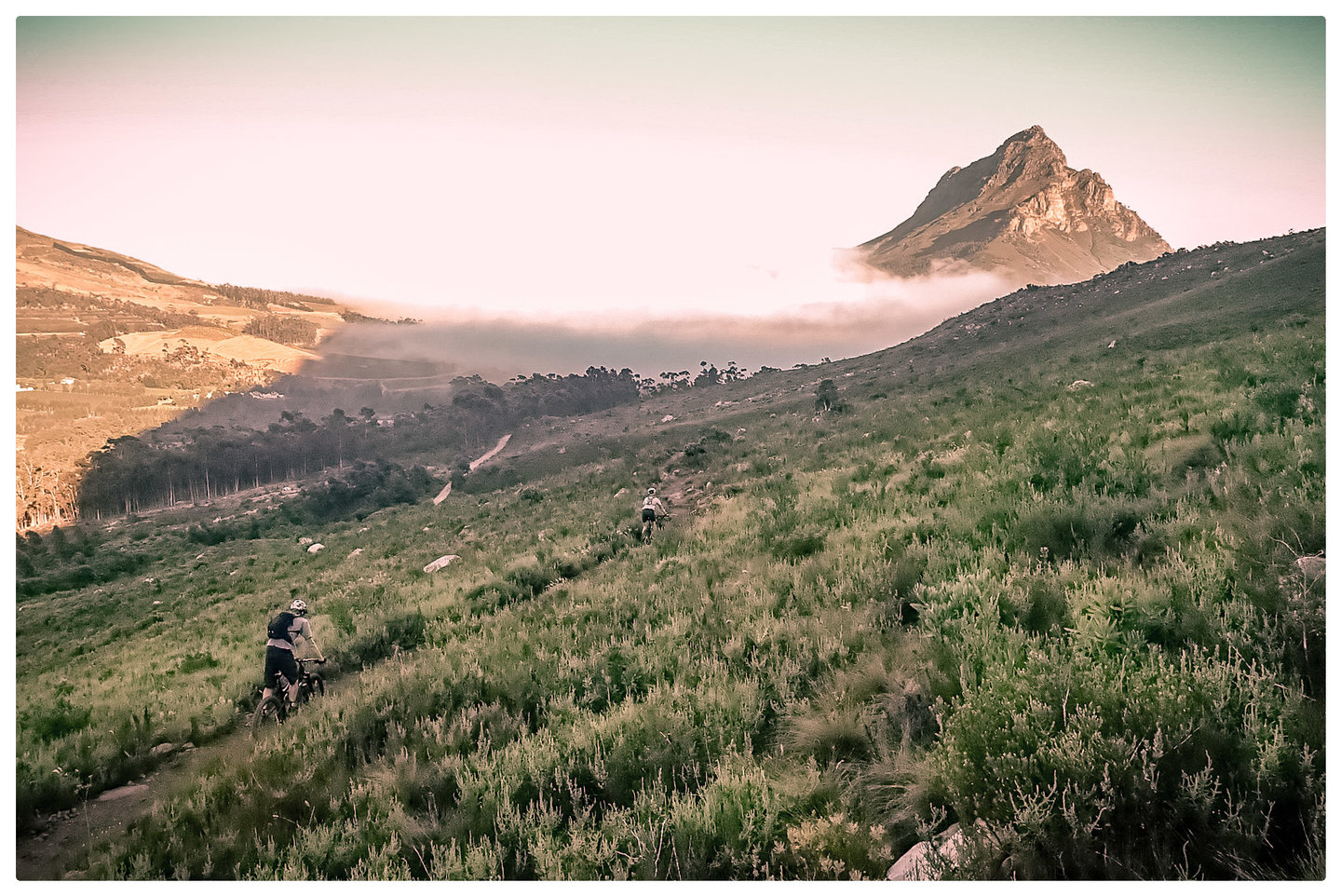 Banhoek Trails – fast facts block
GRADING: Intermediate to Advanced
DURATION: From 1-4hrs
CONFIGURATION: Interlinked trail network
START POINT: Various
COORDINATES:
Banhoek Game Trail - 33°54'57.6"S 18°57'11.5"E
Kylemore - 33°54'57.8"S 18°57'11.9"E
TERRAIN: Predominantly singletrack
MAP: Map available on website
ENTRY REQUIREMENTS: Day / Annual Permit
FACILITIES: Coffee, beer, wine, food … what more could you ask for?
CELL RECEPTION: Good
BEWARE OF: Tight corners; loads of jumps; rocky terrain.
EVENTS: ABSA Cape Epic; Savanna Origin of Trails
CONTACT: BANHOEK Conservancy: (083) 325 5840
WEB SITE: www.banhoekconservancy.org
how to get there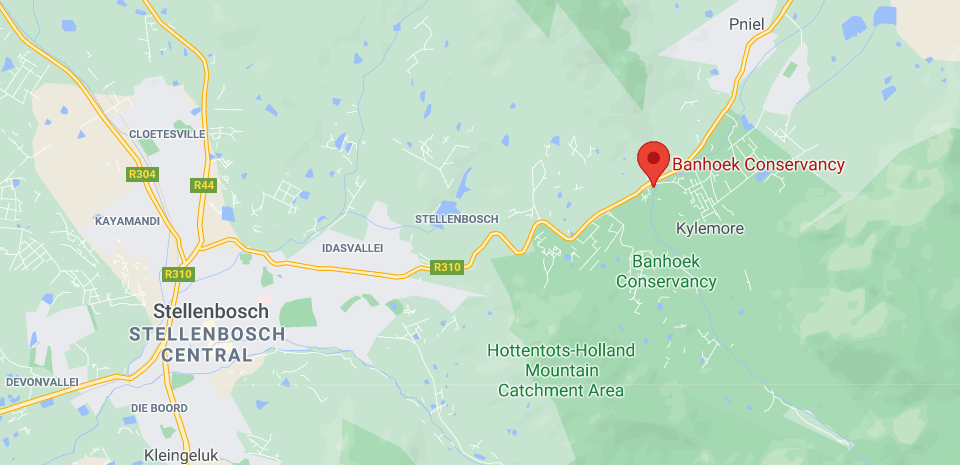 Getting there:
Travel from Stellenbosch towards Franschhoek over the Helshoogte Pass before turning right into Kylemore just before Pniel. Keep left until you reach Old Bethlehem Farm on the left; enter here via the big black gate.
Best Time of Year:
Year round cranking on your own but keep an eye out for all their regular events and join in the fun.
Off the bike:
This is proper wine country, with exceptional accommodation ranges from hide-away cottages to uber-premium, all-inclusive boutique establishments at R25 000 per night. Wherever you (or your wallet) may choose to stay, you will have full access to the trails, with full access to wine tastings, hikes into rugged gorges, or blissing out on laid-back mountain meditation. There is top trail running, too.