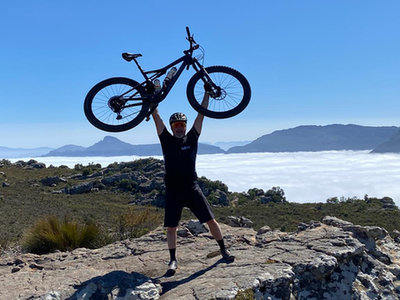 NOTHING BURNS LIKE THE COLD! – George R.R Martin
Winter is here. This last weekend it was 3°C on our way to our local trails – it peaked at 10! Needless to say I couldn't feel my hands despite my winter gloves and my ears were really thankful for my buff that I have finally got used to wearing thanks to the pandemic. Arm warmers, gilets, merino base layers, thick socks even rain-jackets – just not leg-warmers because my mates give me a hard time – my knees hate them! What it does prove of course, is that with the right gear it certainly makes tackling the elements easier. We are mountain bikers' after-all!
This issue we look at one of the "MTB Majors" and how they have turned things around in order to stay fresh, relevant and offer their faithful new challenges. With riders starved for organized events the fact that it is taking place is enough for most of us – the fact that it is a new perspective is a real added incentive. See you there!
Our Trailblazer series continues with a chat to the trail builder at our local spot Tokai. There is certainly a lot more than what meets the eye when it goes into carving mtb art out of a mountain face. Deon de Villiers gives us some insight into this grand old dame of MTB trail networks.
I have been banging the "be seen" on your bike drum for ages now and with the sun having a lie in it is certainly a no brainer to have decent lights on your bike. If you spend any time on the road then a rear light is a non-negotiable – it's as important as your helmet! Having a front light definitely makes you more visible and really doesn't add much weight. Night riding needs a really good front light and we look at a few options in our Window Shopping and Test Zone sections.
#wheredidyourbiketakeyouthisweekend has really been a great social media feature – thanks for everyone who send in their pics weekly – check out some of the best in each issue and Congrats to Francois Fourie – your limited issue Full Sus cap is on its way to you.
The Third Wave we are told is upon us! Having had a really bad dose of Rona on the second set I can vouch for the severity of this virus – it's not a joke and although seemingly completely random on who gets hit hard, it really isn't worth the risk and flaunting the protocols. We are really lucky that we have such amazing outdoor options all around the country – where we can hike, run, ride in beautiful surrounds. Let's be thankful and embrace these opportunities and if we all do our bit hopefully we will be back to where we all want to be soon! Take care, be responsible, don't be a douche!
See you on the trails!