 Adventure
equipment
Setting out on a bikepacking trip? At a loss for what you need to pack and to pack into? Seamus Allardice gives us the low-down on six items he won't leave home without on a cycling adventure.
There are a couple basic principles which should guide your packing for a bikepacking trip. The first is that you need less than you think. While the second is that you need to pack as light as possible. Those two factors can lead to an expensive set-up, because as with everything else in cycling the lighter bikepacking gear is, the pricier it is generally. But if you're willing to suffer more on the climbs and even walk at times, then you can put together an equipment list that won't break the bank. Still, less and lighter is better …
I also neglected to mention that more compact is always better too. So, when in doubt, go with the down stuffed product over the hollow-fibre one.
setting up camp
I've been using First Ascent's Stamina one person hiking tent for nearly a year now and I can highly recommend it. It weighs just over 2kg, features aluminium poles and pegs, is robust and easy to pitch. For solo trips it is the way to go. If you know it's going to be dry you can even leave the fly sheet and all but eight tent pegs at home. Then you will have a mosquito-proof and well-ventilated place to sleep. For those camping out well away from water and thus mosquitos you can get by with just a fly-sheet, like the First Ascent Hammock Fly Sheet. If you're going on a trip with another rider and you're happy to share a tent, breaking up a light two person tent, ends up saving weight all-round. The First Ascent Starlight II tent, for example, weighs 2.8kg, which means that you'll each be carrying around 1.4kg rather than 2kg if you opt to pack a Stamina tent each.
First Ascent Stamina tent | RRP R2199 | www.firstascent.co.za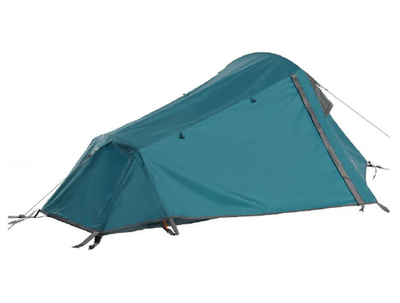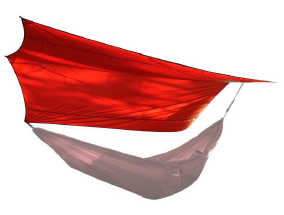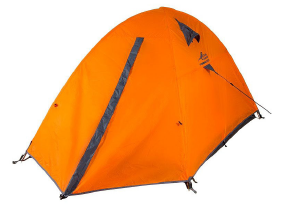 staying warm at night
Down sleeping bags are lighter, warmer and pack down smaller than their synthetic alternatives. So, if there is one thing to spend a chunk of your budget on it's a proper sleeping bag. I've got a First Ascent Explorer bag which has served me very well since 2017. It is rated to 5˚C for comfort and -10 for extreme conditions. Recently I camped in Willowmore, ahead of the Trans Baviaans, where it got down to -2. I actually got hot in my Explorer bag, with a thermal liner. As it doesn't get that cold in South Africa that often I'd suggest that a lighter bag, like the First Ascent Amplify Down Light which is comfort rated to 9˚C, and a thermal liner will probably serve you well 99% of the time. When it starts getting colder than 5˚C or so you don't want to be camping anyway!
First Ascent Explorer down sleeping bag | RRP R3199 | www.firstascent.co.za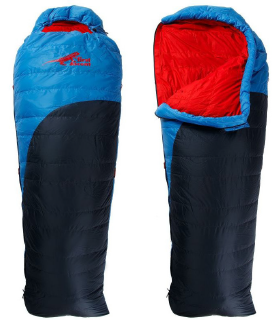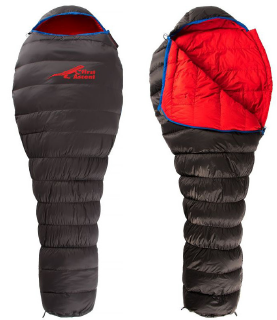 TOP TIP FOR STAYING WARM IN A SLEEPING BAG
Sleeping bags, like your clothing, keeps you warm by trapping the air warmed by your body heat close to your skin. The more filling the sleeping bag has the better it is at trapping heat against your body. But if you layer up inside a sleeping bag, you're creating pockets of air that can't heat up. Every time you move, those pockets of air are released and you get progressively colder. Sleeping naked, inside a thermal liner in my sleeping bag has always been warm enough for me. But if you struggle with the cold, wear a thermal base layer to bed. The skin-tight thermals will trap heat against your skin and avoid the potential for cold air pockets collecting between you and your thermal liner.
The cyclist's uniform
There's something else down jackets are great for, other than recognising fellow cyclists, and that's keeping you toasty warm. While I hate the prospect of getting my down jackets grubby, because they're a bit of a faff to wash, they are unbeatable on a bikepacking trip. They fold down so small and weigh next to nothing, so they're easy to pack and carry. Plus, they are amazingly warm. For extreme circumstances a waterproof jacket over the down jacket will lock the cold winds out, while a base layer top will increase your body heat retention. The K-Way Men's Creek Hooded Re:Down Jacket is a particularly good option, because of its hood. It will also serve as a pillow to help you get a recharging 40 winks at night after a long day on the bike.
K-Way Men's Creek Hooded Re: Down Jacket | RRP R2 299 | www.capeunionmart.co.za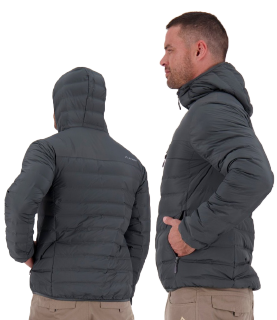 Pack it in
On the bike bags are the way to go when carrying gear on a bikepacking trip. Backpacks are okay, especially as a cheaper alternative or if you're riding a full suspension bike with limited space for a frame bag, but they stuff your back up. Rather invest in good seatpost, frame and handlebar bags. I have the Spinelock 16L seat bag and I can honestly say it is brilliantly engineered. Unlike most seat bags, which attach to the rails of your saddle with Velcro straps, the Spinelock bag attaches with a solid plastic T-bar which the bag then straps to with robust tie downs. All its torsion clips are made of aluminium which, though while heavier than plastic, ensures that the bag is securely locked in place regardless of the terrain you cover. The bag itself is also waterproof and features a removable plastic protective liner, which stops the rear tyre of your full suspension bike from wearing through the bag itself if the suspension travel allows the wheel to rub on the bag. www.cycletouring.co.za is a great repository for information and bikepacking gear in general. They also stock less pricy seat bags, as well as a range of frame and handlebar packs.
Spinelock 16L seat bag | RRP R3 899 | www.cycletouring.co.za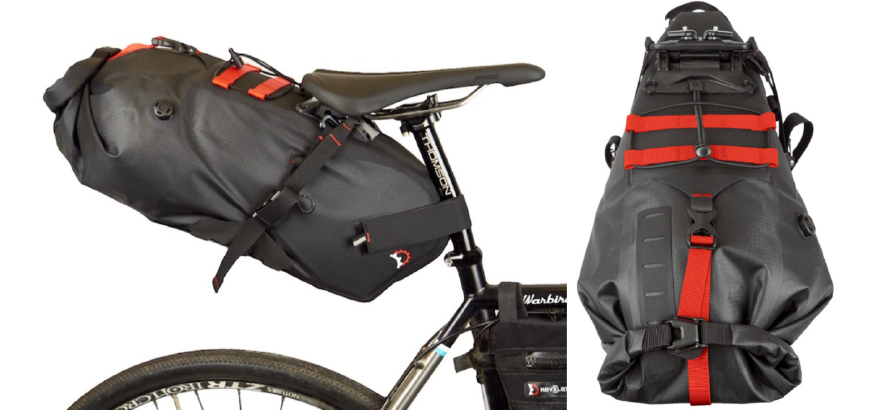 Heat it and eat it
Sadly, it seems like the Fire Maple X2 Cooking System, which I have, is no longer available in South Africa. If you can track one down in a good outdoor store, or online from an international retailer go for it. It has been unfailingly brilliant. It features a pot, with a neoprene cover, which houses a gas canister and stove. This makes it easy to pack. The alternative is to purchase a Fire Maple Fire-FLY Pot and a Fire Maple Fire-FLINT Stove. The stove and a gas canister will fit within the 1L pot, which also features the same heat exchanger fins, which make my X2 so efficient. Fire Maple says it reduces cooking time by up to 30% and saves on gas. I can't attest to the exact time and gas saving, but I can tell you it's mighty efficient.
Fire Maple Cooking Systems | From ±R1 000 | www.traversegear.co.za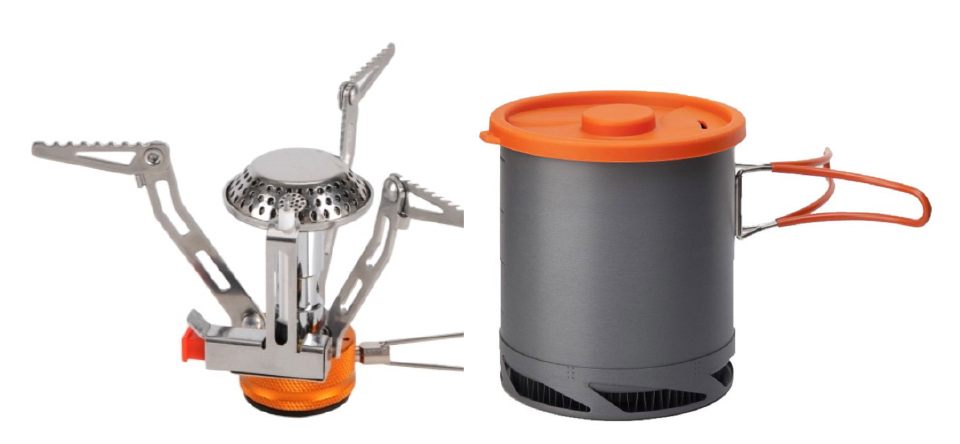 Coffee!
I've tried just about everything for a lightweight coffee solution, from Aeropresses to moka pots. Eventually I discovered tea filter bags at Peacock Tea and Coffee. These large tea bags are intended for use with loose tea, but they work equally well for ground coffee. I pre-grind enough Balance Coffee – which is roasted in Jonkershoek by an avid bikepacker, Dirk du Toit – to fill as many filter bags as I'll need. Then each morning, to get my caffeine fix, I drop a DIY coffee bag into my cooking pot and Bob's your uncle: good coffee. All this for R55 for a pack of 100 filter bags. Plus they weigh almost nothing.
DIY coffee bags | RRP R55 | www.peacockteaandcoffee.co.za