Hell's teeth, Boet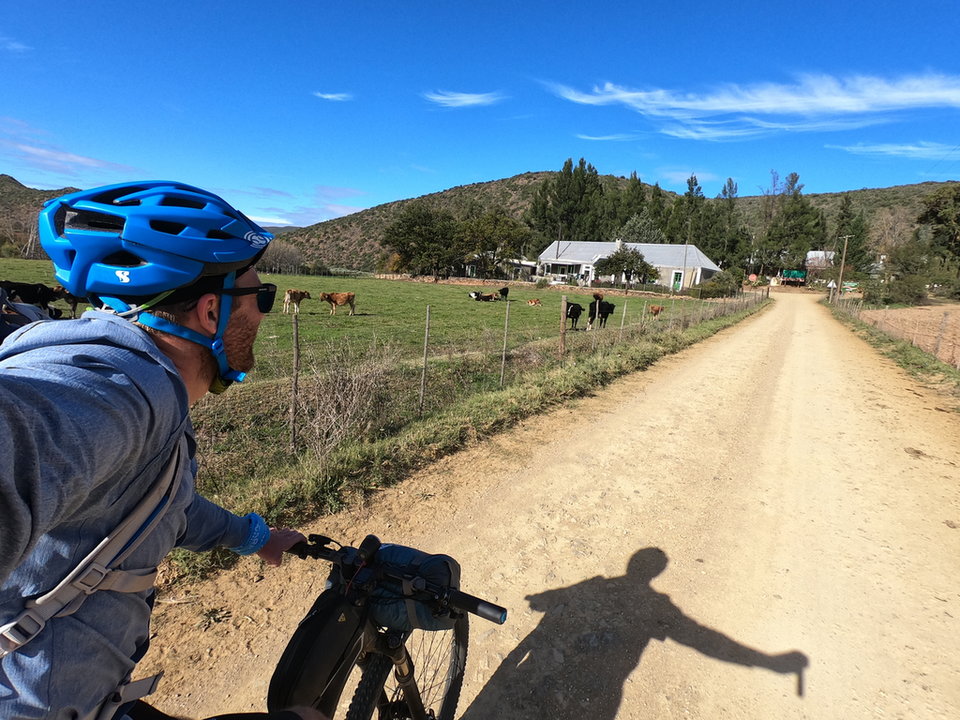 Day 3: Kobus se Gat to Gamka Mountain
Having chickened out of camping I booked in to Kobus se Gat, which meant that I started Day 3 with a descent rather than a climb. The last thing I felt like was another 6-hour plus day, and the stress of missing road side coffee shops, on the trek across the Klein Karoo vlakte. I needn't have worried though. I flew over the rolling hills of the first 22 kilometres and soon found myself at Kruisrivier.
An oasis on a dusty road Kruisrivier had been a planned stop. But I'd hardly been moving an hour so I forewent the coffee and a look in at the art gallery, choosing to press on towards the Red Stone Hills. The Kruisrivier road follows a narrow valley, carved over the millennia by the river which gave the road and the settlement at its start their names.
Near the end of the valley, just before it opens into the Klein Karoo planes the sandstone cliffs change in colour. Going from the classic grey to a deep ochre they also break from solid a krantz to weathered individual outcrops. A geologist would have a field day explaining the forces which forged these spectacular protrusions, but I lack any of the required knowledge. I can tell you that they're worth visiting however, if the urge to take a detour of Route 62 ever strikes you.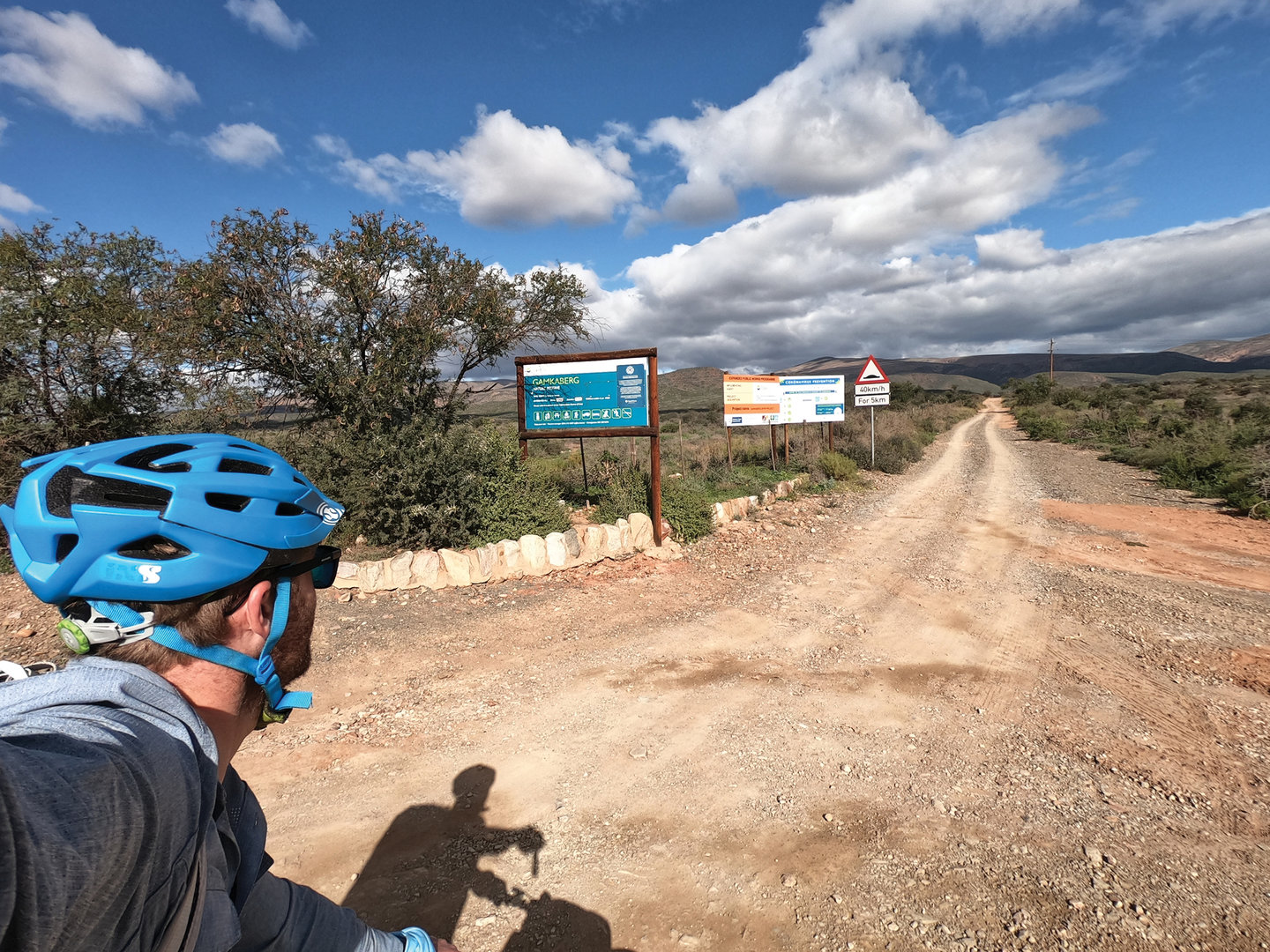 Gamka Mountain Nature Reserve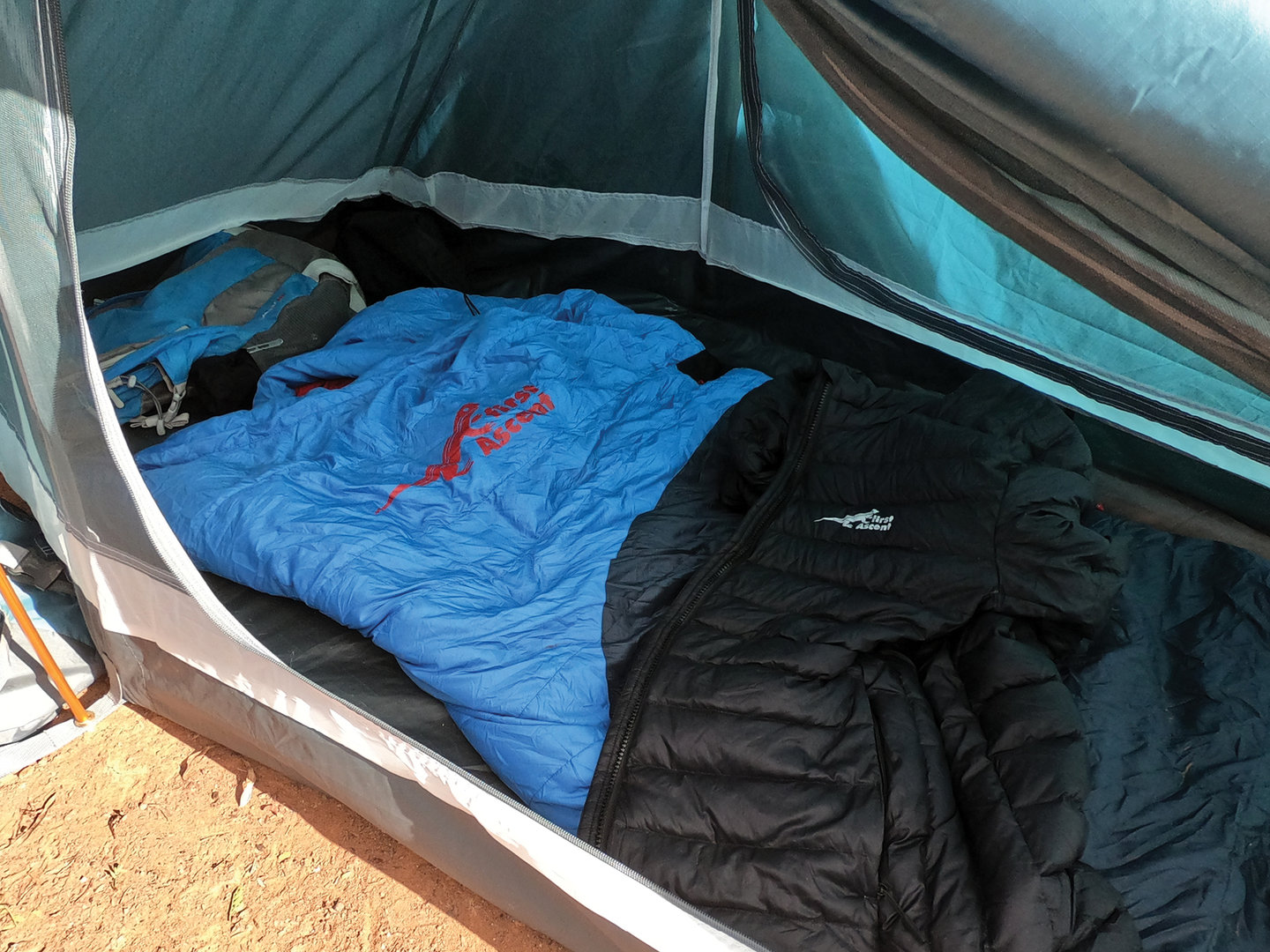 All the down gear to keep warm
Descending all the time I continued to tick along at a fantastic pace. After a milkshake stop at Bella de Karoo I pushed on, while the roads roughened and started to trend uphill towards Gamka Mountain Nature Reserve. It is home to a herd of Cape mountain zebra, has leopards prowling its mountainous landscape and has endemic species of fynbos, found nowhere else in the world. The campsite is pretty good too. And I was happy to set up my tent for the last night in the shelter of a boma.
With nobody staying in the stables, which have also been renovated into dorm style accommodation, I was able to use the stables kitchen to prepare my simple dinner that night. It drizzled intermittently throughout the night too, but with my gear out of the rain in the stables kitchen that wasn't an issue. Usually, I would have had to bring it all into my tent with me. But if you can avoid having bibs you've spent three days riding in next to your face in a tent, you avoid it.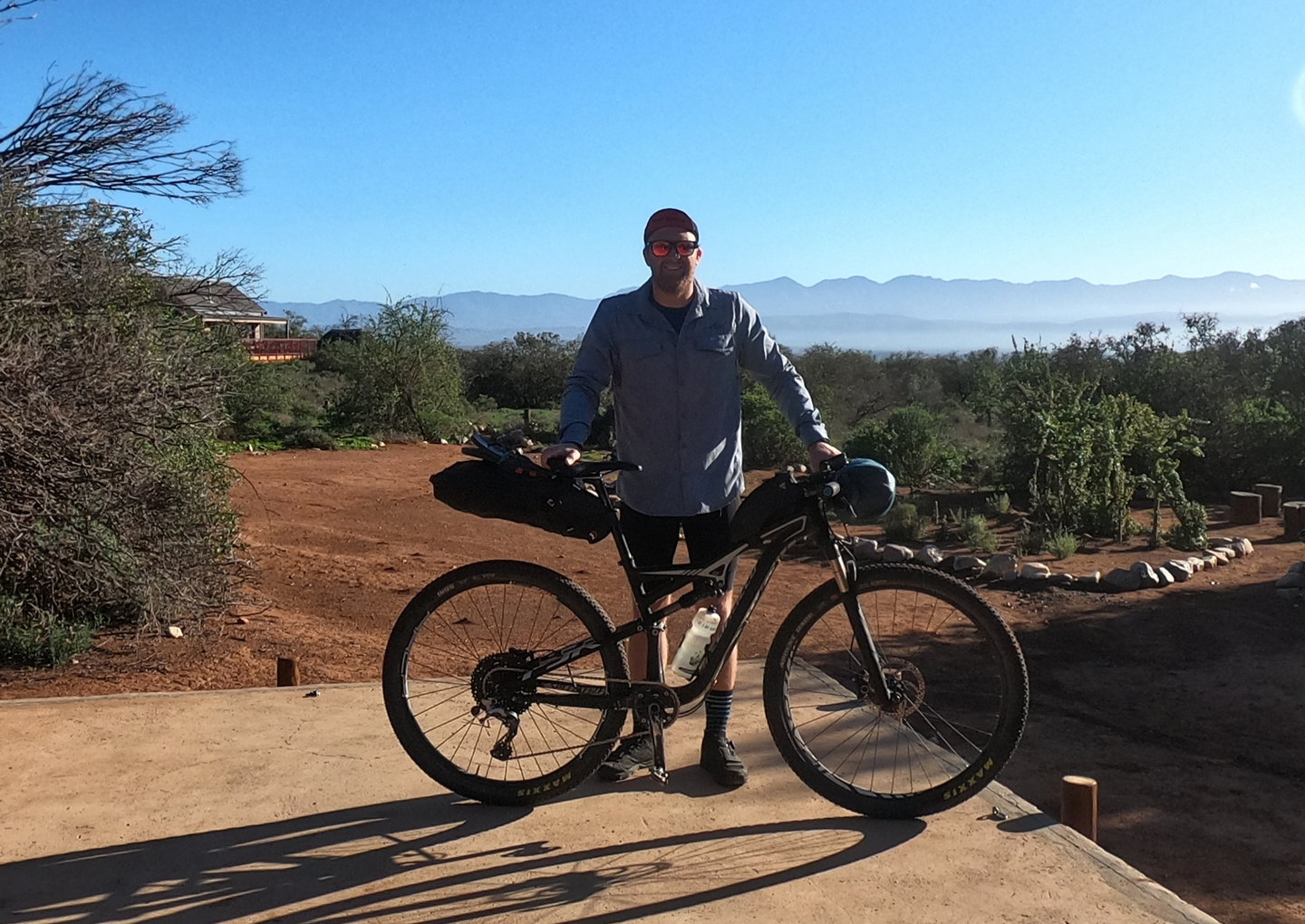 Day 4: Gamka Mountain to Opsoek
Having been so exhausted that I slept as well as I usually do at home, I woke up ready for the final day. The only issue was the lack of good coffee. I had a coffee solution, which consisted of pre-ground beans in a big tea bag. And this worked well. Sadly, my jet-boil still had two-minute noodle flavour stuck to its sides and no amount of rinsing it out could get rid of that.
Note to self: take a bowl for noodles next time. Or pack a sachet of dishwashing liquid. Chicken noodle coffee is no good!
On the road once more I followed the Olifantsrivier towards Calitzdorp. Initially on gravel and then on an old concrete road which eventually became tar. In Calitzdorp I stopped for brunch, and good coffee, at De Krans Wines.
Begrudgingly, I got going again after brunch. My route back to Opsoek would be the longest stretch I did on tar for the whole trip and not only that but included the Huisrivier Pass, which I suspected lacked a decent hard shoulder. Fortunately, it was a quiet Sunday morning and there weren't too many trucks on Route 62. I've driven the pass tens of times before, but cycling it gave me a new appreciation for how beautiful it is.
From the summit it was largely downhill to Opsoek. An easy ride with time to reflect on the previous 3 and a bit days. With a bit of distance Day 2, out of Die Hel, suddenly didn't look so bad. In fact, it was actually pretty good… or maybe not good, just memorable. And hike-a-biking down Die Leer was definitely an experience that'll stay with me for years.
Would I do it again? Certainly! Solo and unsupported… maybe not quiet as emphatically yes. But I'm glad I hadn't dragged anyone else through it with a fully loaded bikepacking set-up. Misery loves company, but nobody wants to see a grown man cry in a culvert on the road from Hell…