GOING POTTIE AT WORLDS
Hey guys! So stoked to write to you guys again and also coming fresh off the 2021 world champs that have just taken place in Val di Sole in Italy. I have to say it's always an honour to pull that SA jersey over your head before a race run as well as spending time with the whole team while you are there.
Words by Johann Potgieter and images supplied.
So just to shed some light on all these events: The world cup series consist of a few races, usually about five to eight, depending on the year, and at these events you would normally represent your sponsors or teams etc. At the end the person who has been the most consistent and has the most points will win the overall world cup series. The world championships is a once-off race where you represent your country and the winner is crowned the world champion and will wear the coveted rainbow jersey for the next year.
The track we had for the world champs this year was the famous Val di Sole downhill track in Italy, named the "Black Snake", and with good reason. It is widely regarded as the toughest track on the world circuit as it is mega rough, steep and just brutal on your body all the way until you exit the forest shortly before crossing the finish line.
" In the qualifying run I ended up getting a flat tire about two thirds of the way down. I couldn't believe it! "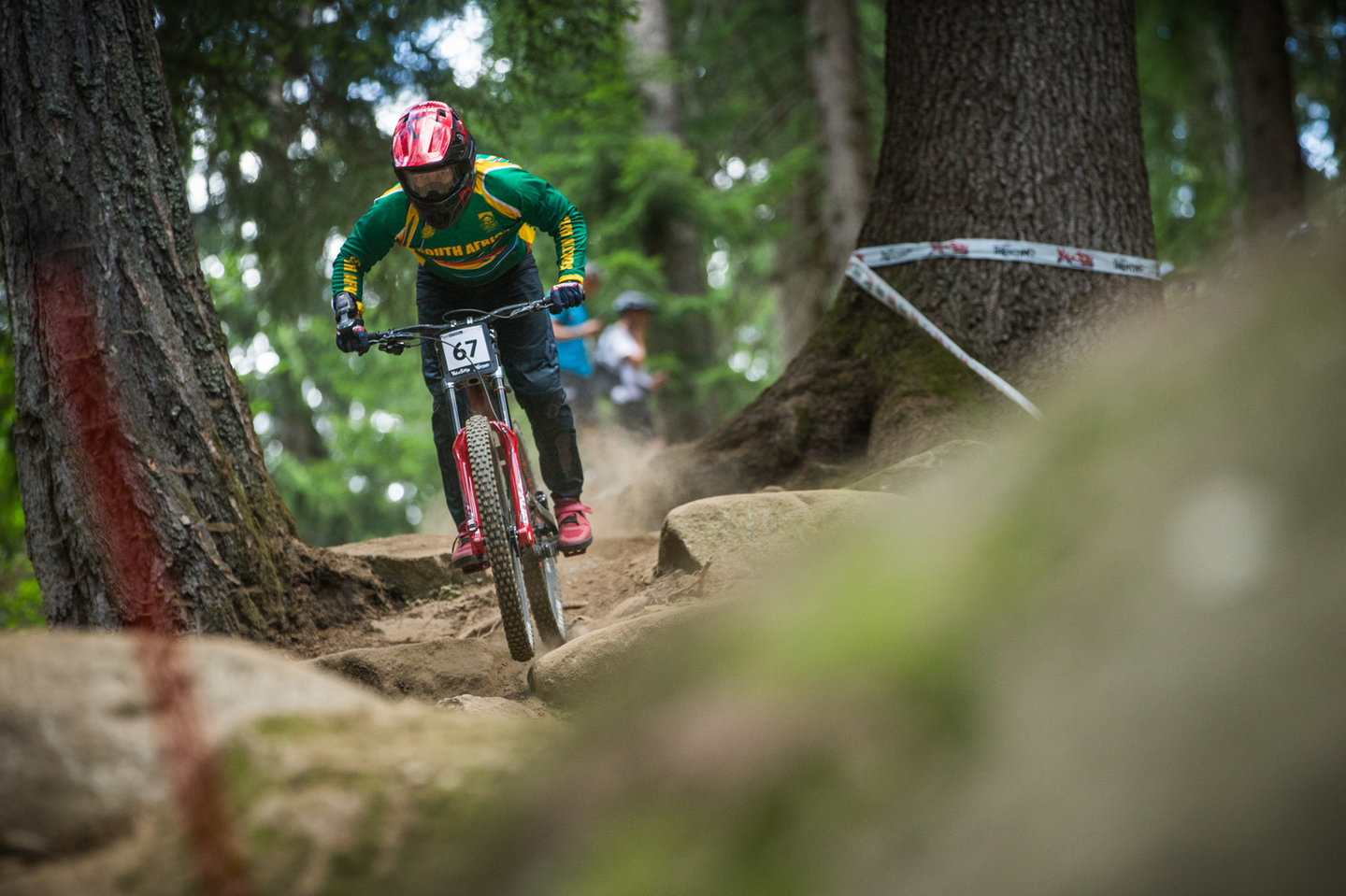 I have raced in Val di Sole many times before and had always felt good there, but there is always one thing that makes it tough and that's how hard it is on your arms and hands. To do a full run is extremely tough as it just hammers you from top to bottom. On TV you don't always see these effects, all you would see is the riders going slower and slower. Basically the roughness of the big rocks and holes hammer into your hands and that makes them tired and they start to hurt. Couple that with the track being steep, which means you are going to be on the brakes a lot, the braking makes your hands work even harder, and of course with you braking, it makes your weight concentrate more on the front end of the bike and thus puts even more pressure on your hands. You need to be really conditioned for a track like that.
I didn't feel too bad on the track during practice. I was finding my flow run after run, but of course, as practice goes on, the track gets rougher and more beat up as the rider's brake and ride etc. There was a top 80 qualifier, which I was going to give my best to make it in as I would have been mega disappointed to not make the qualifying and not being able to pull that SA jersey over my head. In the qualifying run I ended up getting a flat tire about two thirds of the way down. I couldn't believe it! However, I kept on pushing as hard as I could and ended up in 78th position … just making it into the finals! I was so happy about that!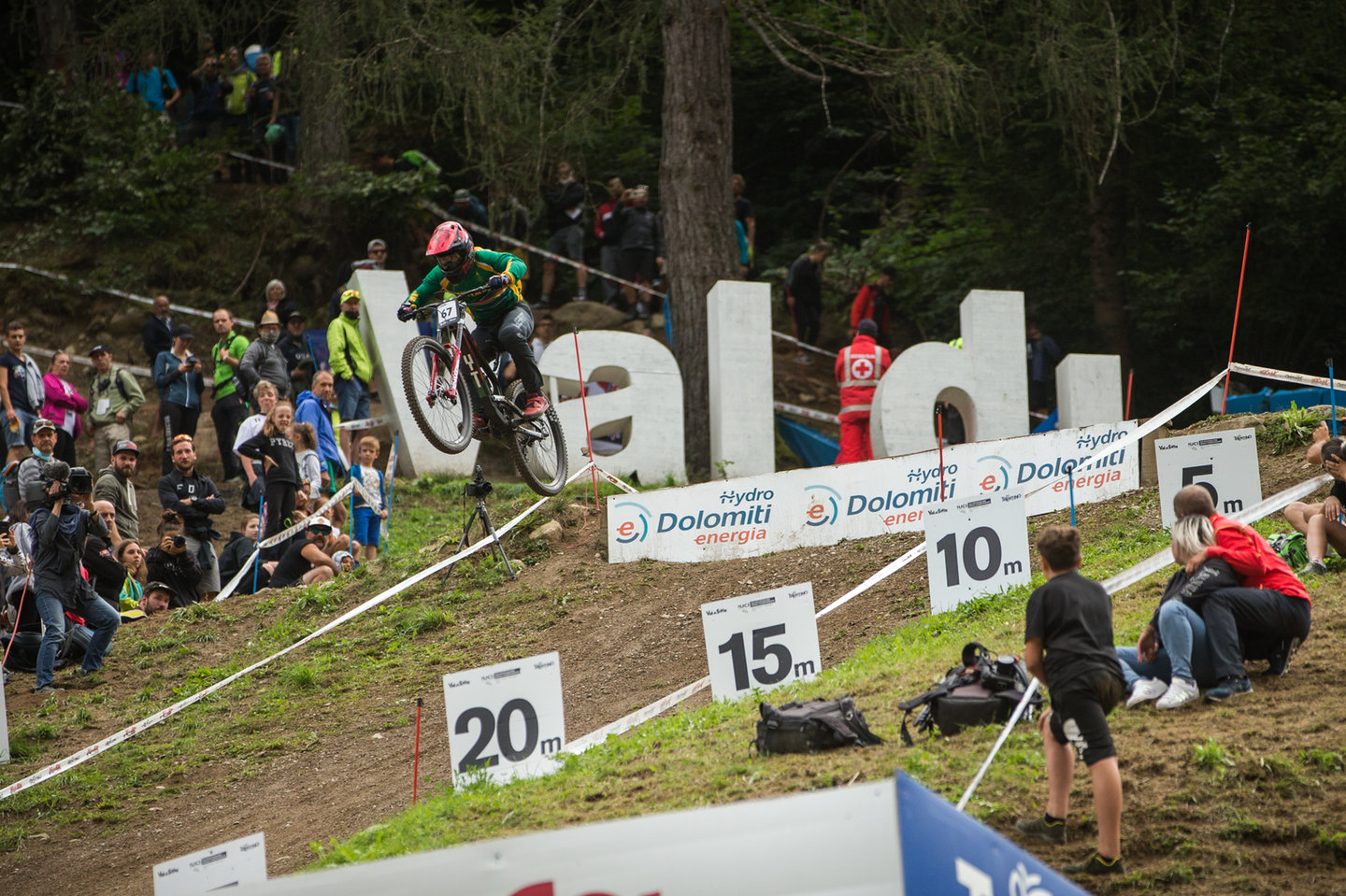 In the finals I had a good run but as usual I suffered some mega hand fatigue and ended up in 61st place. I was happy with my performance considering I missed the whole 2020 season and also something that I haven't mentioned yet is how crazy fast the pace has become. It is next level! But the highlight of the day would have to be Greg Minnaar taking the win with that insane run and doing it for South Africa. To be there and experience it live was just an experience that I would never forget. What a day and what a week it was hanging and staying with the rest of the South African team was so cool!
Johann "Pottie" Potgieter