Hell's teeth, Boet
I've expected my "agh, how hard could it be" attitude to catch up with me eventually. I just didn't expect it to be on the road from Hell. In hindsight, that was foolish, writes Seamus Allardice.

Since January 2018 I've organised or been on a bike packing trip every six months or so. Usually, they feature stays in nice (sometimes basic, but nonetheless nice) accommodation and a support vehicle. On occasion we've camped but I've never had to carry all my gear on a multi-day trip.
The plan for this tip was to start at Le KaRoux, Mark and Colleen le Roux's farm in the Opsoek Valley, and ride up the Seweweekspoort, then down into Die Hel on the first day. Day two would take me out of Die Hel to the southern base of the Swartberg Pass. Then the third day traversed the Klein Karoo basin to Gamka Mountain Nature Reserve; before the last day took me back to Opseok, via Calitzdorp and the Huisrivier Pass. It sounds so simple on paper. Roughly 60-kilometres per day. Not too tough.
Aaah, the folly of misplaced confidence.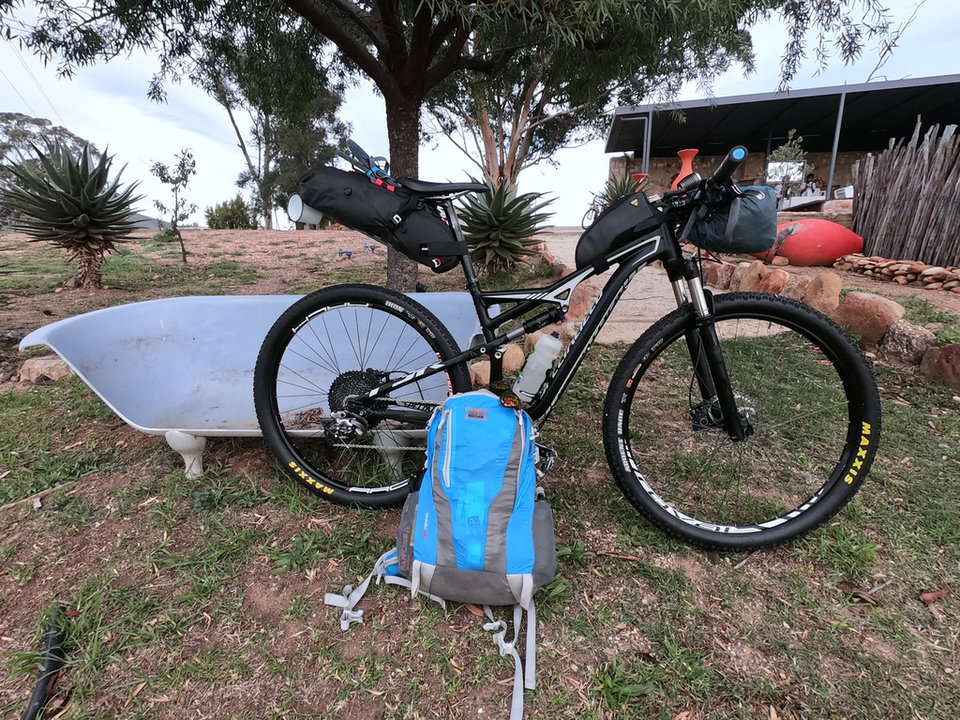 Day 1: Opsoek to Die Hel
I'd been eager to hit the road early on the first day, but as I prepared to leave Colleen arrived with a mountain of toasted ham and cheese sandwiches. "You can't go without breakfast" she insisted. So, I had another cup of coffee, ate my body weight in white bread and contemplated the road ahead.
Mark, meanwhile, had organised the local cycling development team, which the Le Roux's founded after the Level 5 Lockdown last year, to ride up the Poort with me. "They're more excited than you are" Mark related to me. And that they were.
I set out with five Bigshots for company. By the time we reached the mouth of the Seweweekspoort, 5-kilometres from Le KaRoux only three remained with me. The fittest two paced me up the Poort, ensuring I watched their rear wheels more than I took in the spectacular red sandstone cliffs which wall the road. Ascending into the Central Karoo from the Klein Karoo the Poort gains a shade under 500-metres in 17-kilometres. It's just enough of a climb to make you aware that you're climbing, especially with a heavily laden bike.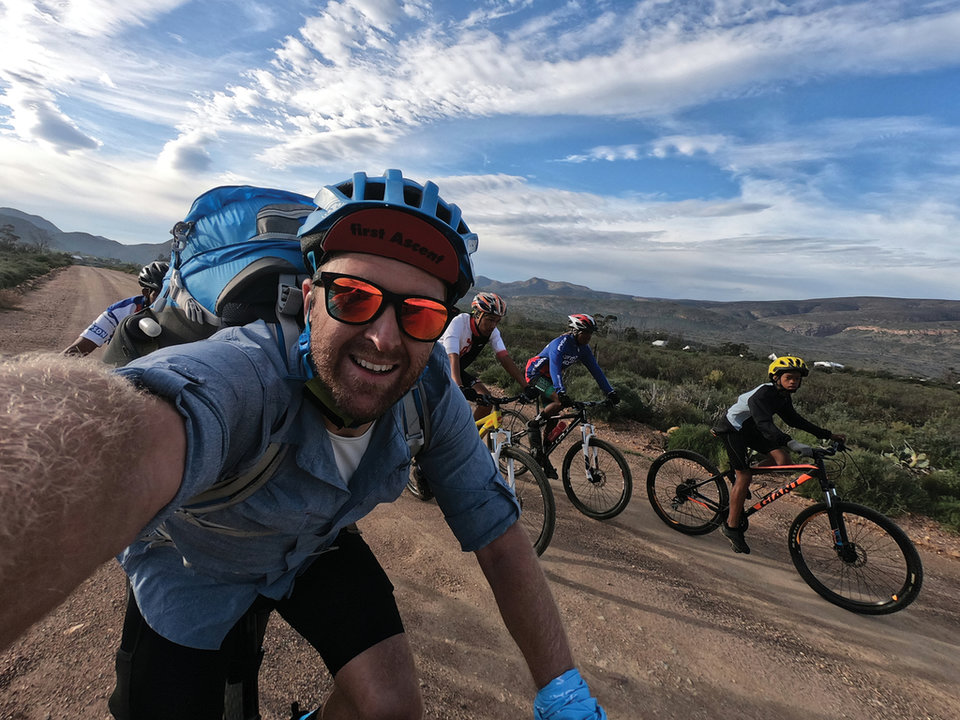 Led out by the Zoar Bigshots
At the summit of the Seweweekspoort we turned right towards Bosluiskloof and the Gamkaspoort Dam. From the gate to Bosluiskloof I was on my own. The Zoar Bigshots turned for home; a long, gradual, downhill ahead of them. For me more climbing awaited, but I wasn't sure exactly how much.
The next 20-kilometers were a complete mystery to me. I had no idea how rough the 4x4 route to Die Leer was going to be. Or how easy or hard it would be to lug a bike down the footpath into Die Hel.
As it transpired the 4x4 route isn't too daunting. Die Leer though is as challenging as its reputation leads you to believe. The path is rapidly eroding into a narrow scree slope. Well, a scree of small, jagged, boulders that gets increasingly steep as you descend towards Die Hel far below.
Saved from the December 2019 fire, the western reaches of Die Hel are amazingly verdant, the narrow floodplain along the Kleinbergskloof River is vegetated by dense growth acacia Karoo thorn trees. There are kudu and other antelope in the valley, but you'll ride right by them in the thick bush and never see them.
Boplaas is the place to stay if you want access to the western half of the valley. This is due to the fact that their boarder is secured by an electric fence and an imposing gate. "Jy moet maar omdraai" the owner joked, when I went to ask for forgiveness for trespassing. So, if you plan on following in my tracks, I'd strongly suggest getting permission before setting out. I doubt this story will lead to an influx of bikepackers traversing Die Hel, but still… there's only so many times a cyclist can ask for forgiveness, rather than permission, before the owner makes someone climb back up Die Leer.
From the Boplaas gate I followed the only road through the valley, climbing slowly towards Elandspas. I was surprised to discover how long Die Hel actually is. I kept expecting to turn a corner and see Fonteinplaas, my accommodation for the night, chosen because it is the only spot in the valley where there's a restaurant.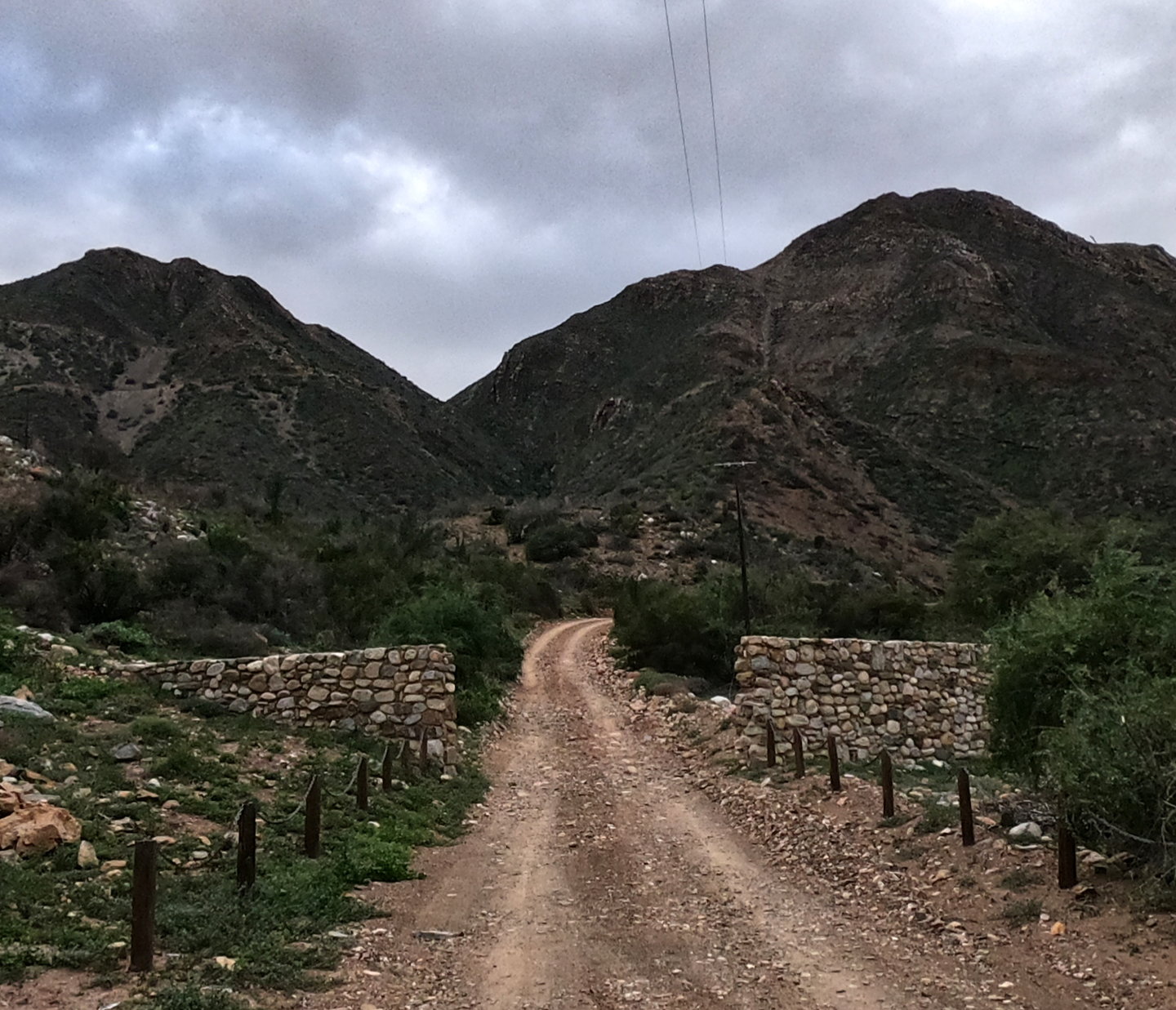 Day 2: Die Hel to Kobus se Gat
The next morning, with a pot of coffee and a hearty boere breakfast in my belly, I set out for De Hoek, on the southern side of the Swartberg Pass. Foolishly I was optimistic about knocking off the ride in around 4 hours. As that was the time it took me to ride Stage 2 of To Hell and Back the last time I did it. Within 3 kilometres of climbing, on Elandspas, I reset my target to 6 hours. Which too be honest, for a large part of the day I thought I would end up overshooting too. At one point I even made peace with camping on the road.
Elandspas, is the first 4-kilometre ascent out of Die Hel. It crests a ridgeline, at about 1 000 metres above sea level, after a series of sweeping switchbacks on a road which clings, precariously to the mountainside. It does however provide iconic views over Gamkaskloof, so I didn't need too much encouragement to stop three-quarters of the way up and take a photo.
That was the last time I rode a significant portion of any climb for the rest of the day. I trudged the rest of the way to the summit of Elandspas and blasted my way down to the small river crossing at the bottom of the first descent. From there the road climbs virtually relentlessly. In fact, all 2 000 metres of elevation which I gained on the day came in the first 45 kilometres of the route. The last 10 kilometres were all downhill on the Swartberg Pass.
Again, and again, I'd start a climb, grinding in my easiest gear, until I could pedal no more. Then I'd get off and walk. Pushing my bike uphill. My Garmin would auto-pause. And when it was actually measuring speed, my pace varied between 4 and 5 kilometres per hour. The only positive was that each climb was followed by a short descent, allowing me to quickly cover a kilometre or two at 20 kilometres per hour.
After 4 hours I found myself refilling my bottles again. This time from a stream that ran below the road. An old stone packed retaining wall to one side and a lush bush, which was growing next to a pool on the other, I hid from the afternoon sun and contemplated my life choices. Mistakes made in search of Type II Fun.
With nobody to cry to I had little choice but to press on. Walking every climb. Rolling every descent until finally I got to the Swartberg Pass intersection. Only there did I get cell phone signal and I could check the closing time of Kobus se Gat. I'd planed on having lunch there and was worried the restaurant would close before I arrived.
Fortunately, they close at 5pm so I had a good few hours left to get over the Swartberg Pass itself and drop down into the Klein Karoo. Another 45 minutes of pushing my bike later and I was at Die Top, the summit of the Swartberg Pass. From there it was all downhill to roosterbrood, beer and Coca-Cola.