Known for its beauty, nature, magical forests and of course mountains – the Sabie area of Mmpumalanga is the perfect wonderland for mountain biking. Derrick Mills donned his Full Sus shirt and lined up for the 65km, long route of the Sabie Classic 2021. This fairy tale proved to have some hidden monsters!

I've been living in White River, Mpumalanga for about 9 months now, and with a seemingly endless supply of incredible single track on my doorstep I haven't really found it necessary to venture further afield. However, when the Sabie Classic crossed my radar I thought this would be a challenge worth ticking off.
I'd heard that this was a tough one, and after checking the route profile the day before the event I immediately set off to stock up on a long list of performance enhancing substances. It turned out that my extensive assortment of gels, energy bars and anti-cramp tablets were not going to compensate for my lack of preparedness.
On my arrival at the event I was impressed with the level of organizational efficiency. The Covid 19 protocols confirming my belief that race organisers are now well versed in taking care of these formalities and running safe events. As I approached the start line, I was able to maintain some semblance of composure by avoiding the rather frightening route profile board, however my false sense of security was destroyed during the race briefing. We were informed that the previous night there had been a massive thunderstorm with golf-ball sized hail. The result would be a very muddy and obstacle-strewn course. We were encouraged to treat this as more of an adventure and maintain our sense of humour, particularly while portaging over fallen trees!
The start whistle went and a group of intrepid 'adventurers' rolled tentatively across the start line. We were quickly into a beautiful forest and the breathtaking scenery calmed the nerves and life was good. The first couple of kilometres involved a very gentle ascent and provided a perfect warm up for what was to come. Little did I know that I was being gently lured toward one of the longest climbs I have ever done. The slope was relentless with not even a saddle or flat section to allow some relief from burning legs. We looked at each other helplessly as we rounded another bend only to see the road disappearing upwards once again. There was much consternation in my small group and questions of 'Where is the top' went unanswered. No one around me had done this before. We climbed for 15km non-stop accumulating about 750m of vertical ascent! It was brutal, but the views at the top were absolutely spectacular making every pedal stroke worthwhile. We topped out at about 1750m above sea level, it felt like we could see forever. I finally found someone who knew where we were, and he cheerfully informed me that it was all downhill now. He was wrong! We'd only done half the climbing.
A gently meandering and thankfully flat jeep track provided much needed respite and allowed us to take in the views, life was spectacular. The descent was long (obviously) and provided a great combination of jeep and single track. We coasted down some relatively steep but non-technical trails, through a combination of lush natural forest and more open woodlands. It really is a very beautiful area and I felt privileged to be riding my bike there.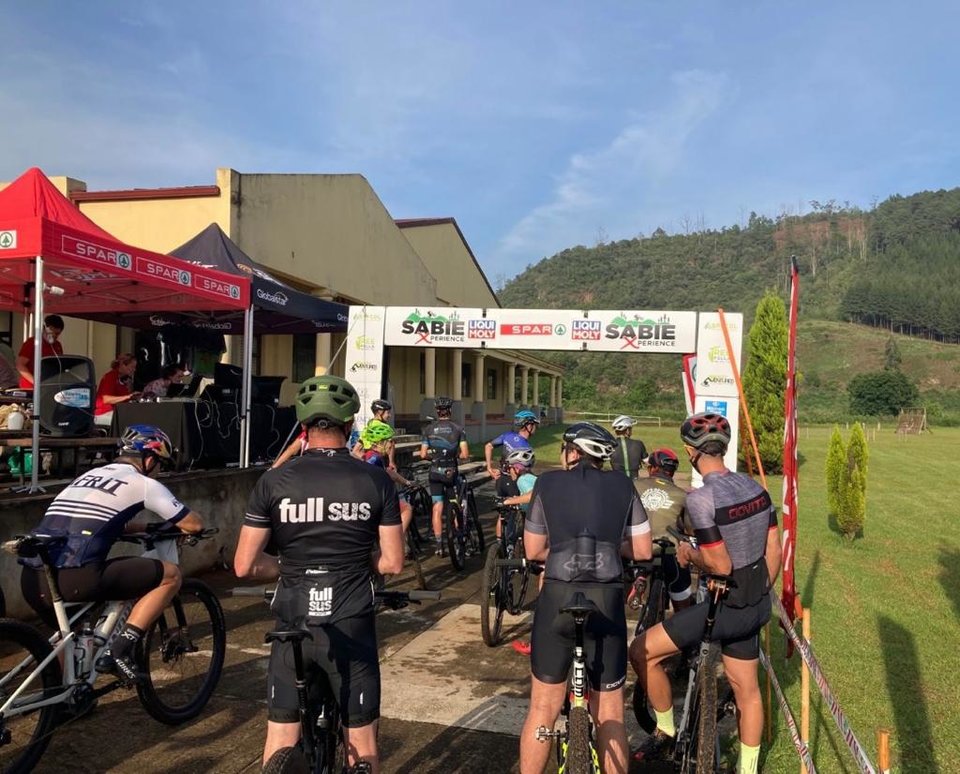 Despite taking it relatively easy on the long ascent my legs were beginning to complain furiously. I had entered the event without giving much thought to the effort it would take and I was now paying the price for a notable lack of long training rides. I soldiered on bravely and after a strangely welcome portage over a fallen tree (any excuse to get off the bike) the landscape opened up and we commenced a series of well-spaced climbs. The refreshment stations were very well stocked and manned by good humoured folk who tirelessly dealt with requests from the rather dazed and exhausted looking riders. When I finally saw the '5km to go' sign I nearly cried with joy. I was at my limit!
The Sabie Classic 65km is one of the toughest but most rewarding MTB rides I have done. I rolled across the finish line with relief but with a great sense of achievement knowing I'll be back for more. When I finally crawled to my car, I glanced at the cold beer beneath the ice in my coolbox but went straight for the rehydration drink instead. The beer would have to wait.
In an area where I am spoilt for choice it was certainly worth venturing out of my neighbourhood. The start is at Floreat Riverside Lodge in Sabie and next door is Merry Pebbles Holiday Resort so there are plenty of accommodation options and loads of activities for the kids to enjoy. I would highly recommend a visit to an area that provides some of the best MTB action around.