HOSPITAL TO EPIC
IN SIX MONTHS!
PART 2
WORDS & IMAGES : ANN HARRISON
On 4th December, I did my first indoor ride for half an hour. Slowly I increased the time but what really got me going, was spending my Christmas with family and friends in Plettenberg Bay and just riding. No pressure, lots of sleep, good food and good wine. Good coffee obviously! I could feel all those base miles in my legs from years and years of cycling starting to kick in and soon I was riding with friends. On 30th December, I did the Sabrina Love 40km ride very slowly which did wonders for my head. At this point I knew I would get back to normal and realized that I was going to recover a lot quicker than I thought.
On my return to Cape Town, I did rehab with a biokineticist concentrating on strengthening my shoulders and neck. Thank goodness I did all those dreadful exercises because on 7th March I got the call! Will you do the ABSA Cape Epic with me? My head immediately said no, definitely not, what a stupid idea! The deal maker was the second half of the question – will you do Epic with me in an ABSA SheUntamed team?
I have been involved with woman's cycling for many years and this opportunity to cycle in an ABSA #SheUntamed team was a no brainer and I immediately said yes! ABSA has been the title sponsor since 2006 and 2 years ago they launched the #SheUntaimed initiative program helping women's access to mountain biking whereby increasing the number of women teams in this challenging event.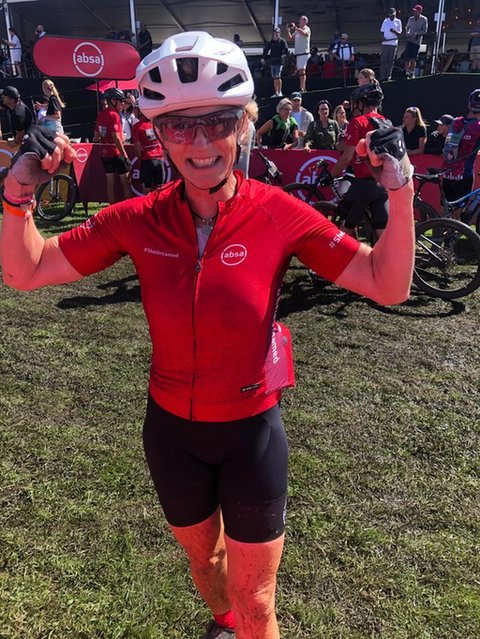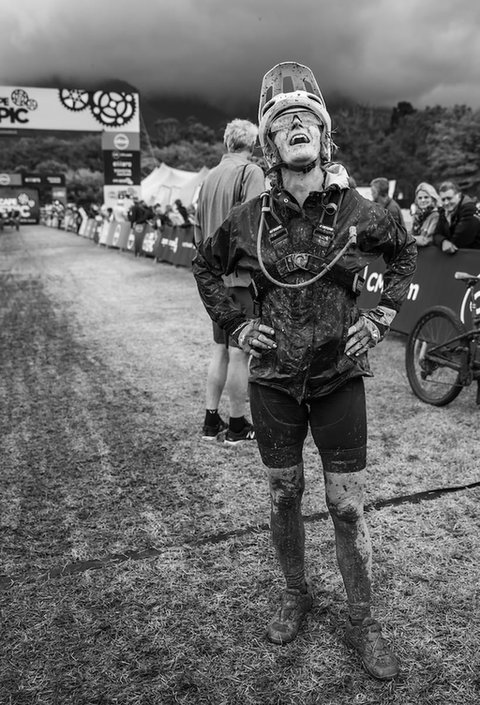 I felt very privileged that Anneke Jacobs had asked me to ride the Tour de France of mountain biking with her. However, once the dust had settled, I started panicking about my ability to finish this race after checking out the route and all the hills to be climbed. This would be my 9th epic entry and in my previous ones, I trained so hard for months. I only had two weeks before the start, just recovered/recovering from a serious accident and for the first time in my life, I had self-doubts. These doubts were very real for me. Fed by some who said I was crazy and what was I thinking to the doubts being suppressed by those who just got why I said yes. I realised in the final week, it was all about a good partnership who looked after one another, managing my pace and relying on the endless experience I have accumulated during my previous 7 epics plus all the other crazy events like The Freedom Challenge, various 100 milers and long bike packing trips I have done in the past. That calmed the nerves.
Getting my ABSA#SheUntamed kit on the registration day was a proud day for me, however, I still had to produce the goods. The morning of the Prologue, I had a look at the weather for the week and realized the weather gods were not playing ball. I pushed that out of my mind and got on with the task at hand. Anneke and I had discussed our plan extensively for the next 8 days and we were on the same page. Ride consistently, look after each other, and most of all enjoy this magnificent event and do our sponsor proud.
We had a great start. The trails were creative, good climbs up Dorsberg from the start, a sketchy jeep track into Faircape, a floating bridge over a dam, riding through cow sheds during feeding time all facing us munching away, to only have to climb again always nurturing my legs. However, as we know, what does up, must come down! A fun fast single track that I know so well down Hoogies only to, yes, climb yet again to Meerendal. Some steep short climbs to really kill those legs which were already screaming. A great finish on the groomed Meerendal trails and the day was successful. We both rode very well together.
The Howler Days and some more….

HOSPITAL TO EPIC: PART 2