NUTRITIONAL
SUPPLEMENTS:
Words By: Devon Da Costa
Sports Science Institute of South Africa.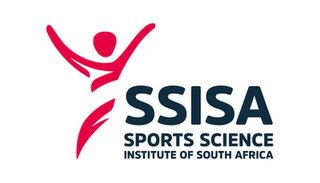 The Sports Science Institute of South Africa (SSISA) exists to optimise the sporting performance and health of all South Africans through the execution, application, and dissemination of science.
Unlike medication, supplementation is poorly regulated in South Africa and internationally. Premarket approval by bodies such as the Food and Drug Administration (FDA) and the South African Health Products Regulatory Authority (SAHRPA), with a few exceptions, is not required. Thus the regulation of performance-enhancing supplementation is often entrusted to distributors and manufacturers to ensure product safety and efficacy.
SAHPRA monitors certain but not all performance-enhancing supplements in South Africa, leaving the majority of both local and international supplements unregulated (1). The risk is placed on sports persons using nutritional supplementation, to ensure they are taking supplements that are safe, effective and do not contain any banned substances (2). A practical guide to using nutritional supplements in SA was published in 2004 by exercise scientists at SSISA (3), where it discussed some important tips for sports persons to follow when using supplementation. This short article is a summary of the guide, to ensure that athletes make the right decisions when choosing the correct supplements: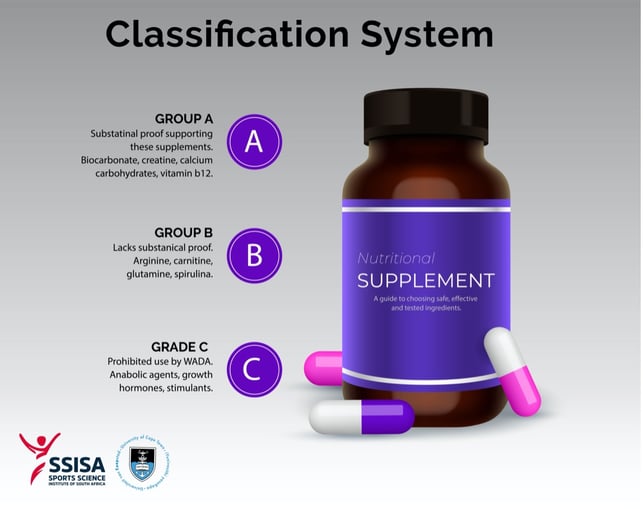 Classification System (supplements are classified based off the amount of scientific research conducted on ingredients. The grading of a supplement can change as the scientific research progresses):
Group A – Substantial proof supporting these supplements can aid in performance (depending on sports specific, individual specific situations). These supplements include: Bicarbonate, creatine, calcium, carbohydrates, vitamin B12, sports drinks and recovery drinks.
Group B – Lacking substantial proof of beneficial effects. These supplements include: Arginine, bee pollen , carnitine, coenzyme Q10, glutamine, vitamin B12 injections, spirulina.
Group C – Prohibited use by the International Olympic Committee and World Anti-Doping Agency. These supplements include: anabolic agents (tibolone and osilodrostat), peptide and growth hormones, beta-2 agonists, stimulants and glucocorticoids (4).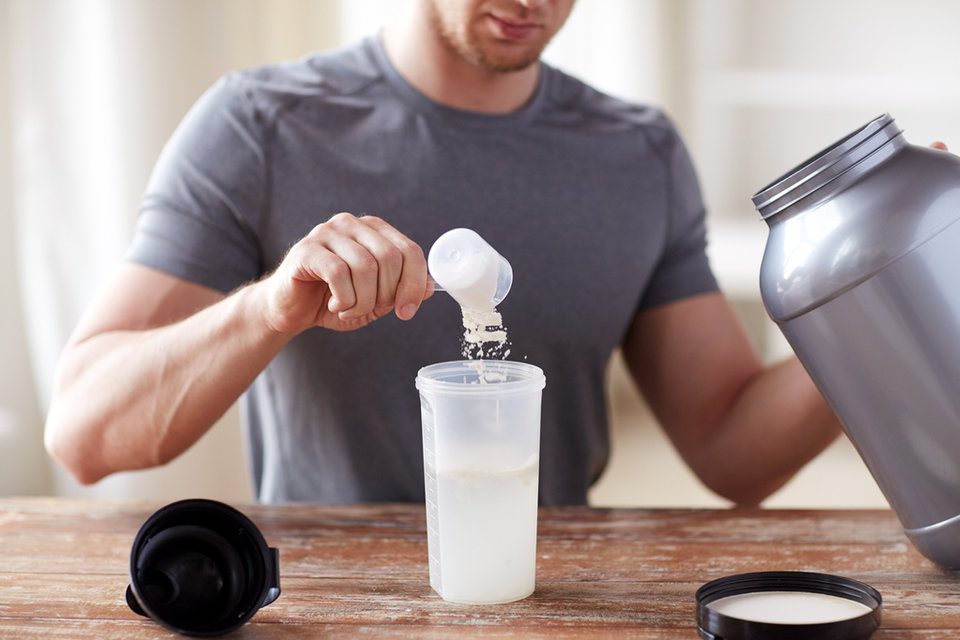 It is important to note, supplements should only be taken if a person's diet cannot provide the quantities of nutrients needed. A thorough assessment by a dietician should be made before a person invests in supplementation. Additional factors to consider are a person's goals, food preferences and training history, not to mention one's budgetary constraints. Due to each person responding very differently to different supplements, fitness coaches and conditioning trainers should not prescribe supplements, and correct individualised dosages should be prescribed only by dieticians (with experience in exercise nutrition) (3).
To bring you the most evidence-based and cutting information in the fields of sports and exercise science and health, SSISA works alongside the UCT Research Centre for Health through Physical Activity, Lifestyle and Sport (HPALS) to disseminate the latest research. HPALS research focuses on optimizing human performance and promoting health and well-being through physical activity, sports participation, healthy eating and good sleep hygiene. Their work begins at the DNA, to the human performance laboratory and ultimately to the community. To read more about the Health through Physical Activity, Lifestyle and Research Centre, Division of Physiological Sciences at the University of Cape Town.
To get in touch with the Sports Science Institute of South Africa Group for Research Implementation and Translation (GRIT) Research Consultants, get in touch with Warren Lucas at research@ssisa.com or call 021 650 5728 for enquiries. Read more about the SSISA GRIT Team here.
Which ones are the best?