Hope everyone had fantastic summer! How's it getting back into work and how are you getting into the healthy exercising and riding again? Have you struggled getting back into it after holiday? Or were you one of those that was riding all holiday? For us mums it's not always easy to get away during holiday as we have to keep the children and husbands fed, entertained and happy.
So I usually plan a recovery week for one of the holiday weeks to put in a good quality family time. But even that can get too much and I generally tend to ride off to get some peace and quiet time on my bicycle. But I try and balance it out to get in the family time. With small kids I feel they need me now so I try to rather train consistently with more shorter rides and I concentrate on two quality sessions a week as opposed to on the volume.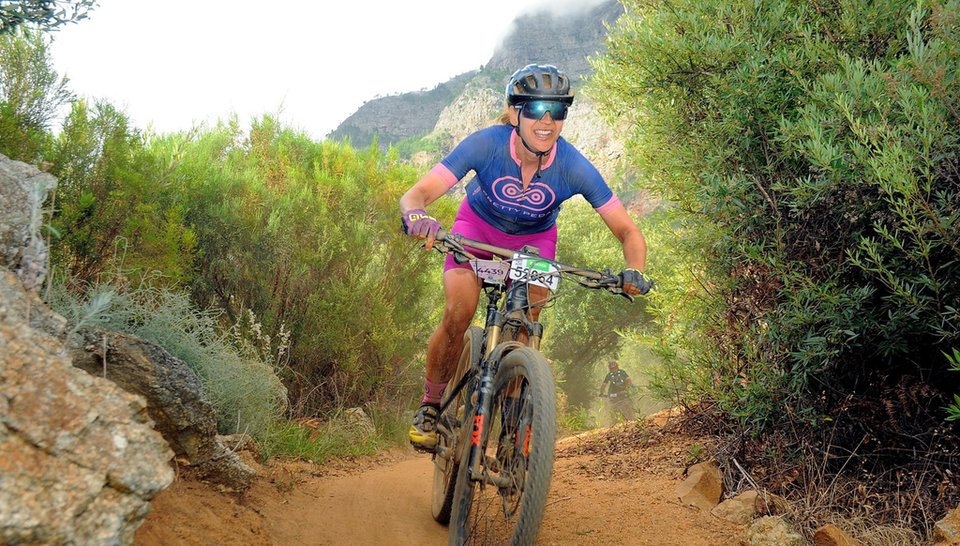 Who has kept up their strength and core training while on holiday? One doesn't need much for that. Often it's just a resistance band and matt that you can take with you if you go away. And then do short 20- 30 mins stretch and core or mobility session twice a week at least. I did couple of these whilst we were away and the kids were sleeping. Maybe try that next holiday. You can check my YouTube channel for some ideas what to do.
I hope that you added strength and core training to your goals for 2023 if you haven't been doing that regularly yet. I've said it before but it really is important part of training. Especially if you don't have lot of time to ride. You need to make sure your core and glutes and upper body muscles are strong. You will feel marginal gains if you include strength, core and balance training. As well as mobility to keep your hips, hamstrings and quads supple.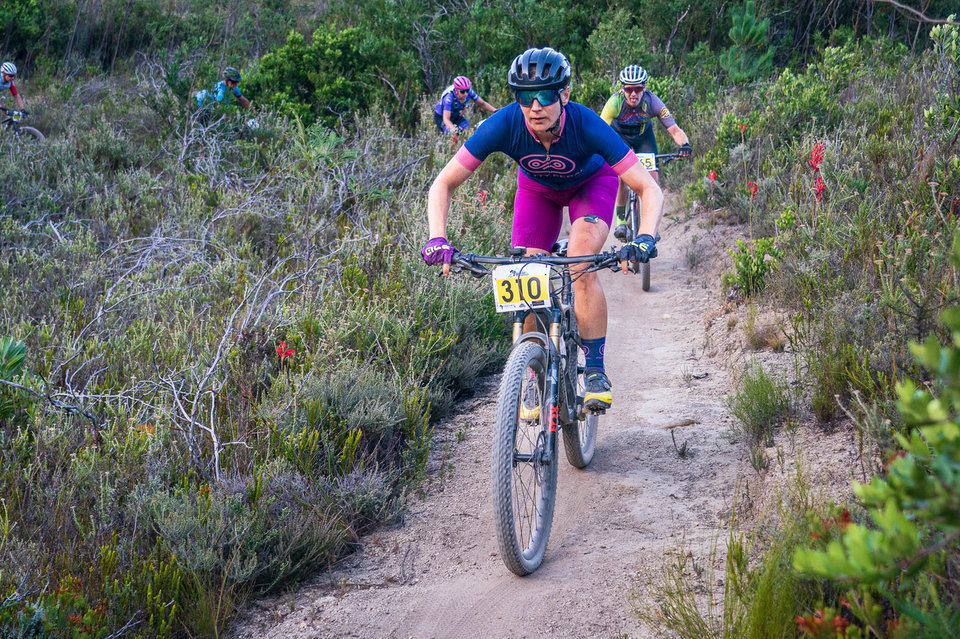 Ladies racing
Event organizers are doing some great work trying to attract more ladies into racing. I'm not sure of the numbers but there are normally more mixed teams than ladies only teams. I think some of it comes from experience and perhaps also ladies are not as good with fixing mechanicals etc. I myself really enjoy racing / riding / in a ladies team. These days we even get our own ladies start. Which is amazing.
Imbuko Big5
Imbuko big 5 is in Wellington and it is called big 5 because the route has 5 big climbs and it's 80km with 3000m ascent. It has amazing single tracks with I think a thousand switchbacks up and down.
It's always a great training race for those doing Cape Epic. The field is super strong. I'm not doing Epic this year but I love the challenge. This year the Canetsfontein wine farmers built a new trail on the edge of DuToitskloof farm called Cliffhanger. They even made wine with that name! I've seen the pictures and I couldn't miss it.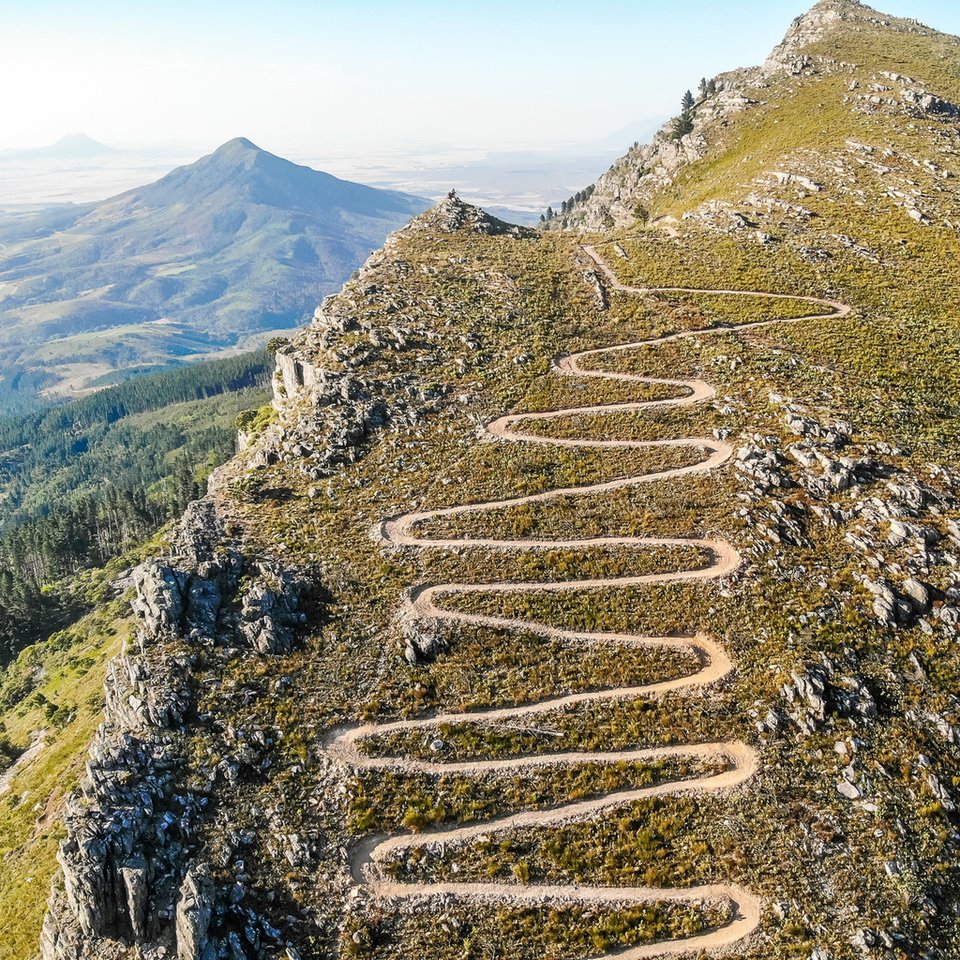 It was a windy morning which was good otherwise it would have been super hot. The first climb is pretty long and steady on gravel road with some rockier sections. I took it a bit conservatively in the first half of the route.
By the time we got to the Cliffhanger at about 40k mark we had done 3 big climbs already with a lot of single track up and down. The wind was rather strong and the switchback going into the wind was pretty scary as it felt as if it's gonna blow us off. The view was magnificent! The actual climb wasn't too long. When we got to the top and saw the first few descending switchbacks I thought wow! It was on the edge and the switchbacks were very close to each other and pretty loose. I found those hard to ride. Once we were a bit lower the downhill was amazing.
Then it was another water point the Golden Mile downhill fun and finally a slog to the finish. The last 15 kilometres is always hard as it gets hot and there is no shade then. Energy is getting low, legs are getting tired. One then needs to keep drinking and eating and just keep moving. Getting some cold water and a cold towel at the finish line was very welcome.
After cleaning up we met the Canetsfontein wine makers and tasted the delicious red wine and bought a couple of bottles to celebrate and support them.
This is a race to put on your bucket list! Just remember to do a lot of hill training and switchbacks up and down!
Oh I managed to finish 10th lady and 3rd in Vet ladies. Candice Lill won with Amy Wakefield 2nd and Vera Looser in 3rd.