BERG & BUSH DESCENT 2022
Where else can you ride along the edge of an escarpment then descend from one province to the next on a purpose built 15 kilometer long singletrack - and this is only Day 1! Derrick Mills recaps the best 3 days he has ever spent on a bike.
As South Africans living in this beautiful country, we really are spoilt for choice when it comes to MTB stage events. Berg & Bush stands out among tough competition as probably the best three days I've ever spent on my bike.
On arrival at Windmill Farm, we were greeted by howling wind, rain and plummeting temperatures. It certainly looked like we were in for less-than-ideal conditions. The wind screamed throughout the night, but we awoke to a beautiful, still morning and blue skies. Perfect! Within minutes of setting off on Day 1 we were meandering through breathtaking scenery on a flat section of the escarpment, ideal terrain for warming limbs and acclimatizing lungs to 1800m above sea level. My partner, Charlie, and I had agreed on a 'race' strategy which involved taking it easy and soaking up every minute of the experience. This paid off and we stopped regularly to take photos and shoot the breeze with our fellow riders.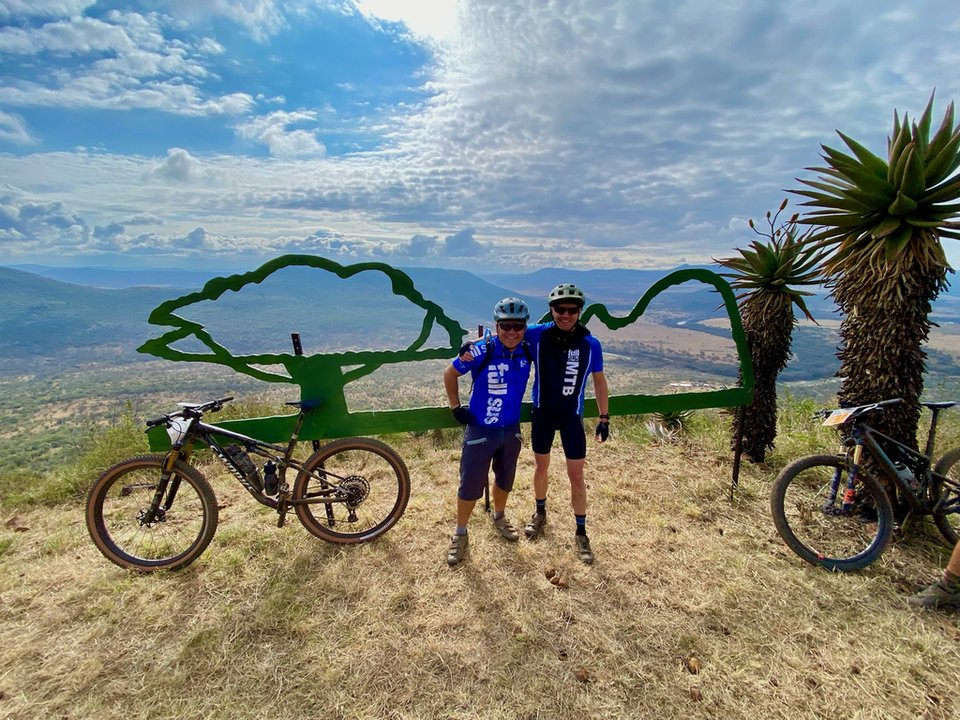 The views and scenery on Day 1 are exceptional, incredible rock formations and vistas of snow-capped Drakensberg mountains with crisp blue skies above. After the famous Solly's Folly and an exhilarating descent, we arrived at the first of many festive and well-stocked waterpoints. The 80km day ends with a long single track descent (look out for the giraffe!) before reaching the beautiful Garden of Eden trail along the Tugela River. The race village at Emseni Camp is beautifully situated on the banks of the river. It offers everything a tired, thirsty and hungry rider needs including delicious beer from the Notties Brewery 'Pig Rig', Terbodore Coffee, delicious meals and even tractor trailer rides to retrieve luggage from your vehicle.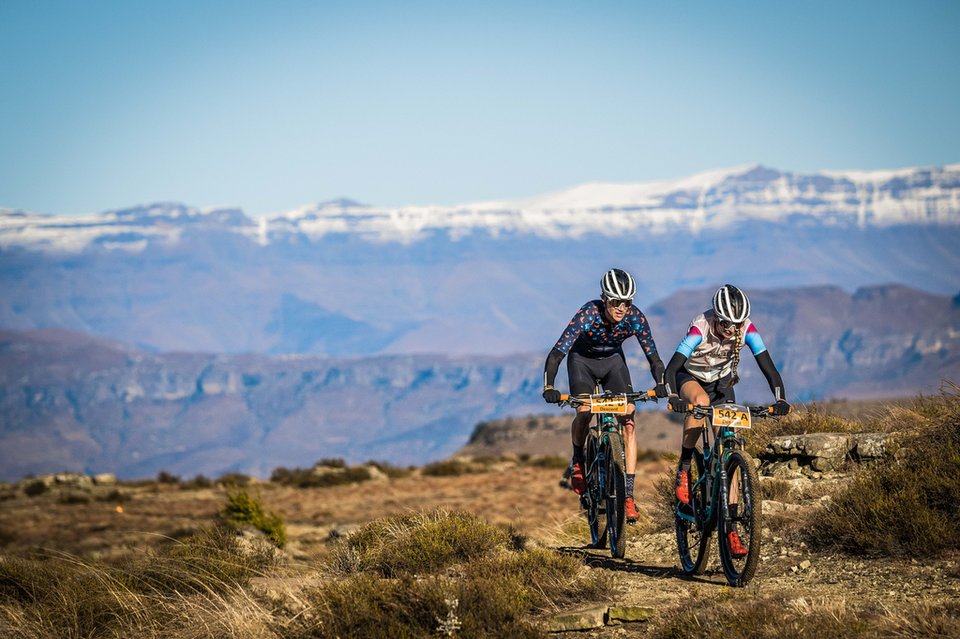 Image by Tobi Ginsburg | Berg & Bush
Day 2 kicks off with 'Ox Wagon Hill' which is perfectly timed as a warm up for a day filled with incredible single track. 'Mike's Pass' is probably the biggest challenge of the day, and Charlie and I were pleased to be among those who were able to ride all the way up this short but steep hill. Riders are then rewarded with a really great view of the Tugela before descending the outstanding single track of 'Puffadder Pass'. The 57km day ends along a beautiful section of the Tugela culminating with a fun floating bridge across the river. Each day riders are greeted at the finish with a delicious mug of farm fresh chocolate milk which really hits the spot. It's then into the hot showers before enjoying a well-deserved cold beer and lunch, while the bike wash team ready your equipment for the next day's riding.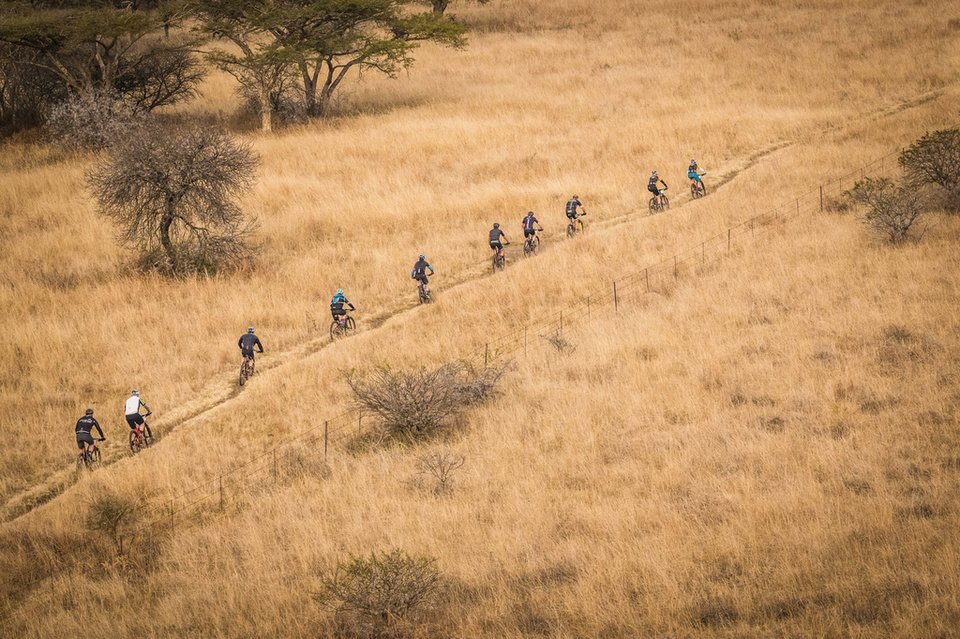 Image by Tobi Ginsburg | Berg & bush
The start of Day 3 was delayed slightly due to thick mist, giving us time to warm up next to the blazing fires situated alongside to the tents. The usual clothing debate raged on, not an easy decision as we knew that shortly after the start we would break through the mist and be riding under blue skies and warm sun. Despite the very cold morning, Charlie once again opted for his short-sleeved summer kit but the rest of us dressed warmly and planned to take advantage of the useful 'strip' zone at waterpoint 1. The 'Zig Zags' ascent quickly took us above the mist and into spectacular bushveld with views across the valley.
The climbs were justly rewarded with spectacular single track into and along dry riverbeds, across streams and through an extremely narrow canyon. Spioenkop is the much anticipated climb of the day and we were sternly warned by a fellow rider to take it very easy on the lead up to this beast. We were also warned by Gary during the previous night's race briefing to only look up once during the approach, and we soon realized why. The paved road of the Spioenkop climb is an intimidating sight, and for good reason, any rider who makes it up without putting a foot down gets rewarded with a sticker! I decided that this famed climb deserved my first energy gel of the event, and was delighted to make it up and into the waterpoint halfway up. The final waterpoint of the event is a particularly festive affair with braais burning and beers flowing. This absolutely iconic event ends in the best possible way with 13km of world class single track ensuring that riders finish with grins from ear to ear.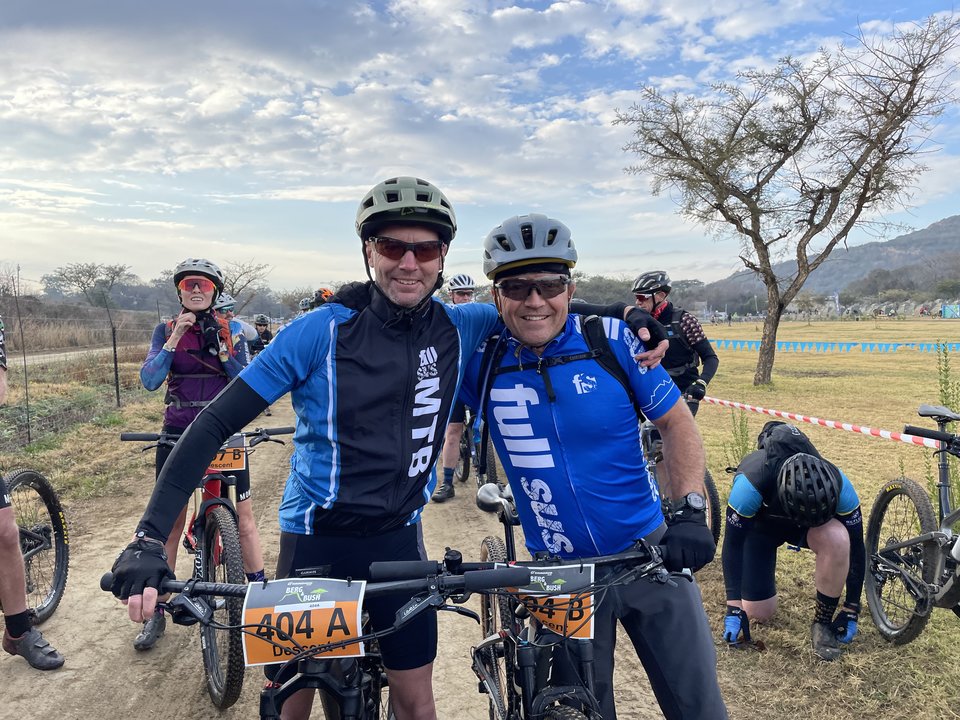 Berg & Bush is very special and it's not just about the breathtaking scenery and incredible trails. There is a unique authenticity about this event and it's as much about the people involved in the organization of Berg and Bush as it is about the riding. It is a family run event that has built up and retained a huge amount of character and soul. A massive thank you to Gary, Jani and Roxanne for making us all feel part of their family and to our very entertaining MC, Lee, for all the laughs and gees. I'll be back!