GREYTON MTB NIRVANA
GREYTON TOUR PART 1
An expanding and well maintained MTB trail network. A picturesque town in the Overberg and group of top mates! What more could you ask for? Oh yes beer! The fantastic town of Greyton even has its own brewery! Styling!
Greyton is well known for having a chilled weekend in the country…I am not sure you get a more laid back place in the Western Cape (Noordhoek included and that's saying something…). It certainly has been the in place of hipsters, retirees and horsey folk for years. Recently it has become a popular place for MTBers, this not only due to events like the Greyton MTB Tour and of course the Epic coming through Greyton a couple of times but also due to its strong local mtb community, primarily driven by Steve Jossel and the Greyton MTB club. They are not only super keen MTBers but also have grown and maintained a superb network of trails around the village. Like most well run clubs they are organized and offer a variety of annual memberships as well as reasonable daily & weekend trail permits.
"Remember to always pay your way when visiting managed trails – it's the reason they are so well kept!"
Our tour was put together for our social riding group: the Cranks. Quite well known in our hood for our lekker kit and a collective slow heart rate – mostly because we are always comfortably paced (see slow) – no matter where we ride. Oh and a penchant for a good FEB (Full English Breakfast!) and nose for good lager!
We stayed at probably the most well-known accommodation in Greyton, The Post House, definitely a landmark building which has been there since 1860. It still has a lovely country hotel charm and is run superbly by Janet Higginson and her friendly, efficient and most capable staff. The rooms are splendid! Clean, comfortable (probably the most comfortable mattress I have ever slept on in a hotel!) with everything you need – including electric blankets, tons of extra blankies, lovely carpets and tons of hot water – all hugely appreciated when you are riding in Greyton in winter – it gets to around freezing in the evenings. At the insistence of one of the Cranks we all had our own rooms and being out of season Janet provided us with a really good rate. Not wanting to have muddy bikes in the bedrooms a safe and secure room was made available for all our bikes to be stored in.

There are tons of quality restaurants and Janet, being the wonderful host she is, made sure we were booked at a different restaurant for all our meals as well as reserving us a table at the Potters Brewery to watch the Boks! We were in our element! Bikes, Beer, steaks and the Boks! What a perfect combination!
Day 1: First Bench
Distance: 16.5km
Elevation: 222m
Riding Time: 1hr
After an easy 90 minute drive from Cape Town, there was much enthusiasm for the initial "prologue" of our tour. First Bench was the leg-warmer and we were all lubed up and ready for the ride by 3pm. This after doing the school run and a bit of work in the morning, so no excuses really! Off we went… The Forest Trail is a flat, fun warm up that got the boys talking shite and quickly forgetting about their daily grind.
After that into the Sandpit which really isn't that sandy but introduces you to the local "patties", the squat, pie shaped ones! Conversation slowed a bit as you had to keep your mouth shut and you definitely never licked your lips!
"The Bone Shaker is fast: hard ground with patches of loose gravel and insane berms!"
Then on to the highlight of the day: 1st Bench – a viewpoint that overlooks the town that has a bespoke trial, Old Potters leading you up a switchback single track, then following the mountain ridge and up to the fantastic view. Not hard at all just a lekker well-constructed climb and with two of us carrying a little light refreshment it was made even more pleasant! After the climb we gave each other some space and headed into our first bit of sublime descending single track. The Bone Shaker is fast: hard ground with patches of loose gravel and insane berms insure you are pushing as hard as you can on a track you don't know but loving every minute of it! You quickly realise how cool your dropper post is and undoubtedly the best bit of bike innovation to use on the Greyton trails!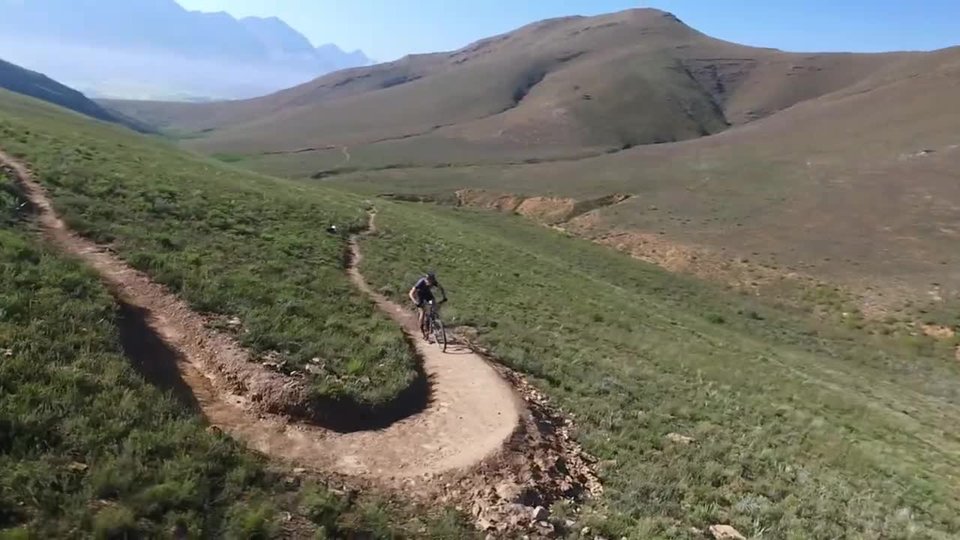 We hit the showers at the Post House, followed by a pint or two at the famous "give that man a Bells" bar followed by a delicious dinner at Abbey Rose and then off to The Central Pub where we had one or two Brands to fend off the cold. A great start to our Cranks Greyton Tour.