The Winterhoek Mountains – situated within the breathtaking Berg Rivier Tourism Region, close to Porterville – is fast becoming an adventure MTB destination of note.
Words and Images by Jacques Marais

Local Buzz:
Tucked away high within the remote Winterhoek peaks above Porterville in the Cape, Beaverlac boasts an outstanding fresh-air escape where you can full immerse yourself in nature. Their land encompasses a secluded 5000ha valley surrounded by rugged ranges, and with access to both the Ratel- and Olifants River catchment areas.
This is about as kickass an adventure space as you're going to get anywhere on the planet, and it is no wonder the farm has been gazetted a natural heritage site, preserving a vast wilderness area adjoining the Groot Winterhoek Mountain Catchment and Cederberg Leopard Conservation area.
Over many millennia, the rivers here have carved their way through rock formations to shape deep pools, waterfalls and several caves (some of the latter boast superb San rock paintings). The area is a sanctuary for wildlife, including a rich diversity of birds – such as Black Eagle, Jackal Buzzard and sunbirds – as well as Clanwilliam Redfins and the rare Clanwilliam Yellowfish.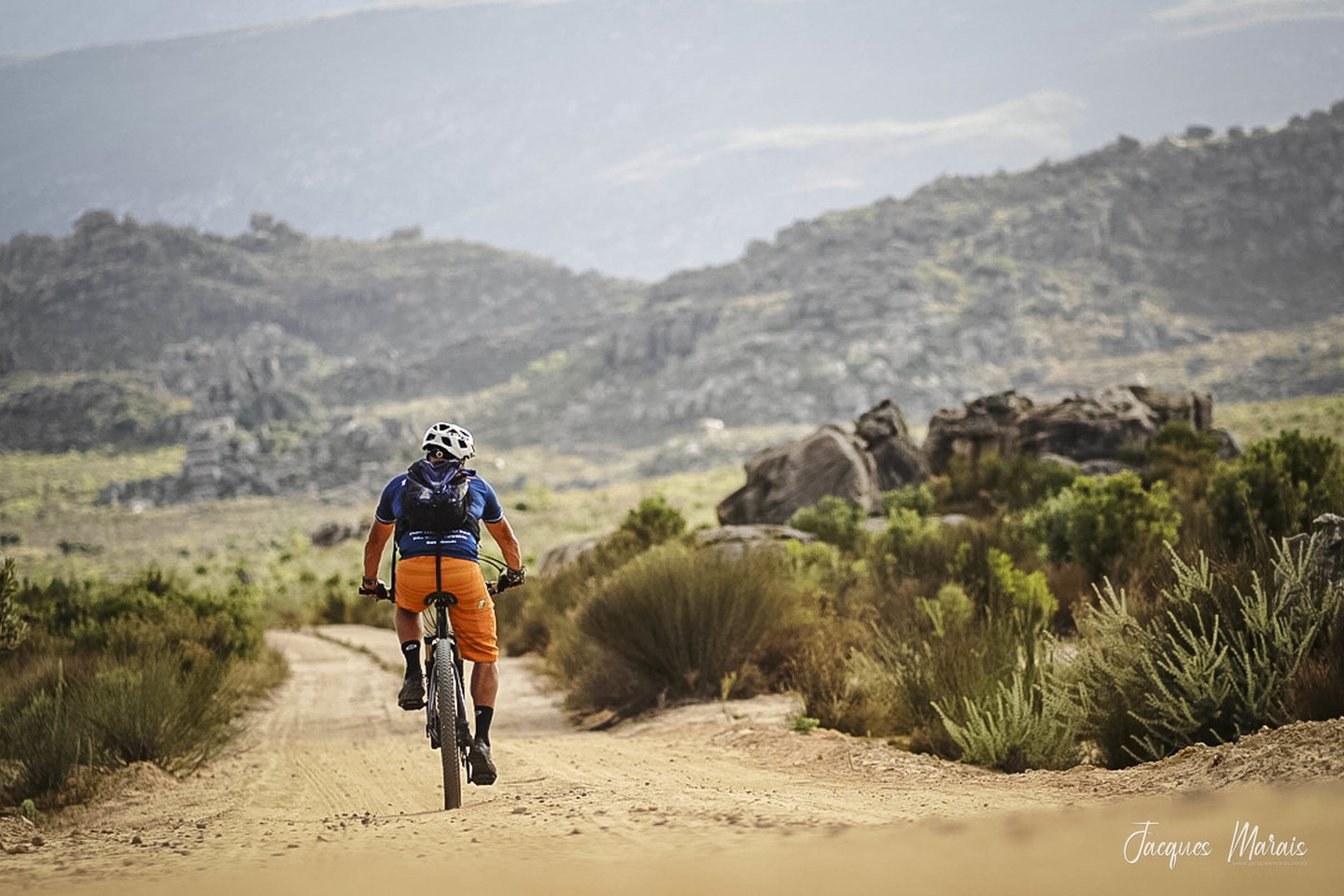 Trail Low-Down
I suggest you make any visit to Beaverlac a weekend affair, because I cannot sing the praises of this outdoor space loud enough. The words you want to use is 'moer and gone', and even just to get there will be quite an adventure!
First up, pull into the local village of Porterville to stock up on organic red meat, fresh veggies and a couple of bottles of the good red stuff (believe me, if it is winter, you will need it)! Then head onto the backroads booming towards Dasklip Pass.
This makes for a pretty cool 'King of the Mountain' kinda climb. Yup, steep in places, but with jaw-dropper views over the Sandveld farms spreading west, until you eventually reach the Beaverlac turn-off to your left after a solid 7km ascent A steep 4km drop into the camp site follow.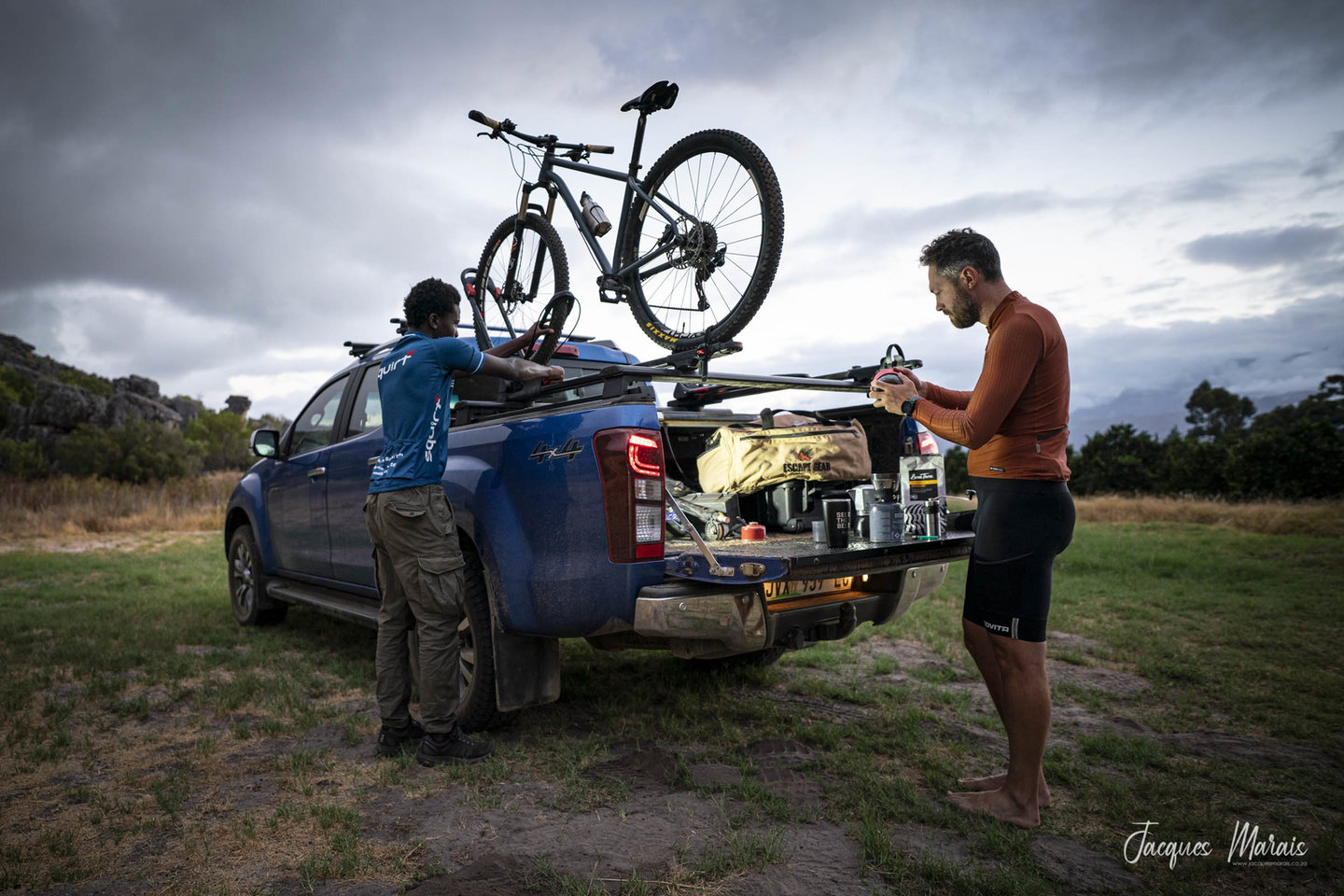 Get ready to explore once you've pitched your tent: I suggest a swim at either Secret or Main Pool to get rid of the dust, and to slake your thirst on the sweet Ratel River water. Two route options await from the camp site, so head out over the concrete causeway crossing the Ratel River, and follow the Yellowfish / Flatrock / Africa Cottage Route to the left past a big shed.
Round about now you will find yourself whooping it up into Beaverlac's wild heart. Maybe explore a while along the short Flatrock Trail if you have the technical skills, or crank up the speed along the main gravel road slip-sliding amidst the incredible Stone Temple landscape.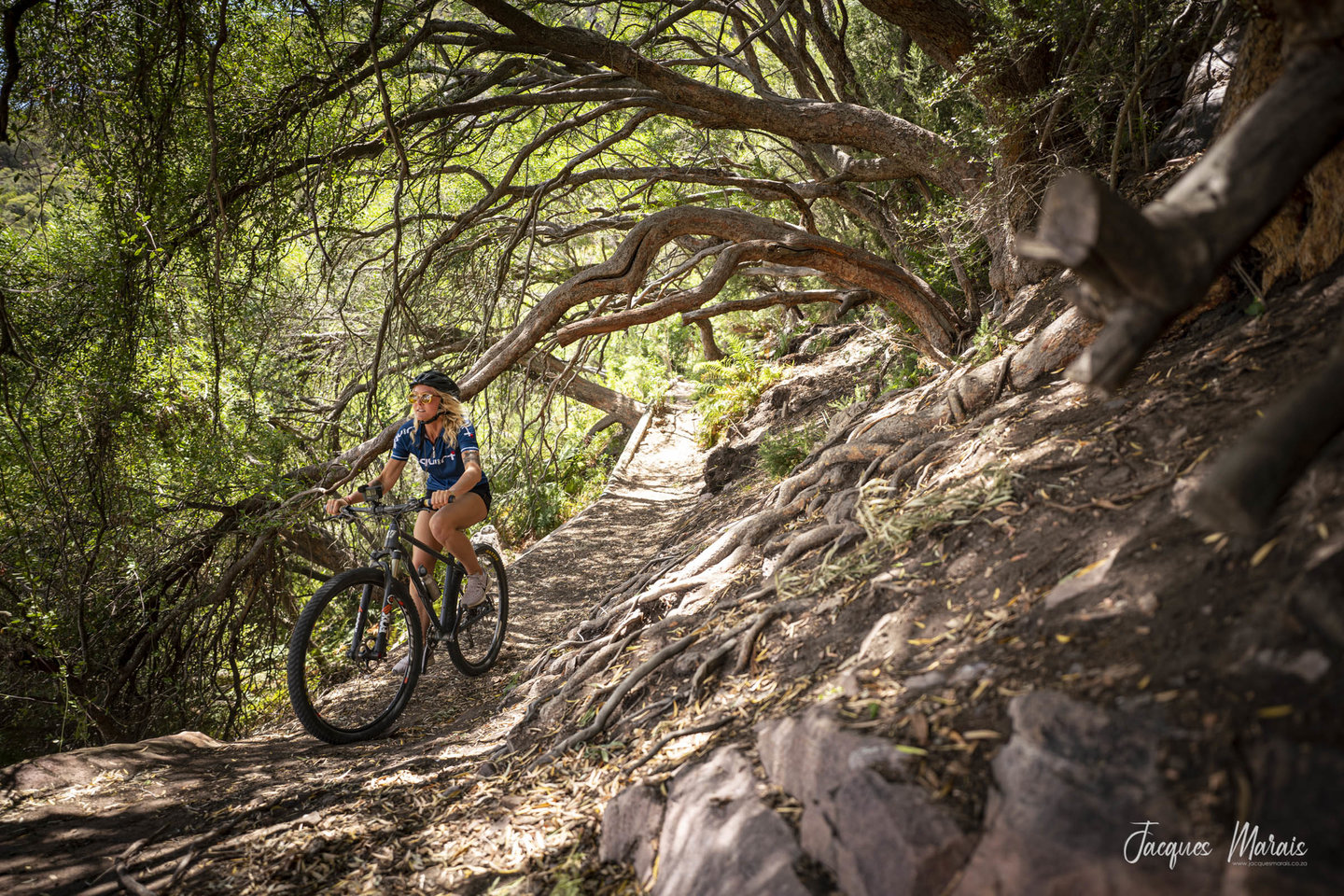 You pass the turn-off to 'Africa Cottage' 7km into the ride, but keep rolling north. Unfortunately, a gate signifies the start of a neighbouring farm after a further 1.5km, with the crossing through the scenic Olifants River only a tantalising kilometre away.
There's a R500 fine for ignoring said sign, and I'm nearly of the opinion you should bite the bullet and pay the fine, as the river is just beautiful. Maybe it's best not to piss off the farmers though … if only they would open this route to riders, you would be able to pedal all the way via the valley to Citrusdal from Beaverlac, maar nou ja!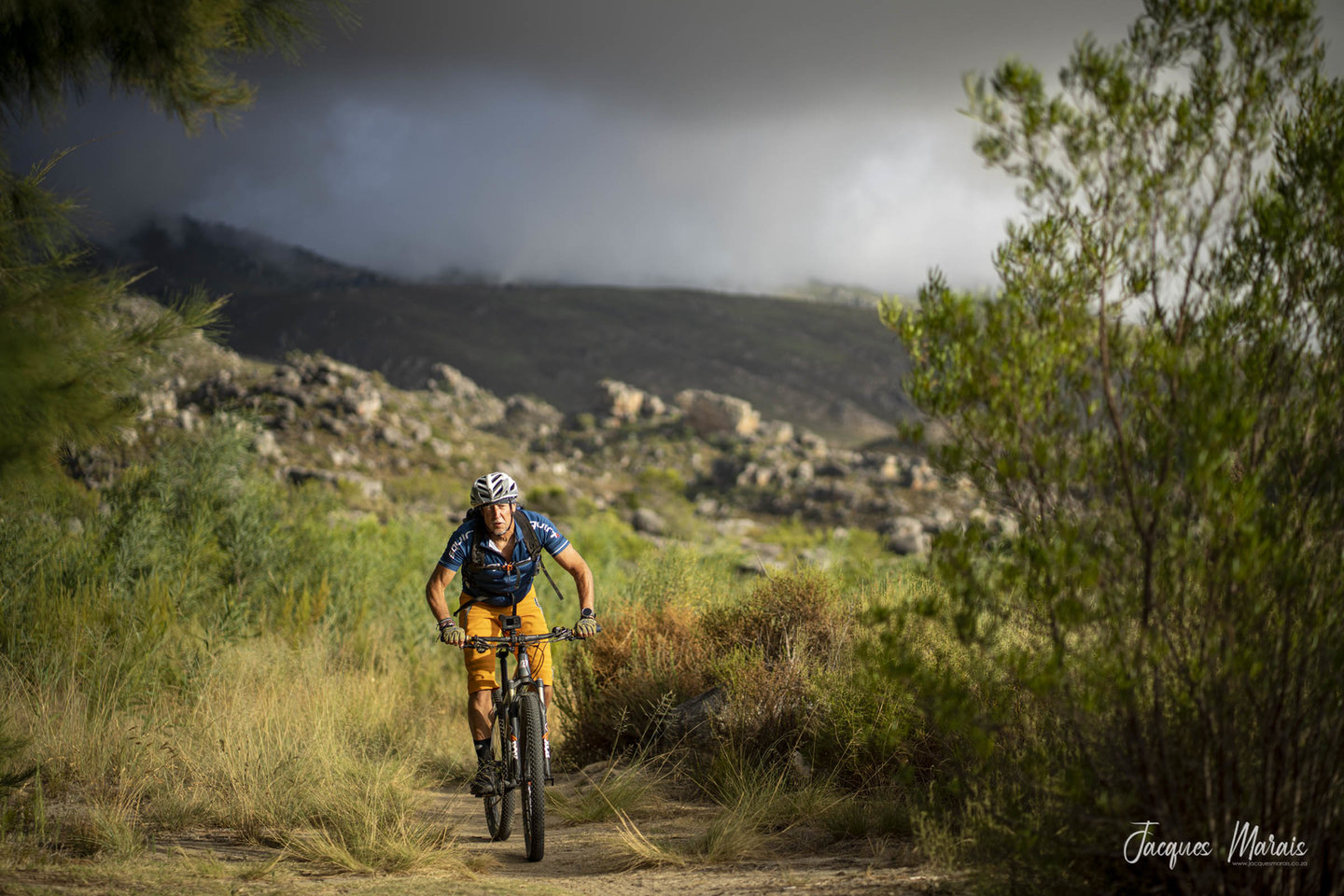 But here's your Plan B! Pedal back to the eroded 'Extension Road' (you would have turned right here after the Ratel River causeway), and start grinding into high ground through what is proper Old Testament rockscapes.
Quiet riders may be lucky enough to bump into klipspringers, lynx or even Cape Mountain leopard (it can happen!) on this trail, so keep those peepers peeled. We spotted no less than three eagles, loads of small mammal tracks, and a good two dozen bird species during our morning burn, and man, air does not get fresher than that!
Other Trails
One of the Berg Rivier Region's hidden secrets is thee '22 Watervalle' Camp Site, situated a mere 5km north of Porterville. It makes sense to camp here if you want to add their 15km MTB trail to your tick list, but the real gem is an extensive hiking and scrambling route taking you past no less than 22 waterfalls – it is truly breathtaking, but you will need at least 4-5hrs to complete this.
The mountain biking route is rather rough-and-ready, with lots of loose stones and sharp corners blitzing along the mountain side. Pushing may be required here and there, but the higher (rather technical) Red Route eventually gets you onto a kickass section of the trail swooping via the low-hanging branches of a lush, indigenous forest section. Well worth it – www.22waterfalls.com
Best Time of Year to Visit
Beaverlac must be booked well in advance to ensure camping space, and day visitors are strictly regulated. Keep in mind that heavy downpours and frequent snowfalls may occur from May to October; it is a mountain wilderness, and called 'Groot Winterhoek' after all.

Beaverlac MTB Route: Fast Facts Block
GRADING: Intermediate
DURATION: 18km return / 10km loop
CONFIGURATION: Various ride options
START POINT: Beaverlac Camp Site
COORDINATES: 32.904 S / 19.067 E
TERRAIN: Gravel and tarmac passes; jeep-track & singletrack
ENTRY REQUIREMENTS: Overnight guests ride free
FACILITIES: Camping and General Store
CELL RECEPTION: Minimal coverage
BEWARE OF: Extreme temperatures; snakes in summer
WEB SITE: www.beaverlac.co.za
how to get there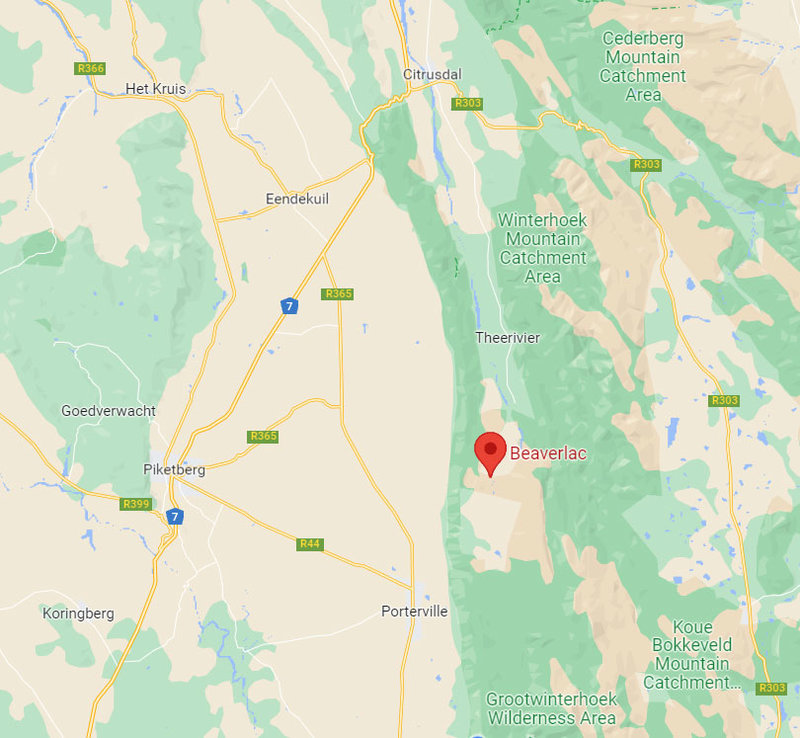 Getting there:
From Cape Town, take the N7 to Piketberg. At the roundabout in Piketberg, take the 3rd exit onto the R44; travel for 24km then turn left onto the R365 for 2.7km. Turn right onto Dasklip/Cardouw Road and continue along the Dasklip Road to Beaverlac.