Billed as the toughest one day mountain bike race in the country, the Attakwas Extreme always lives up to its reputation. 121km's, 2900m of climbing and temperatures that make you wonder if you are actually closer to the sun. Alastair Sellick took on the 2022 Atta, hoping to smash his previous best, the 11 hour cut-off time was never supposed to be a consideration – the cycling gods had other ideas.
My fate in the 2022 Hell of the South was actually sealed in November 2020 - I entered for the 2021 edition in a moment of madness, just before the price rose, not knowing that I would get Covid a few days later. As my Long Covid symptoms intensified, my feeling of impending Attakwas dread was temporarily deferred when the entire race was postponed in mid December, due to SA's 2nd Covid wave. Life went on, I recovered, and just as I started to get really Atta nervous again, a little godsend arrived in my in-box: the option of a free deferral from August 2021 to January 2022, this time courtesy of the potential 3rd Covid wave. What a no-brainer. Click, click, angst gone!
Anyway, training intensified and I was lucky enough to be able to string together a couple of challenging events towards the end of 2021. January 2022 rolled along and I was feeling strong, fit and ready.
One of our illustrious crew of 7 who were doing Atta together posted a warning a week before the race about how hot it was going to be, but after seeing that Oudtshoorn was a mere 25 degrees at 6am, and that Groot Brak was going to be a mere 25 when we expected to finish, I dismissed his concerns. After all, we weren't going to be in Oudtshoorn at 3pm when it was going to be 36...
The heat as we arrived in Oudtshoorn the Friday before the race should have served as a warning. It was baking. No time to even swim when we arrived, though, as my rear tyre had developed a deflation problem. Luckily the awesome team at GearUp Sport were still there at 6pm so they were able to diagnose that the rim tape had shifted and my rear tyre was repaired. Another quick panic attack when I noticed my front wheel brake cable was stretched really tight - and then we detected that the mudguard was also the wrong way round. Someone (not I!) had straightened the handle bars, moved sideways for the bike rack journey back the wrong way. After my heart rate recovered, the problem was resolved. Surely nothing else could go wrong now?
Race day dawned, and it was hot, hot, hot. High twenties at 5.30 am is never a good sign. After listening to the nervous chatter in the start chute, and some humour involving threats of death if you hadn't done enough training from the ever amusing Paul Velstar (many a true word spoken in jest) the neutral start began. We left the tar and wound our way towards Chandelier Game Farm for the true start. It was a properly dusty change of tempo, with some surreal sunlight through dust. At 11km and half an hour done, we hit the start line.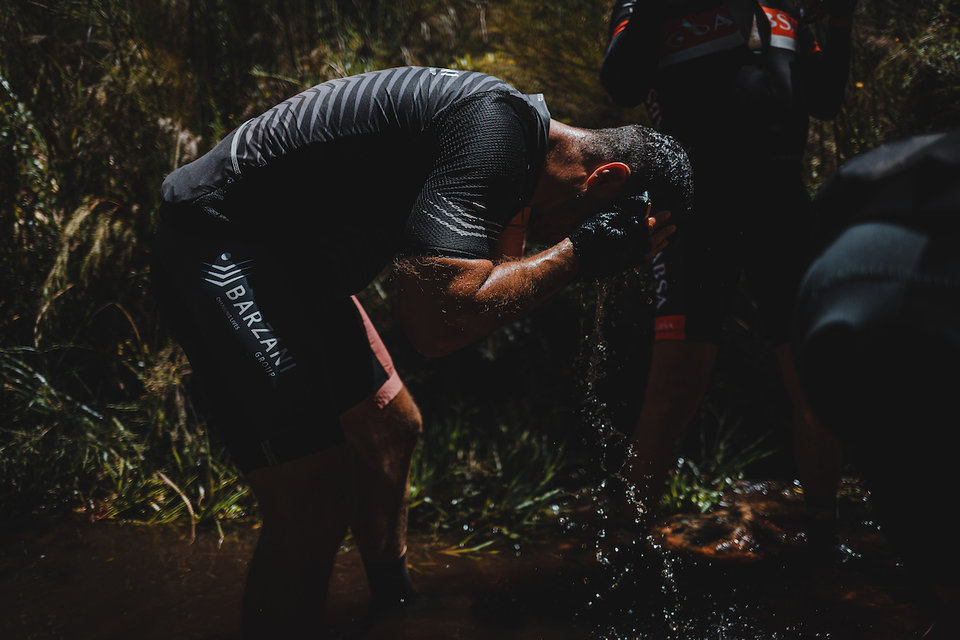 Image by Jacques Grobler for www.zcmc.co.za, Attakwas 2022
" Race day dawned, and it was hot, hot, hot. High twenties at 5.30 am is never a good sign. "
Initially, all felt good. The bunch was behaving sensibly and I was steadily overtaking those who had been too exuberant at the start. The first new climb seemed to generate far too many walkers for an A batch, but it was quite steep, so they could be excused - luckily the MF1, 2 and 3 and Plum Pudding training we had been doing back in Cape Town made these blips seem like child's play. The groups started to spread out a bit and we meandered towards Water Point 1. I was in good form going into this Atta, so had been targeting an improvement on my inaugural 2017 Atta, where we had managed a 6h55min finish. I hadn't been paying too much attention to that until we reached WP2, at which time the temperature was starting to rise. After downing a 3rd coke and ice, and scoffing the obligatory banana bread, it was back to business. By now, the heat was definitely becoming a factor. I got back into my rhythm, as the trail started to wind towards the base of the Attakwas Gorge. This involved some pretty tough climbs on broken roads, and while I had been quite able and willing to ride them first time around, there was simply no inclination this time - something about the heat and futility, and seeing many other walkers half way up, so I would try get as much momentum as possible into the climb, admit defeat early, and then begin the inevitable plod to the next climb. This was not a good sign, but I knew that these short sharp punchy climbs would end, so I didn't let it get to me. Yet.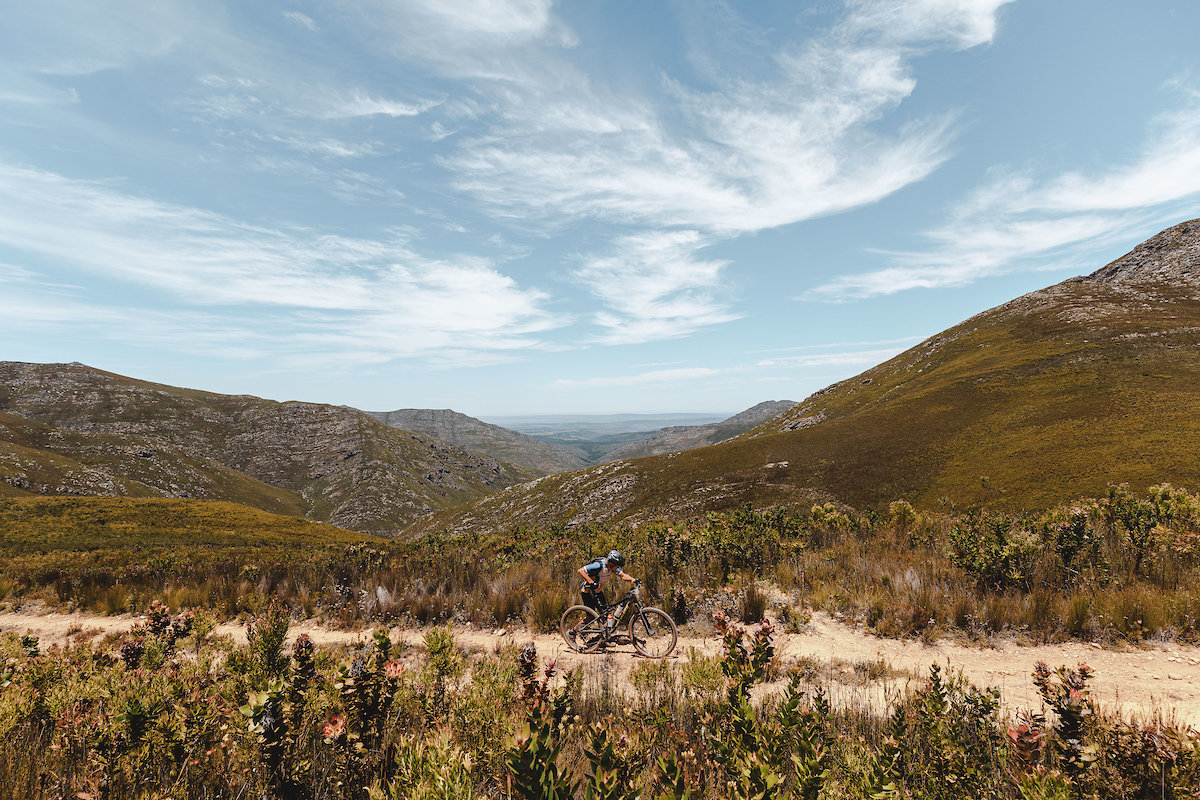 Relentless heat and a lot of climbing
The turning point in my race came at a rocky river crossing which I made it over, but this stage, the temp must have been in the high 30's / low 40's, and there were two other stationary riders, so I stopped. It must have been around the 50/55km mark. One of them mentioned how hot it was, and how many riders had already started bailing at WP1 and WP2 . Which sounded pretty appealing at that point. And then I checked my split time. I was about 45 minutes behind where I needed to be to break my previous time. Which seemed odd. As I returned to the river, and stood in the cool water, I took the critical decision that my Atta had just become a social ride, to hell with my intended PB. This proved the best decision of the day, and ultimately was what ensured that I would be able to finish.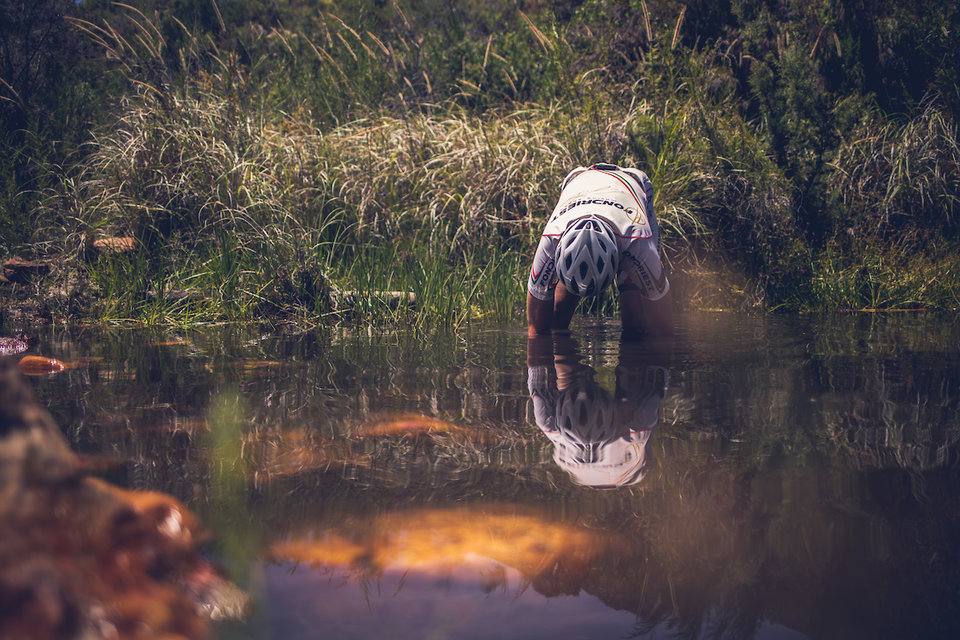 Cool mountain water was a lifesaving relief
After a couple of stints walking, the King of The Mountains peak in Attakwas Gorge was reached, and then the bone rattling descent down to WP3 in Bonniedale commenced. I have survived it twice before, and while it was definitely the roughest I had experienced, the only real challenge was dodging some riders walking down the worst of the heavily eroded sections closest to the river at the bottom. One of the highlights of my race was riding through the river towards the water point. The water points on Atta are exceptional - the spread that is provided, the ice and the enthusiasm of the waterpoint crews - the stuff of legend, let me tell you.
There is a long uphill section leading out of WP3 and it must have been around here that I realised I was over-heating. I always ride with arm covers, a buff and a cap which I took off. Fortunately I had anticipated something like this and had applied sunscreen to my arms. I then started to notice that I simply couldn't put down any power going uphill, having to walk on the most benign of hills. This is somewhat of a problem when you still have about 50km and 1,000m of climbing to go... The next thing I started to notice was that my heart rate was high - much higher than it should have been for the slow pace I was setting. It got to the point, on one of the slow plods up a minor hill that I was at 155/160bpm vs a threshold of around 152, while walking! Slowly. This was not good, and necessitated a new intervention. I found shade and stopped walking. Waited for HR to fall to 140bpm. I started to walk again. Watching the HR tick back up. Look for the next patch of shade. Stop. Wait. HR drops. Continue. This was starting to get slightly tedious. Calculate average speed. Subtract out 30 mins and 11km. It was falling. Morale was dipping. Temperature was rising. Was I going to make it?