Following in the footsteps of
Pioneers!
Shayne Dowling interviews JOHAN KRIEGLER.
Anyone who has ridden the trail networks in Somerset West, Elgin Valley, Bot River through to Hermanus or in and around Greyton will at some stage of their ride had their tyres touch trails that have been sculpted by Johan Kriegler. Not only is he one of the pioneers in trail building and community legacy and involvement in SA but is also one of the pioneers in multi-day stage races being one of the founders of Wines2Whales and the Houw Hoek, Greyton and BrewerytoBrewery tours. We get some insight into JK's (as he is affectionately better known) world.
How did you get involved with trail building? For how many years have you been building?
1972 during school– building jumps on the public park opposite our Stellenbosch home and a ramp in the backyard to jump into the pool; (Imagine what bikes they were using – Ed)
1995 – building trails over weekends with friends on Vergelegen and Lourensford farms. We presented the Vergelegen and Lourensford Classics as fundraisers for a local church;
2009 onwards – did Sani2C and used the concept of a "multi-stage event combined with exclusive and spectacular trails" to start Wines2Whales.
"The crazier the trail idea, the better the end product - many times I thought this is crazy, but let's do it!" JK
Tell us more about your most recent trails. Where were they built and what makes them so special?
The crazier the trail idea, the better the end product - many times I thought this is crazy, but let's do it! Then while we are constructing I'm thinking: "I'm still not sure" – then halfway – Wow! This is crazy beautiful! Many times people have also said: "What, are you going to build a trail there? Impossible and crazy!" That's what I need to hear, to get my right-side brain's creative juices flowing. Then the left side takes over to figure out the most productive way of doing it.
Some of our most recent work includes:
the Beaumont River Trail, down from Kat Pass to Bot River – I walked and crawled that piece for a week before I decided let's try it
Rietvlei Dam 110m bridge crossing – Doc Cluver's crazy idea – we've built many crazy trails but beautiful trails on the farm including Witklippies 1 and 2 over cliffs and through trees; Pofadder – under the waterfall and over a deeper cliff
Lourensford Ultimate – which include Kleipot, Cathedral, Southern Right, Barrel and Sky Run.
Does it help when building your own trails that you can ride them? (an advantage to be a rider)
Since 2012 I'm not really building myself. I cycle, walk, drive and Google "undiscovered" diamonds– hidden areas that can still be transformed into MTB Trail gems – so I guess "yes" it is an advantage. I established the Cape Trails team, 11 years ago. The team is made up of four previously unemployed Grabouw youths that are now not only great trail builders but are also excellent at mountain biking, marketing and interpersonal skills – a complete package. They are the sculptors who make my crazy ideas into flowing singletrack artistry.
Tell us more about your Cape Trails team and does each member have his own set of skills?
The four guys are Denzel Scheepers, Brendon Booysen, Ashwell Swartz and Keanan Cupido. Denzel the driver and chainsaw man and Brendon, Ashwell and Keanan are the brushcutter okes. They use picks, to cut into the slope, forest rakes to clear, level and compact and a big hammer to hit out tree stumps. They rotate whilst doing this.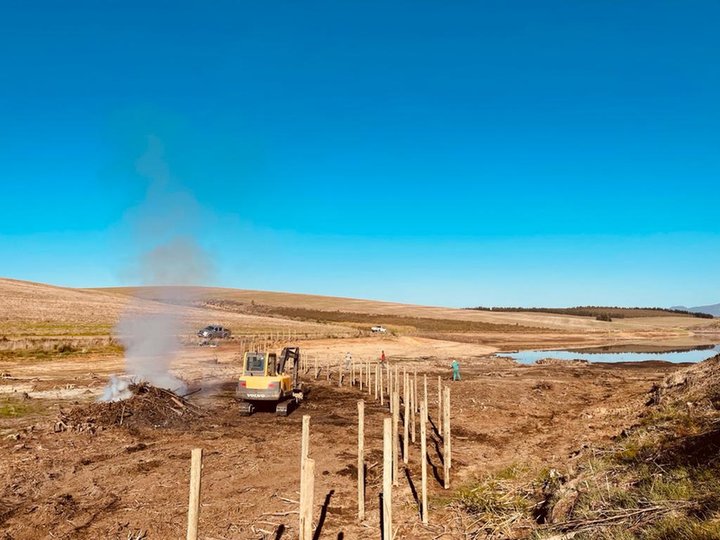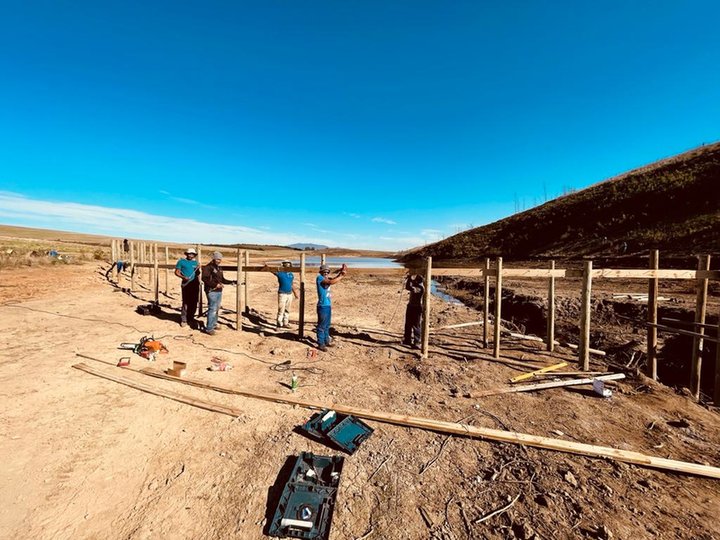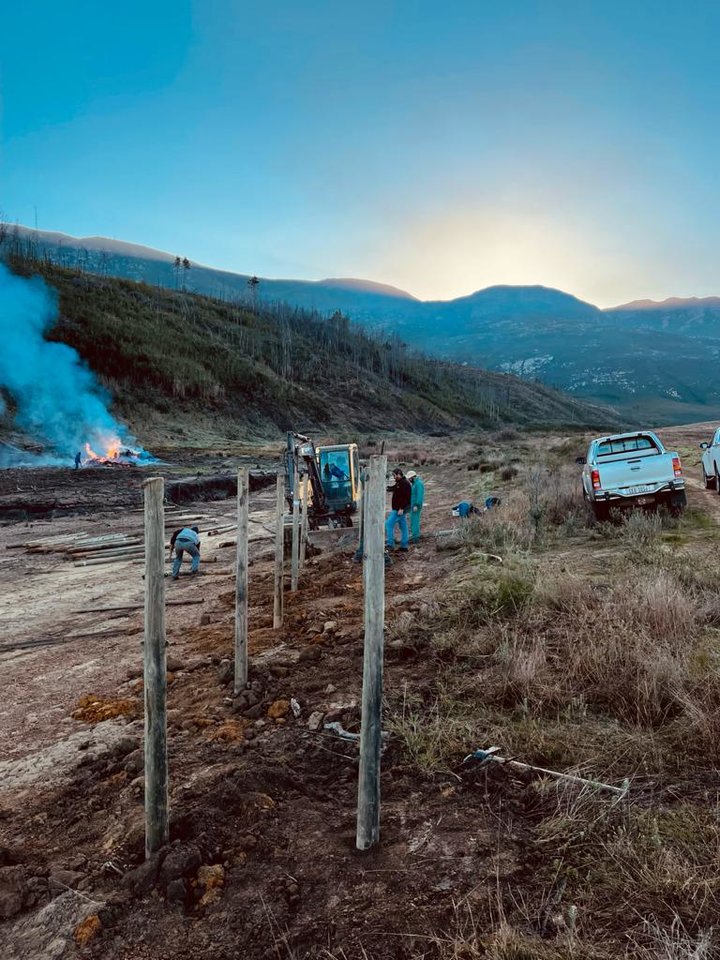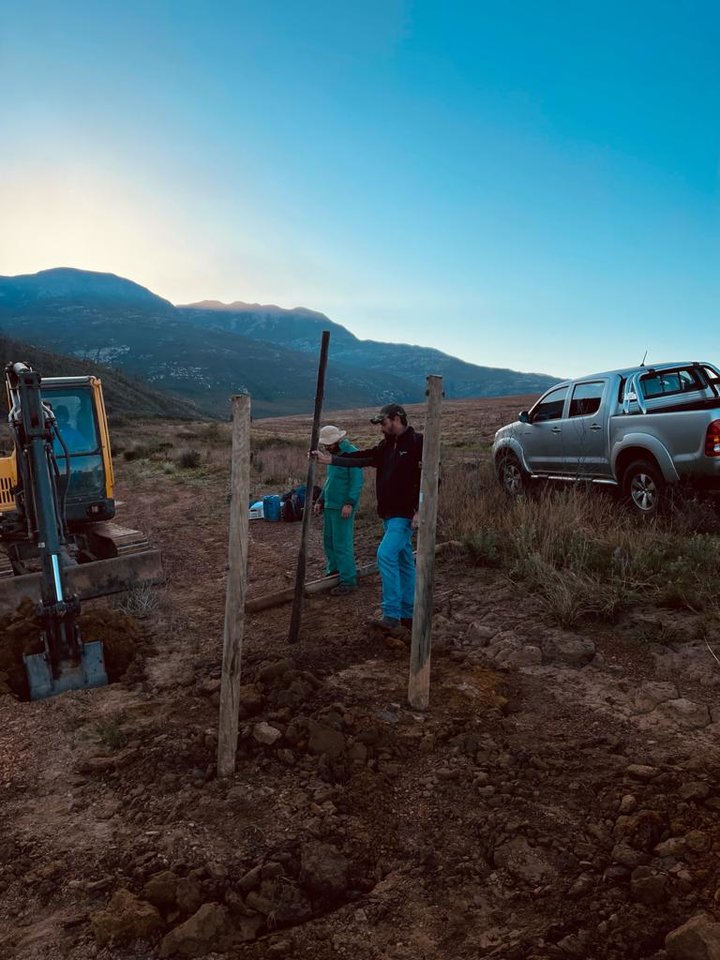 ABOVE: Making Doc Cluver's crazy idea a reality. Building the bridge while the dam was dry.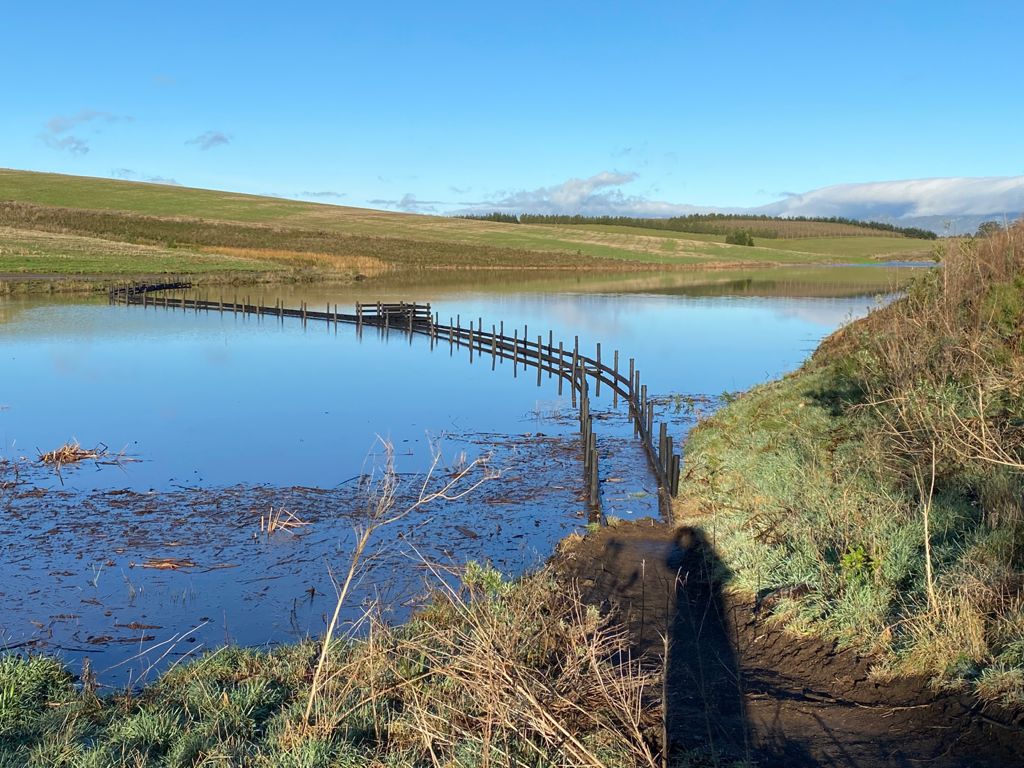 ABOVE: 110m wooden bridge over the Rietvlei dam in the Paul Cluver trails - waiting to have the planks fitted.
What is your favourite Western Cape trail and why?
I'll have to go plural, because you can't isolate a trail from its greater environment. My favourites are: Lourensford, Oak Valley, Paul Cluver, Hermanus and Greyton.
I have to admit, there are now so many trails in the Western Cape that look incredible, but I just haven't managed to cycle all of them.
What are the biggest challenges of building – say by area and where you have worked the most? (soil, traffic, terrain, water, area restrictions – world heritage site and National Park etc.)
Environmental (mindfulness) – as nature is pristine. You always have to be super sensitive towards the unique mountains, valleys, rivers, mountains and fynbos. Stick to IMBA trail building guidelines (attached). Some of the unique areas where Cape Trails have been built with approval of Cape Nature and other Environmental bodies, De Hoop Nature Reserve, Mount Cedar and Cradle of Mankind.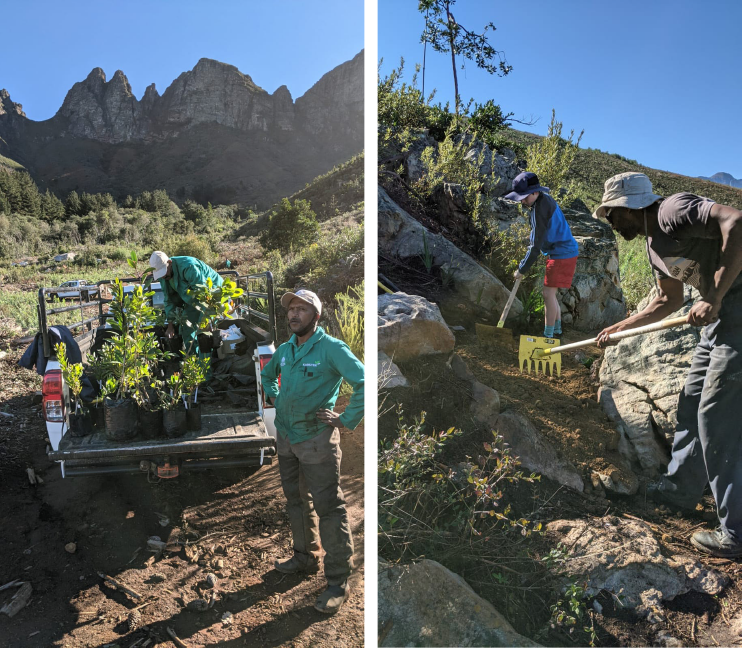 ABOVE LEFT: Trees & Fynbos planting along Cathedral trail Lourensford donated by W2W entrants.
ABOVE RIGHT: 12 year old Robbie Keet volunteered in Lourensford as part of his school project.
With the recent fires we are once again reminded how privileged we are to be in nature but also the risk natural disasters pose to the trails. Do you take this into account when planning and how can one ensure minimum damage and longevity to trails.
We stick to IMBA guidelines to ensure minimal erosion and sustainable trails. There is nothing you can do about a bush fire; you will lose wooden structures, you will cry and become depressed but after a few glasses of good red wine your trail building spirit will return! That's part of nature, the dying and rebirth process is continuous. Interestingly most Boland cliffs in the mountains have indigenous trees, which don't burn as viciously as alien trees. Many of our bridges have survived because of this.
Has Corona and the lockdowns made trail building slower or impossible? Or did it help you?
Cape Trails are built on farms, so they could keep on going. It certainly helped us with the Wines2Whales Switchback (the W2W event running from Hermanus to Lourensford – a switch in direction to it's usual route) as there were many new singles that we had to build and it allowed us two years instead of one to complete.
Any specific area in SA you would love to get your hands on and build some new trails?
Not really, we have built many spectacular trails around the country but I prefer to stay inside the areas we know. That said, if we do get invited to build in other areas, as Cape Trails, we are always keen to do that.
What is your favourite place to ride outside of the Western Cape?
Cederberg and the Karoo!
Any advice for upcoming builders?
It's hard work, do your homework and planning well. Landowners are your lifeline, treat them with utmost respect and build long-term partnerships. You won't earn millions.