George Trails
(Witfontein)
You've seen the George number plate, right? Locals will have you believe that the 'CAW' stand for 'cold and wet', but this is just a malicious rumour spread by the outdoor crowd there keen to keep you off their trails …
Photographs and copy: Jacques Marais

Local Buzz:
No my china, George is anything but cold and wet. Despite the year-round rainfall, you're in for a lekker moderate climate, ideal for outdoor adventure. That's good news, because it means you can hit those trails for most part of all the four seasons.
Sure, some days are going to bucket, but a betting man will walk away with a sunshine day nine out of ten. This in-land city originally has its roots in the forestry industry, but an on-going eco-tourism boom means it has now become a mountain biking mecca of note.
Endless gravel roads and tracks – often linked to the famed Outeniqua Hiking Trail access routes –offer unfettered access to much of these rugged slopes. Plus, purpose-built singletrack traverses the indigenous forests and plantations, largely thanks to a dedicated crew, many of them members of the local Hillbillies MTB Club.
Historically, this beautiful part of the Cape was only settled around 1688, two centuries after the Portuguese seafarer, Bartholomew Dias, landed in Mossel Bay. The local Khoi tribes referred to this rich valley as the "Outeniqua", or "land of milk and honey".
The early settlement became known as "George Town" in 1811, named in honour of the then reigning monarch, King George III of England. There you have it: George can no longer be overlooked as a Garden Route destination in its own right.
An efficient airport, breath-taking mountains, great trails, a thriving foodie scene, craft breweries, proper old-school values and bucket loads of history make it as much fun off as on the bike – check out www.visitgeorge.co.za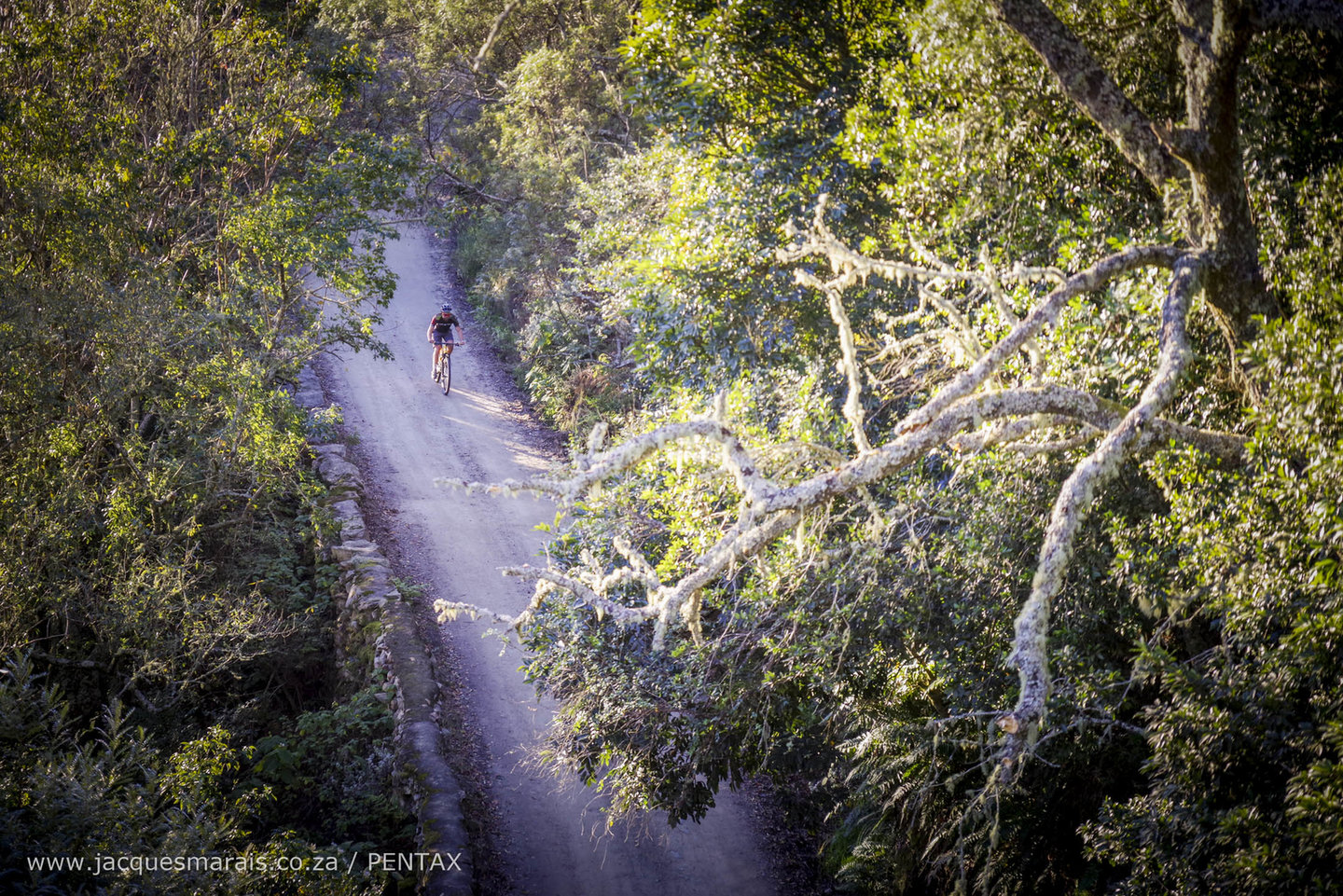 Trail Low-Down:
The Ground Zero Bike Park near Witfontein Plantation is where most trail rides start, and this network of trails is the result of many years of hard labour by various local riders who all love and live MTB. The SA DH Champs were held here many moons ago, but then it seems George Trails disappeared off the map. Not anymore …
Now, a well sign-posed trail network combines singletrack options linking the two main forestry roads (the "Top" and "Bottom" contour). Issue yourself a permit at the Bike Park (riding is free, but Cape Nature instituted a self-permit procedure in order to safeguard both themselves and the riders).
All routes are marked with Hillbillies signage - with specific section names – but leaving the configuration up to the riders. Expect some serious short and sharp ascents as you climb back to the Top Contour every time you blast down singletrack. "Tower Top" is a good leg-loosener and is sure to get your heart rate into the Red Zone.
While climbing along the gravel road, keep an eye out for a singletrack to your right into the fynbos. Pass around the left side of the gate and continue another 400m to the top for awesome views across the Outeniqua ranges, and the urban spread of George far below.
This forms part of the original DH track and makes for a top white-knuckle return blast, but be on top form when you take on the challenging rock gardens en route. Cross the gravel road you came up on and enter the "Quarry" if your jump skills are top class (if not, stick to the Chicken Run route all the way into the pine forest).
"Truckers Lane" is the next section of singletrack and takes you all the way back to the bottom contour road, probably with a massive grin on your face. From here, head east on the gravel road until you see "Bosvark Climb" on your left.
This nasty little climb to the top bears left onto the Hillbillies Time Trail signage for more white-knuckle fun. Pin your ears back until you blast past Witfontein Forest Station to max out on the monster berms booming along the plantation edge. (Note that there is some harvesting happening in the Witfontein section at the time of writing).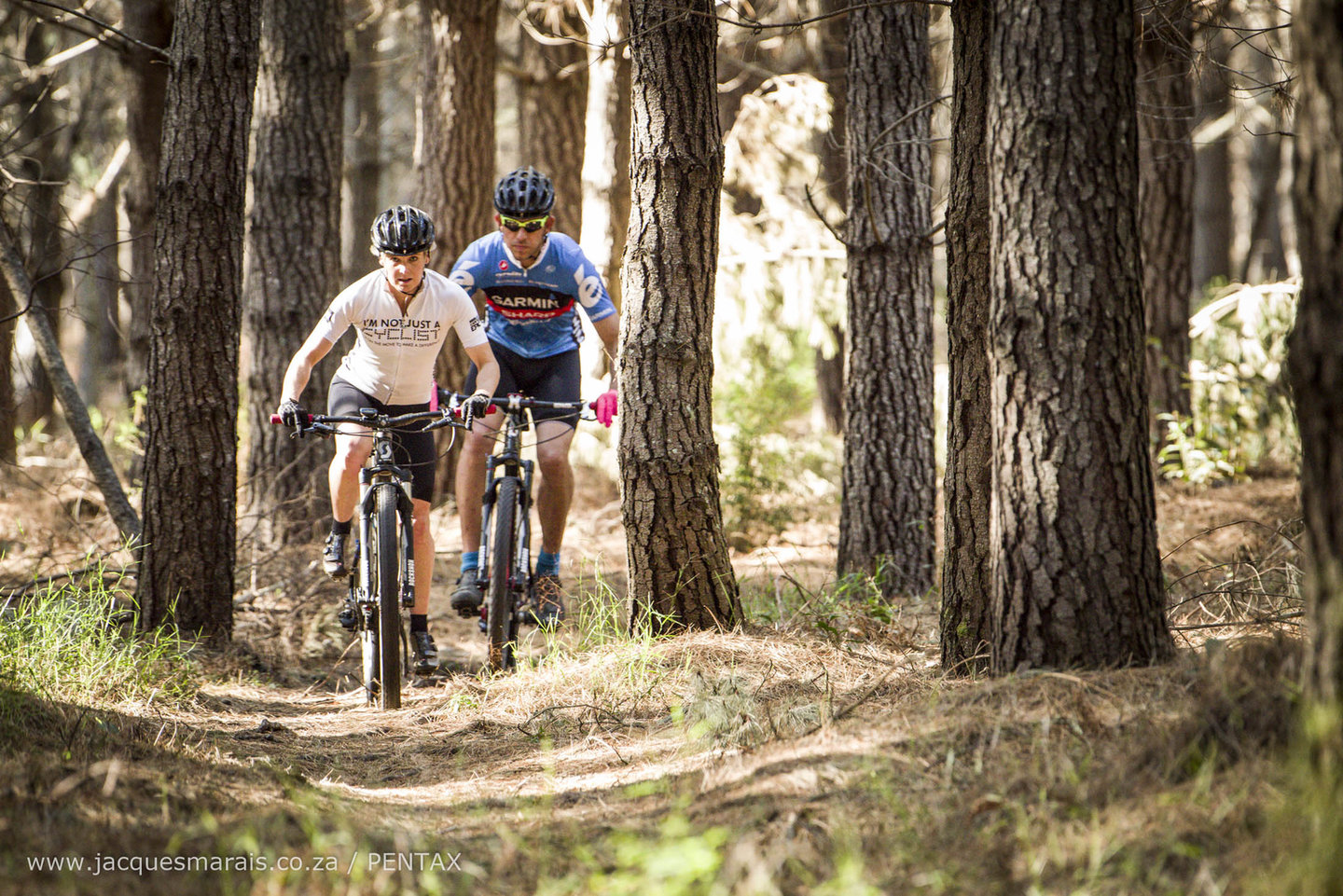 There's a treasure trove of gravel-riding options, with any number of dirt roads traversing the Garden Route area, including legendary "KOM" Stages such as the Montagu Pass. This scenic sidewinder was constructed by master road builder Thomas Bain, who shaped many of South Africa's historic passes.
Eye-bleeding views and calf-crunching gradients combine to make this a ride to remember and - if you've got fuel in the tank left once you reach the summit, the Karoo awaits on those plains far below .... Say hi to the ostriches for me, won't you?
NOTE: Most of the tracks in the George Region are free-to-ride, but out-of-town mountain bikers can do on-line donations or buy a Hillbillies Pass to support trail builders. Go and check out www.mtbroutes.co.za for more trail info.
George Trails (Witfontein) – fast facts
GRADING: Intermediate to technical
DURATION: 40 minutes to 2 hours
CONFIGURATION: Various
START POINT: Ground Zero Bike Park
TERRAIN: 33°56'46.2"S / 22°27'23.5"E
MAP: Map available on website
ENTRY REQUIREMENTS: Free (Hillbilly Pass suggested)
CELL RECEPTION: Good
ACCOMMODATION: Accommodation options on www.visitgeorge.com
CONTACT: Hillbillies (Emile) 082 880 0760
how to get there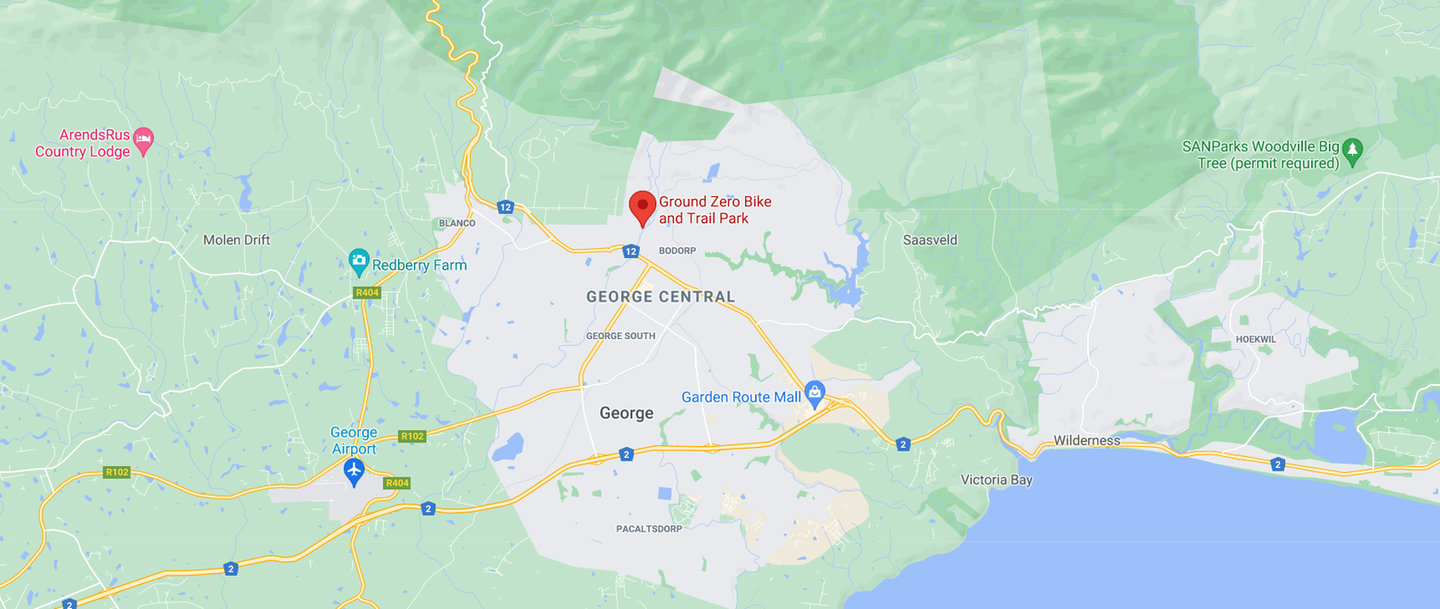 Getting there:
Turn off the N2 highway into George along the N12, and continue through town to Arbour Street. Turn right for 1km to Ground Zero Bike Park, next to the botanical gardens.
Best time of year:
Generally, summers are warm and pleasant, especially in the forests, while winter may come packaged with snow or extreme cold, with the brunt of the elements high up near the rugged peaks.
Off the bike:
Kickass mountains, extensive plantations and fabulous fynbos slopes are a dime a dozen in and around George, but there's way more to discover in this booming city at the heart of the Garden Route. Blue Flag beaches, literally just down the road, include world-famous breaks like Victoria Bay, plus there's fresh-water lakes, rivers and kloofs to boot in this outdoor paradise.
Expansive plains await on the semi-arid Karoo side of the rugged Outeniqua ranges out towards Oudtshoorn, accessible via historic landmarks such as Montagu Pass or the Seven Passes Road. All in all, you are blessed with truly diverse natural scenery, just make sure you bring your climbing legs!