CRUISING AT THE
STANFORD
MTB CLASSIC
If you live in Cape Town, particularly the Southern Suburbs, you will more than likely know Ryan's Car Wash, almost as famous as the Spotty Dog on Main Road, Retreat. Well Ryan Gomes, yes Ryan is a real person, took on the Stanford MTB Classic.

Words and pics by Ryan Gomes
One thing for sure is the Stanford Mountain Bike Classic always seems to step up to the plate, every year it just gets better and better. When it comes to awesome trails great hospitality and overall mountain biking experience, the Stanford MTB Classic is my personal go-to race year in and year out (we won't talk about last year).
Its inspiring how all the land- owners pull together every year and without a doubt one, if not all of them, have built new trails for us to experience which is always a mind-blow. While riding them, you actually find yourself mesmerized thinking how amazing the trails are and really how close they are to us in Cape Town.

BUT THE REAL DEAL AND DON'T BE SURPRISED IF YOU FIND YOURSELF CHUGGING DOWN A COLD OLD HARBOUR LAGER.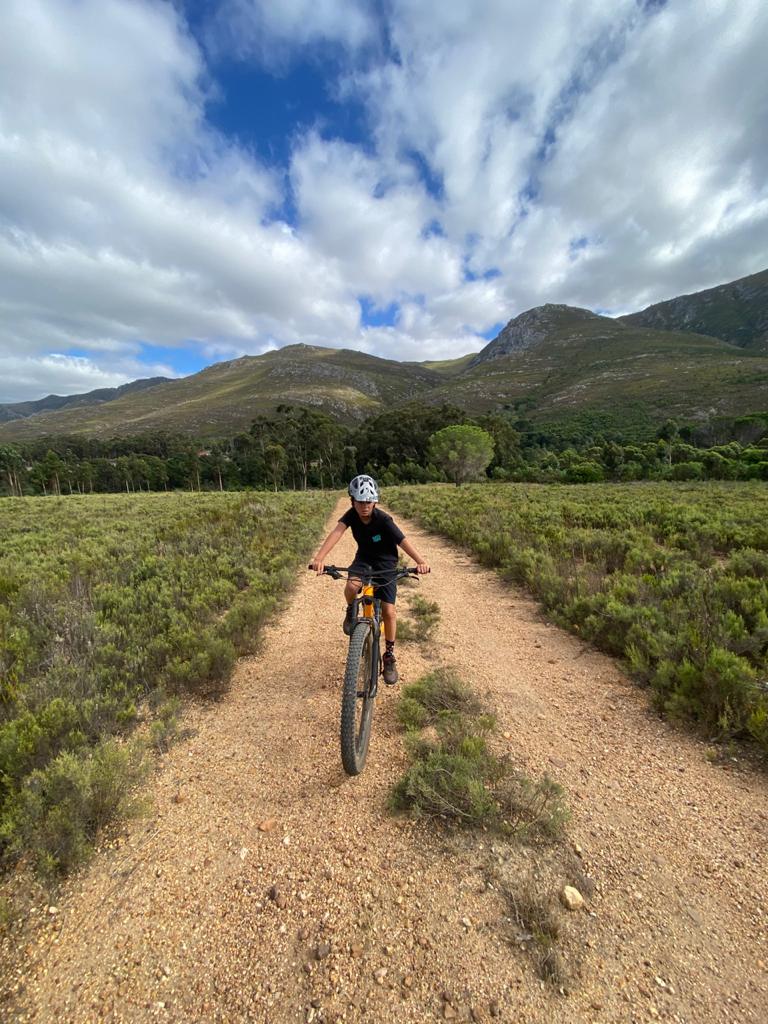 Stunning scenery and great trails in the Stanford valley.
I personally like to stop at water points and take in the vibe and of course enjoy the local produce on the well represented tables. Let me just say this, if you are similar to me then don't have breakfast before you head off because these guys really go to town at their water points which is so nice and there's nothing better than being told to please eat and drink as much as you want. These guys are actually making roosterkoek and awesome healthy food, not the usual sugar rush stuff, but the real deal and don't be surprised if you find yourself chugging down a cold Old Harbour Lager or sipping a glass of Stanford Sauvignon Blanc at one of the water points.
The Stanford MTB Classic to me is more of a journey and not a race, but of course it definitely attracts the race snakes. This year it was quite competitive and obviously being one of the first races of the year there where a good few race snakes lined up and rearing to go. As far as I know my son, Reagan Bristow Gomes, won the 25km and a friend of his Mathew Shackleton from Reddam school came in the top 10 for the 55 km.
I hope the Stanford MTB Classic will be well supported year on year because it's a great excuse to head out of Cape Town for a lekker weekend and awesome riding; you honestly come back with a big smile on your face and not even the traffic in Somerset West can put you in a bad mood.
One thing for sure is those landowners are not stopping and I can tell you now the word on the mountain is these guys are already talking about how to improve the event and where to cut the next bunch of new trails and who knows maybe Ryan's Car Wash will even be doing the bike wash next year.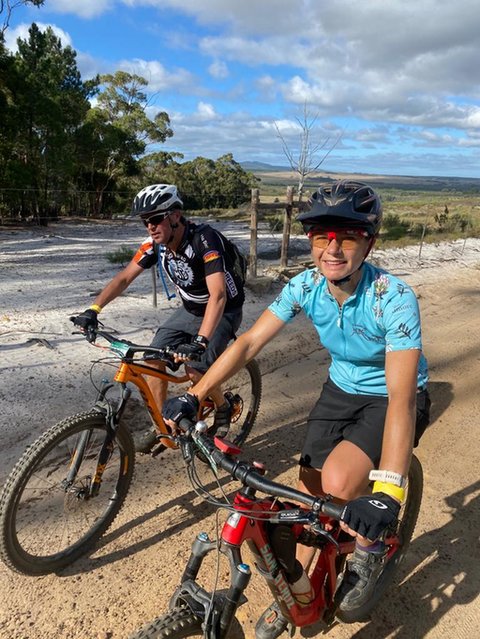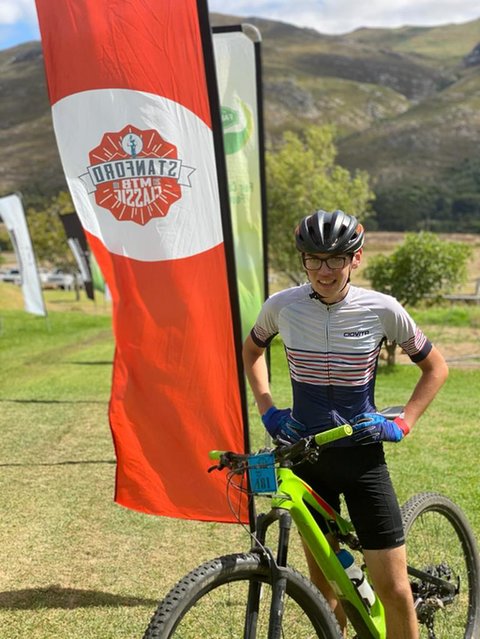 The Standford MTB Classic is a great family event.
25km winner Reagan Bristow Gomes.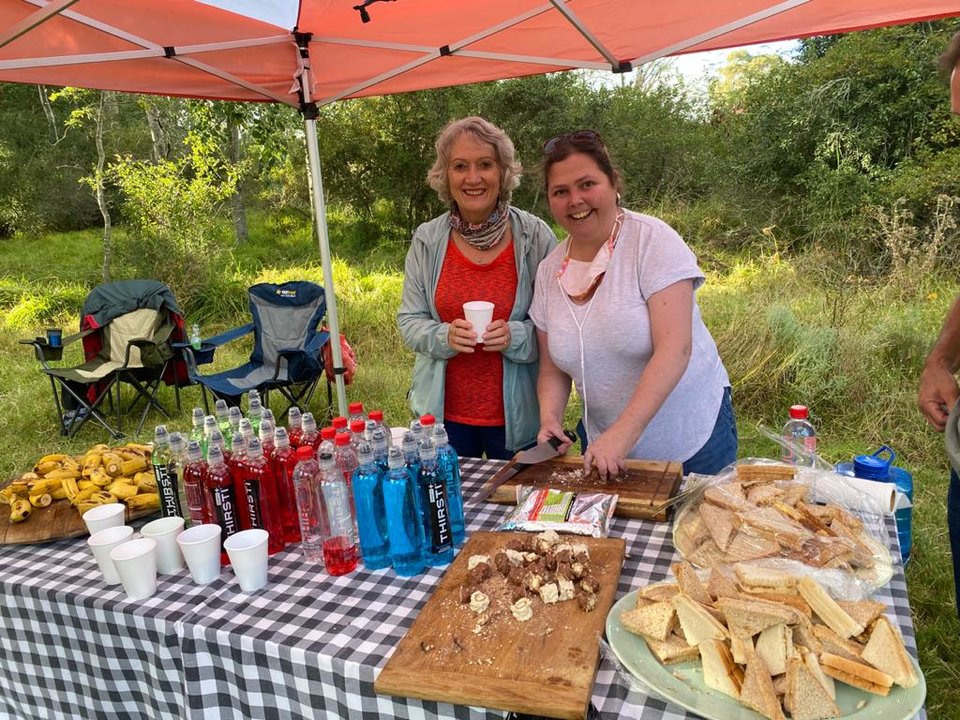 Friendly faces at every well stocked water table.
Event info: STANFORD MTB CLASSIC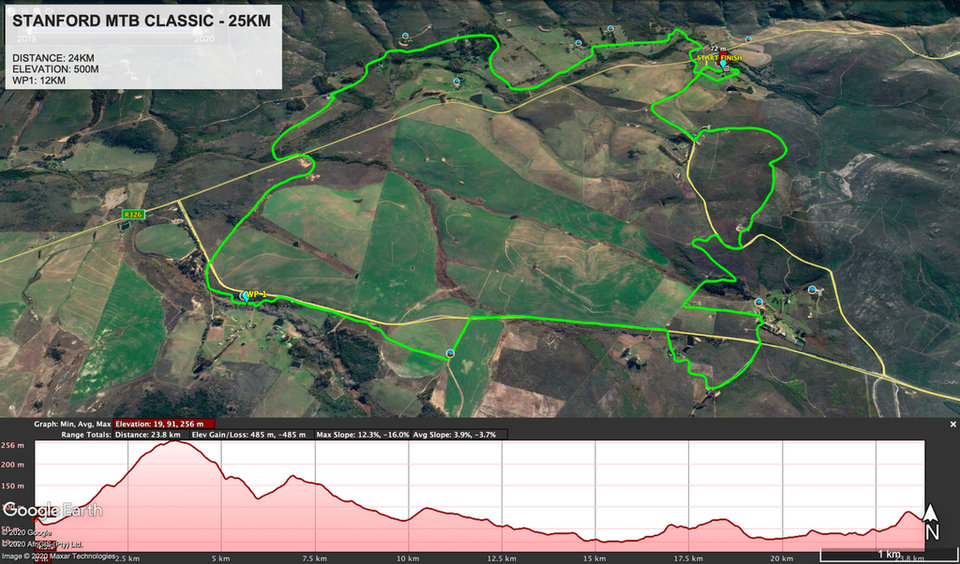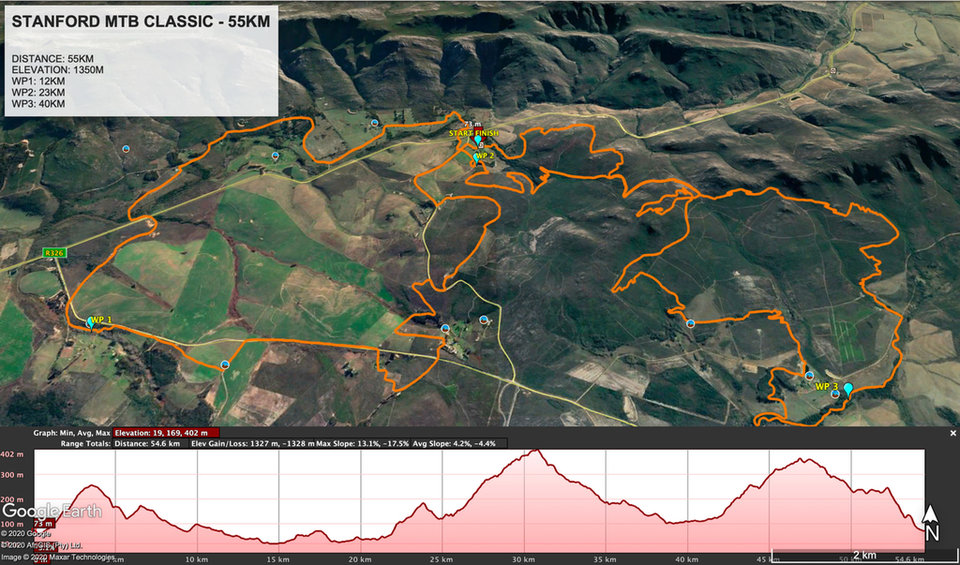 DURATION: Two day event
DISTANCE OPTIONS: 25km and 55km (85km option dropped for 2021)
CLIMBING (elevation gain): 25km – 500m 55km – 1350m
DIFFICULTY RATING: This is aimed to be a "tour" type event and the 25km does not have any really difficult sections being predominantly jeep track and district road. The 55km route boasts a number of new, purpose cut, singletrack that requires a good level of technical ability. It goes without saying that being a longer route you also need to have a good level of fitness.
COVID-19 NOTE: The event was changed to accommodate the Covid-19 regulations, limited entrant numbers and toted as a guided ride. The results were all Strava segment based (this is always a little tricky as different devices can give quite different results). – although this does seem to have become the norm.